Looking for a new place to explore in Newport? Visit Fort Adams State Park!
Located in the harbor of downtown Newport, Fort Adams State Park is one of thirteen state parks in Rhode Island. Being at the southern tip of Aquidneck Island, Fort Adams offers extensive views of not only Newport Harbor, but Narragansett Bay as well.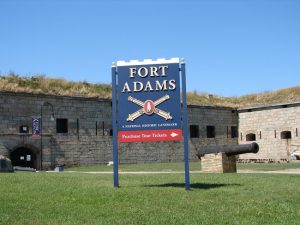 What was once an active fort from 1749 to the mid 20th century, there is a great amount of history found among the fortifications tunnels, buildings and museum. The fortress was designed to be the most heavily armed fort in America and to protected 2,400 troops. Today, one can still admire the three tiers of guns that once defended Narragansett Bay's East Passage. Today, the fort offers a number of activities including tours of the tunnels, and battlegrounds.
Activities for all Ages at Fort Adams State Park
In addition to the fortress, the park itself has a number of amenities to offer to its visitors.  These amenities include salt water bathing, fishing, boating, soccer, rugby and picnicking. Each summer, the Rugby Sevens tournament is held at the park. Within Fort Adams State Park, there is another park known as Brenton Point State Park. This particular park pays homage to the original owner of the area, William Brenton. Today, one will often find, during the seasonal months of June-October, the park filled with picnickers and kite flyers.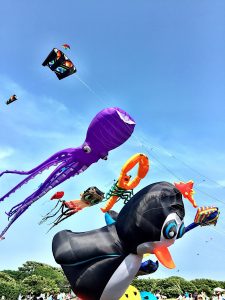 Fort Adams is best known for its annual summer concert series. These include the Newport Jazz Festival and the Newport Folk Festival. Thousands of people come to the park to enjoy good music, good food and unforgettable sunsets.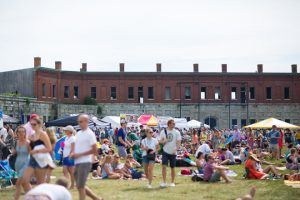 Rhode Island's Charitable Events
Sail Newport, Shake-a-Leg, and the Eisenhower House are all housed within the state park as well. Sail Newport is a non-profit community sailing facility offering the public sailboat instructions and rental, windsurfing instruction and rental, dry-sail storage areas and hoist operation. Sail Newport also organizes regattas and other sailing events. Shake-a-Leg is a non-profit organization as well that provides sailing instruction and rental of specially equipped boats for the physically challenged and their families, a truly inspiring organization. Lastly, the Eisenhower House is a wonderful venue that can be used for meetings, conferences, weddings, and special events.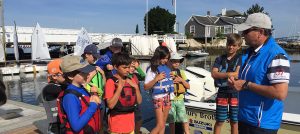 If you're visiting Aquidneck Island, or just looking for something to do, definitely incorporate Fort Adams to your list!