DOCK OWNERSHIP IN NEWPORT, RI
Newport's proximity to the ocean is one of its premier appeals. The beaches, Newport Harbor and greater Narragansett Bay draw crowds year–round, while real estate buyers seek to snag a piece of one of the country's top vacation and sailing destinations. Living near the water is accessible to the precious few, and living on it is essentially unattainable, unless you have ties to the dock-owner community.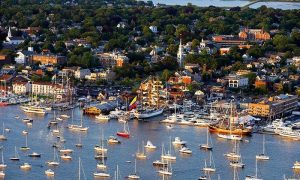 Liquid real estate has become more de rigueur than terra firma, as demand for docks, slips and moorings on Newport's waterfront exceed availability. It doesn't just exceed. Actually there are none. There are currently no available docks for sale in Newport, R.I. This is shocking, given the city's preeminent sailing history and the hundreds of yachts that cruise our historic port each summer day. From time to time, however, as lives and situations change docks do change hands, and it pays to have a relationship with the folks who monitor this micro-market or bookmark this link which tracks Newport docks listed for sale.
SO YOU WANNA BUY A DOCK?
Docks are a hot commodity here, and cost far more than in neighboring coastal communities. Fetching $5,000 to $6,000 per foot, that's more than $200,000 for a 45–foot dock. At marinas up Narragansett Bay, the cost is only $40,000–$50,000 for a similar size dock. I recently sold a 90–foot dock in Newport for $550,000. If that translated to real estate on land, it would cost over $10 million for a 2,000–square–foot house.
Lack of access to the waterfront is driving these prices. In the 1600s when Newport was being established, many individuals owned small sections of the waterfront. When the time came to build larger commercial and recreational facilities, with the advent of steam ships and greater tourism, there was no large parcel left to develop because most of the waterfront was privately owned.
It still is. Squeezed between the retail shops, restaurants and burgeoning hotels, only two marinas manage Newport's 100 dockominiums – Newport Onshore and Newport Marina.
DOCKOMINIUMS IN NEWPORT, RI MAKE OWNERSHIP POSSIBLE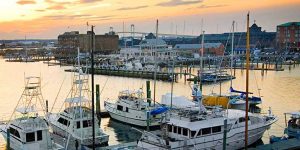 Like a floating condominium, dockominiums are used by their owner, including marina facilities that are part of a monthly association fee – electricity, water, cleaning, parking and maintenance. Ownership also lets owners rent or sell the unit at any time, subject to association approval. Marinas book rentals years in advance, much like Martha's Vineyard and Nantucket, so it's nearly impossible to get on your boat in New York at the last minute thinking you'll have a place to put in for the weekend in the City by the Sea.
I know this because I'm lucky enough to sell the one or two docks that come up for sale each year. My friendships with dock masters, marina managers and dock owners are valuable resources as the waterfront changes the face of real estate in Newport. So if you've just bought a boat, or better yet if you're about to buy a boat, and want to spend time in Newport, give me a call.
For more about Realtor Gordon King, click here.