BUYING LAND & BUILDING A HOME
Searching for land to buy? The promise of vacant land is incredibly alluring – a blank slate upon which to create your own little slice of heaven. With vision and perseverance, you can get exactly what you want, but caution is advised, especially if you're contemplating your first build. Here are a few tips on how to decide if you're up to the task and how to avoid some common mistakes.
ESTIMATE YOUR "ALL IN" COSTS
One of the most frequently asked questions is "How much does it cost to build a house?" As you might expect there is no simple answer. Here are some reasons it's hard to predict:
The cost of materials fluctuates. Sometimes steel prices are high; sometimes there is a shortage or surplus of wood or other construction materials.
Sometimes contractors are busy. Sometimes they're not. If work is plentiful, prices go up… if business is slow, prices can go down.
Cost for heating / cooling systems vary widely: These systems are HUGE part of any project and price can vary tens of thousands of dollars depending on the system.
A HYPOTHETICAL HOME BUDGET
A nice, sensible, not-over-the-top 2,500 square foot home, might cost $275 – $300 per square foot or $687,500- $750,000 to build. Add the land cost, at say, $450,000 and you'll spend about $1,100,000 – $1,125,000 before landscaping.
Higher-end homes with elaborate roof angles, pricey materials – think marble counters, custom cabinets, luxury appliances, slate roofs, designer tile and stonework – can quickly raise the cost to $400 -$450 per square foot or more. In this scenario, the same 2,500 square foot home would cost $1,000,000 – $1,125,000. Add the cost of a waterfront lot – at say $550,000 – and you should expect to spend approximately $1,550,000 – $1,6750,000 before landscaping.
The same basic math applies to all kinds of homes on all kinds of lots. By adjusting home size, design, materials and land cost you can make the numbers work.
LOOK AROUND BEFORE YOU LEAP.
When investing in vacant land, inspect the neighborhood carefully. Make sure the homes around you are (or will be) comparable. Review deed restrictions, covenants, by-laws, easements, encroachments to be sure you can build what you want knowing the neighborhood will not throw you a curve ball. A nice view today, could disappear tomorrow; if you plan to invest $1M+ in a new home, make sure everyone around you either has or will do the same.
KNOW YOUR ZONE
Every town has zoning ordinances. Among other things, zoning ordinances dictate the minimum legal lot size, building setbacks, lot coverage, building height and permitted uses. Know which zone you're in, and read the requirements/restrictions for that zone. Your agent can provide these details or you can find them on most town websites.
UTILITIES?
On Aquidneck Island most residential areas offer town water and sewer. Some rural areas, however, do not. That means you'll need a well and / or septic system. In Portsmouth, for example, there is no sewer system so private septic systems are always required.
Costs vary, but you should count on approximately $30,000 – $35,000 for a 3-4 bedroom septic system. Septic plans are prepared by engineers after the location of your home is determined. The first step is soil sampling. The soil dictates the size and type of septic system your land will accommodate. Plans must be approved by the town and the RI Department of Environmental Management. For additional tips and planning considerations take a look at Sakonnet Bluffs FAQ page.
WHAT'S YOUR STYLE?
If your tastes tend toward classic shingle or modern farmhouse you will probably fit right into many of the newer neighborhoods on The Island.
If you prefer ultra-modern or unconventional, look for land without restrictive covenants and avoid historic districts or neighborhoods with more mainstream architectural guidelines.
IS IT CHEAPER TO BUILD OR BUY?
Again, it depends. A less expensive home in need of renovation is subject to the same market forces outlined above. The price of contractors, materials and systems can add up quickly and may cost you as much or more than building a new home. That said, there are always bargains, and if you find one that works, buying an existing home CAN save you money. As a general guideline a nice, sensible, not-over-the-top renovation, might run approximately $150 per square foot. Here's an example of an extensive renovation in Jamestown, RI. A project like this is not for the faint of heart, but if you find the right house in the right location, the rewards can be great.
As with real estate at large, you must be smart about the land you investigate and ultimately buy. If you rush into a deal without assessing costs and risks, you might get more headache than you anticipated. But with careful planning, the right questions and an experienced professional by your side, the rewards can outweigh the challenges.
RI WATERFRONT CONSIDERATIONS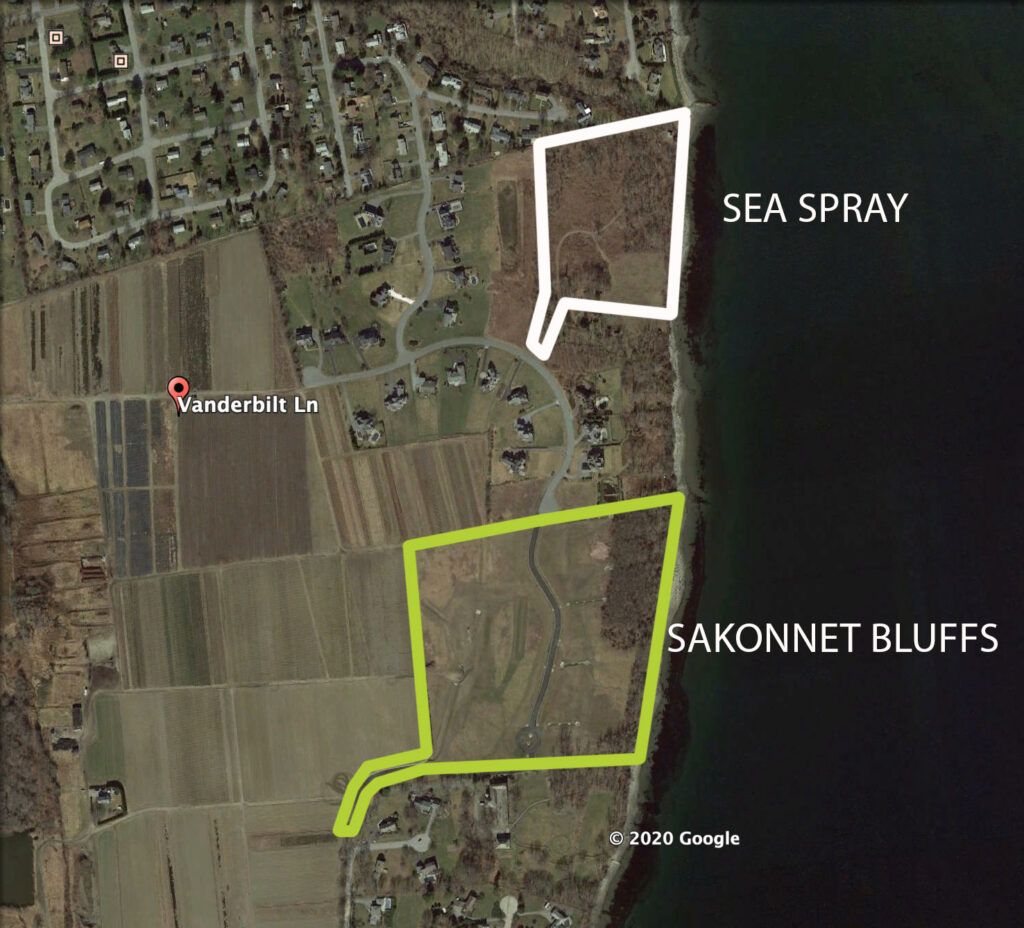 Waterfront settings have their own set of rules. Rhode Island's Coastal Resources Management Council controls what happens along the shoreline. You must have a permit (called an assent) from Rhode Island's Coastal Resources Management Council (a.k.a. CRMC) to modify the area within 200 feet of the coastal feature. The coastal feature is the spot where the land transitions to the shore. Its precise location is determined by an engineer. The area extending in 200 feet from the coastal feature is called the CRMC Buffer Zone. Anything you do in this area must be approved by CRMC. As a rule, CRMC will allow a view corridor of up to 25% of your water frontage. If you have 100 feet of waterfront, for example, you can apply for 25 feet of view corridor.  You can also apply for a path to the water (usually within the view corridor), a 200 s.f. recreational feature like a gazebo or pavilion, and a stair to the water.  In addition, you can request permission to remove invasive species within the 200′ buffer zone. The assent will clearly spell out what you can and cannot do in the CRMC Buffer Zone.
In addition to restrictions in the 200′ buffer zone, CRMC prohibits building in the area between the 200-foot mark and the 225-foot mark. This area is called a "no-build zone".  Unlike the 200′ buffer zone where plant species and locations are regulated by CRMC, you can plant anything you like in the no-build zone.
Professional drawings of your landscape, gazebo, view corridor, path and/or stair must be submitted to CRMC for their review and approval. Every case is different, and CRMC provides precise instructions on how you may proceed. Once you have your CRMC assent you can get to work on your landscape.
CRMC also regulates docks which are allowed in some places and prohibited in others. Click here for detailed information on RI dock rules and regulations.
ASSEMBLING YOUR TEAM
Attorneys, architects, builders, engineers, surveyors, landscape designers, interior designers – they're all part of the process. In southern RI there are many talented professionals ready to help you get started on your new home. Your Realtor can show you examples and make introductions.
There are myriad considerations when buying a plot of land and building your own custom house, but don't let fear of the unknown stop you. And if you've been saving for years, and know what you want, this might be the opportunity to create the home of your dreams.
To learn more about what's available in coastal Rhode Island and how to get started, give me a shout.
---
Search for RI waterfront land listings.
Wondering about building a dock in Rhode Island?
Learn more about Leslie Hogan and her listings here.