NEWPORT GARDENER'S COTTAGE | HIP & HISTORIC


Hogan Associates is pleased to announce the sale of the Bois Doré Gardener's Cottage at 128 Webster Street, Newport, Rhode Island for $1,995,000 on December 1, 2017. Hogan Associates agent Caroline Richards represented Seller, Tesa Van Munching, and Chris Davis, also with Hogan Associates, represented Buyers, Richard and Leslie King.
GILDED AGE ORIGIN | 21ST CENTURY STYLE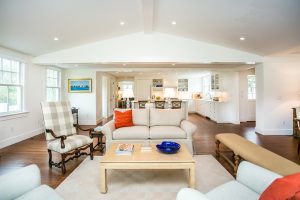 The single-family home was the former gardener's cottage for the French chateau, Bois Doré. Built in 1927, Bois Doré included three charming homes for live-in help. The cottages were later subdivided and sold as single-family homes. Enchanted by its history, Seller, Tesa Van Munching, purchased the Gardener's Cottage in 2006. In 2014 she expanded and restored the home with the help of local architect, Paul Weber. A first-floor addition opened up the kitchen creating a large, sunny living space. Out back, an elegant stone patio transitions to a private backyard surrounded by a vintage stonewall.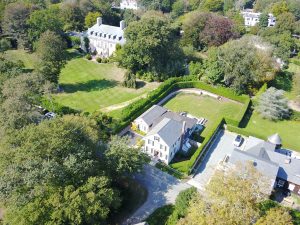 "I knew this home would draw lots of interest. " remarked listing agent, Caroline Richards, "Besides being located on one of Newport's most beautiful streets, the Gardener's Cottage offers that rare combination of first-floor master suite, open living space, and stunning style."
"The Kings had admired the Gardener's Cottage at Bois Doré, and acted immediately when it became available," commented, buyers' agent, Chris Davis, "They knew it was a special place, and the thoughtful renovation made it a perfect fit."
"It's not easy to make these vintage cottages accommodate modern preferences for open, airy spaces and single level living," said Leslie Hogan, broker-owner of Hogan Associates, "This one was a home run."
ABOUT HOGAN ASSOCIATES
Hogan Associates is an independent Rhode Island brokerage founded by Leslie Hogan and Matt Hadfield, two of Rhode Island's most experienced agents, each with a strong track record of success in the Greater Newport real estate market. Hogan Associates' 26 sales agents work on behalf of buyers and sellers of fine properties in the coastal communities of Southern RI. The firm has offices Newport and Middletown and is a member of Who's Who in Luxury Real Estate, an elite broker network with over 20,000 sales associates located in approximately 880 offices in 69 countries and territories.