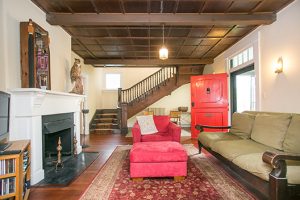 Stepping across the threshold of 10 Cottage St. in Newport transports you back to the 19th century, its carved mahogany banisters, warm wood flooring, six fireplaces, coffered ceilings and leaded glass echoing the stories of its historic residents. Built in 1841, this quaint little farmhouse stood at the nucleus of three acres of verdant pastures, when Newport's social epicenter was just a block away. Indeed, Bellevue Avenue continues to provide an attractive destination for the home's owners, with Redwood Library, Newport Art Museum, International Tennis Hall of Fame, Easton's Beach, dozens of restaurants, and the pulse of the City by the Sea at its fingertips.
As the city grew into a modern urban thoroughfare, the farmhouse grew too. It first transformed into a rectory in the late 1800s, when Trinity Church's Episcopal priests moved in. Today there is still evidence of what could have been office space – at the top of the main staircase, two bedrooms are easily accessible and ready for work, while three other bedrooms are tucked in behind, which might have been the priests' private residence. Perhaps even George Washington, who visited Newport and worshipped at Trinity, discussed the country's path forward in these very rooms?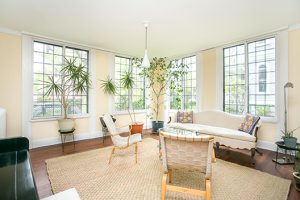 "You can almost imagine it: they would come in the front door, into a formal living room, then up the beautiful stairs to offices where the business of the rectory happened. The rest of the house was the residence," says listing agent and owner/broker Leslie Hogan of Hogan Associates.  "The home has a straightforward elegance – dignity without the frills – which speaks to its history as a farmhouse and rectory."
Rev. Stanley Hughes lived in the house for many years in the early 1900s, and his son, Rev. Dudley Hughes, Rector of St. Columba's Church in Middletown and wife Frances, lived here together until he died in the 1960s. This couple named the home "Toussaint" (French for All Saints) and it still imbibes some of this religious attitude. Stationery with this name remains here and two religious tiles are incorporated into the second-floor fireplace mantle. Francis left her own mark, too. An Egyptian knocker welcomes all who enter the front Dutch door, a memory of her father, Joseph Lindon Smith, an artist and protege of Isabella Stewart Gardner, who traveled with Gardner to Egypt.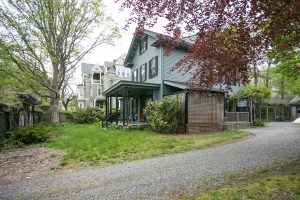 Not your typical modern home, this remarkable five-bedroom, three-bathroom homestead has ushered in nearly two centuries of updates with its myriad owners, so "You can tell wings and rooms were added over the years," says Hogan. "It's not your everyday floor plan, but it's big, open, and very appealing." The resplendent three-season sunroom is one such space – a former patio with a crawlspace underneath, it was enclosed in large windows to let the owners bask in sunshine. The adjacent modern landscape also features an inviting yard with wisteria-covered pergola for summertime dinner parties with friends.
Photography by Meghan Sepe.