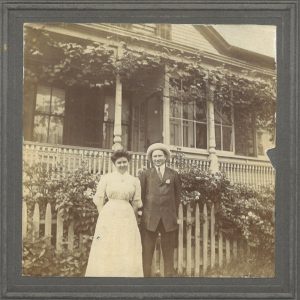 This unassuming abode in the Van Zandt neighborhood of Newport is a labyrinth of rooms and hallways. Exuding a serpentine vibe into Newport's past, it winds up, down and around four bedrooms and 5,727 square feet. Multiple renovations and additions during the past century have created this sprawling multi-family home, now with wonderful potential for single-family conversion.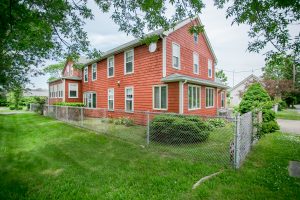 Its modern affairs are grounded in historic traditions however, having been in the French native Biastre family for four generations. Once a French laundry owned by Madame Bonnetat, the britches and corsets of its elite Newport clientele were literally its business. As early as 1918, Bonnetat operated the ironing and mending upstairs, the cleaning services on the main floor and served lunch to staff in the basement, while living in the back rooms. According to current owner Barbara Biastre, whose late husband Paul was Bonnetat's great-grandson, Bonnetat was rumored to have refused to serve famed financier and banker J.P. Morgan because she didn't "receive general washing."
Bonnetat's daughter Virginia inherited the laundry and operated it with her husband Jacques Biastre, who was John Nicholas Brown's French teacher when Biastre first emigrated from France.  It was active until the 1940s, Biastre says, at which point the series of buildings that exist there now, including multiple garage stalls, was exclusively the homestead.
Small town tales abound in this crimson home, as it's been the site of many boisterous Biastre family gatherings through the decades. "It has a lot of stories," Biastre says from her kitchen, looking around the former laundry's wash room as if the walls could talk. "When Paul's five uncles and their families got together here for dinner or a holiday, there were 30 or 40 of us, so it was loud. They all talked over each other to be heard."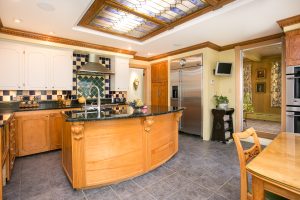 In their glory days, "the uncles," as Biastre affectionately calls them, raised rabbits, geese and chickens for family meals in the adjacent three-stall garage. They were in their element here, too, since this home was nicknamed "Duck Pond" after the natural spring in the backyard that now is covered by neighboring homes. One uncle, Robert, from whom Biastre and her husband Paul inherited the property in 1989, was a butler for Sunny von Bulow, and enjoyed hosting lavish parties. Everyone even spoke French here until Paul Biastre's grandmother May passed away in 1977.
With so many relatives, the house has seen its share of transformations. Biastre added the spacious Great Room, with a welcoming fireplace, balcony and soaring cathedral ceilings hand-lined with fir, which provided a great play area for their twin grandchildren (and was even big enough to host a bouncy house). Cedar closets, original hardwood flooring, bathroom sink and tub, windows and banister railings speak to the care the home has held for so long. While it's hard to keep up with the family lineage here, clearly it has been a special place for the better part of a century, so Biastre is hoping the next owners will be able to continue its loving energy. "Biastres have been here all along," she says. "There has been a lot of life here."
Contact broker associate Cathy Wicks for more information about this home and others like it.