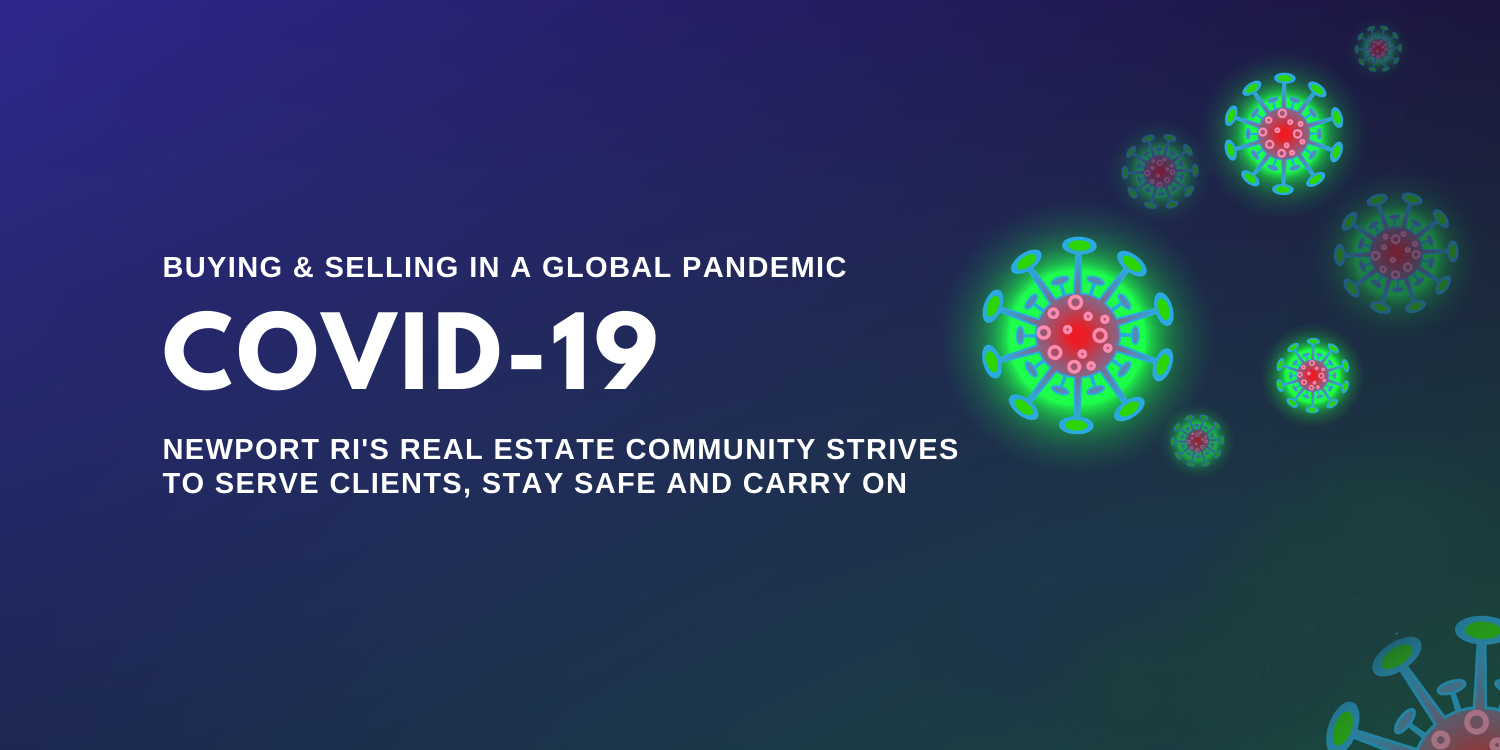 From restaurants to the economy, farms and politics to schools, the Coronavirus pandemic is shifting everything in our current lifestyle. The real estate market in Newport County, R.I., is equally impacted, but not necessarily in ways you might think. In some cases, things are slowing down, but in others, like closings, things are speeding up. In the midst of this unprecedented effort to stay apart, real estate pros are coming together to keep things moving for our clients and our community.
Independent professionals are collaborating like never before: attorneys are prioritizing purchases over refinancing deals, inspectors are communicating with FaceTime and Whatsapp, bankers are preparing closing documents from home. Even title insurance companies are helping with gap coverage for delayed closings. Fire officials quickly modified mandatory in-person inspections in favor of video inspections before or after closing. Agents are ramping up virtual tours, implementing safe-showing standards, and focusing on ways to move forward despite the challenges.
IT ALL SEEMED SO NORMAL UNTIL IT WASN'T
"I showed a house last week, and it was like any other showing, we just kept our distance," says realtor Cathy Wicks. " But I have several rentals that I have held back because we don't want to ask the tenants to let anyone in their property. I put two other properties under contract last week, so things are moving."
"This pandemic will spur innovation that will reap benefits in the future," says Hogan Associates Broker/Owner Matt Hadfield, "It became very clear, very quickly our brokerage needed to move all communications and meetings online. With the support of our agents we did it in about 48 hours because everyone – even the least technical among us – understood how critical it was to keep communicating."
With two closings apiece this week, and more on the near horizon, Hadfield and Realtor Gordon King have witnessed everything from steely determination to overpowering inertia among their clients. Those who remember the crash in 2008 understand markets are cyclical and subject to unexpected gyrations. They are making accommodations for shifting global dynamics and keeping their heads out of the sand knowing the market will always include those who need to buy, sell and move.
NEW PROCEDURES KEEP DEALS ON TRACK
"I have been very impressed with the robust response of our professional community. Bankers are working weekends; lawyers are communicating daily on what's happening and how to proceed. To keep people safe at closings, attorneys often limit attendance to essential parties only," says King. "The logistics of moving are also more challenging than normal, but we are working as a community to share available options and develop safety protocols on the fly."
While not insignificant, these logistical issues are not insurmountable. While buyers and sellers should anticipate timing adjustments, possible rate lock delays, more rigorous employment verification and travel restrictions, these agents are confident that most current transactions will close.
That is not to say people are not hesitant about real estate. "In good times and bad, our role is to support our clients above everything else," says Realtor Jeff Brooks. "We can't predict the future, but we know staying calm and collected in crises is how to get ahead. We all have buyers and sellers reconsidering, but they know this will pass. Real estate moves have a five- to 30-year time horizon. While the next two months will be uncertain, they will be a blip in your ownership history."
Brooks advocates this period as a stellar time to list vacant properties. With vacant properties, social interaction is low, and low inventories mean buyers will continue to inquire. Hadfield says 3D virtual tours are an easy method of showing the property while limiting physical access. It's especially effective for second homes where sellers are sheltering in their primary residence. Wicks says it's a case by case situation. "For one person it might be the worst time to sell or buy, for another person it's the best," she says.
OPPORTUNITY AMID UNCERTAINTY
"Even in tough times some people need to sell and buy. In this environment motivation is often high on both sides, making negotiations a bit easier," says Hogan Associates Broker/Owner Leslie Hogan. "But we are uncertain as well. We can't tell clients exactly what's going to happen over the next month. So it's ok to pause, reflect on what's going on, and make your best projection. This won't continue forever, but Newport will always be a desirable place to own real estate."
Multi-million-dollar properties are still coming to market, King says, and military families continue to buy properties sight unseen, adds Hogan, so the market here isn't as unstable as Coronavirus appearances might imply.
"There are buying opportunities in every market and this one is no exception. How many of us have looked back at 2009 and wished we had been a little braver. The time to buy is not when it's all cleaned up and we're on the other end. The time to buy is when people think the sky is falling," explains Brooks. "And when this is all done, I have a feeling lots of people will feel the need for a little more space, and those are the kinds of feelings that make people move."
*For our Home Buyer's Guide, click here.
*For our Home Seller's Guide, click here.
*To learn what's on the market, click here.