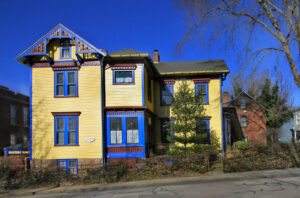 HISTORY, STYLE & A+ LOCATION
In the center of Newport, nearly 400 years of history, world-class yachting, a sparkling waterfront and five-star cuisine are all at our fingertips. Featuring one of the largest and rarest collections of pre-Revolutionary War-era architecture, as well as Gilded Age mansions and modern waterfront estates, the city is a destination for history aficionados as well as connoisseurs of fine living.
Down every street and around every corner, this is the backdrop you find. Historic Hill, for example, is one of the city's oldest neighborhoods, with Victorian abodes nestled along cobblestone streets shaped by Colonial horse and carriage. Along Mary and Clark Streets it's particularly charming, with the Artillery Company of Newport hosting its extensive museum in an 1838 armory, and the historic Vanderbilt Hotel offering guests a luxurious stay in a former YMCA.
HISTORIC HILL, NEWPORT, RI is exceedingly WALKABLE
Just a block from Thames and Spring Streets and a short stroll to Broadway or the brilliant waterfront, this neighborhood is literally the heart of the city. It's where Newport started, and from which the rest of Aquidneck Island blossomed. This is what everyone thinks when they have Newport on their minds.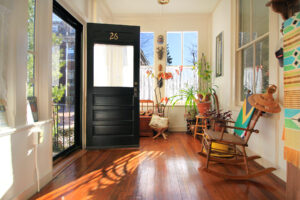 And here among all the finery, holding court among its rich neighbors, is a brightly painted Victorian home that stands out for its own reasons. This glamorous, three-story Exotic Revival Swiss Chalet has an extensive history dating back to the 19th century, and it's on the market for the first time in almost a decade.
The land at the corner of these two historic streets was bought in 1782 by Samuel Vernon, the wealthiest man in Newport, for "280 Spanish mill'd Silver Dollars." But he didn't build a home here. For nearly 100 years, it was a verdant garden, until Duncan Pell bought the land for his wife Anna as a Christmas present. She had this exotic home constructed around 1870, and for almost 150 years, it was known as the Anna Pell House. It still is, in fact. Mrs. Pell, the great-grandaunt of the late RI Senator Claiborne Pell, for whom the Newport Bridge is named, entertained Newport society here and held lavish parties for decades.
ANNA PELL was LATE SENATOR PELL'S GREAT-GRANDAUNT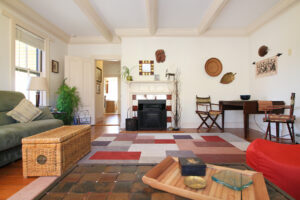 The single family, downtown mini mansion transitioned to a two-unit, mixed-use property after Anna's death at the end of the 19th century, housing doctors' and attorneys' offices. The only change to the original footprint was the installation of a door on the second floor at the top of the central staircase. Since 2011, it has been a private home for a couple who renovated with an eye for historic preservation and contemporary convenience. They restored stunning architectural details like fireplaces, fir flooring, radiators and the original mahogany banister, while adding modern touches like a custom kitchen with stainless steel and granite, new laundry room and boiler system. They also converted it into a two-family with the addition of the first-floor custom kitchen.
Though the structure itself is exceptional, the location in a central business district provides unparalleled flexibility. The living space can be used for numerous applications such as: a single family; a rental property with two separate units; a home with separate business space utilizing the heated lower level with its own entrance and bathroom; an extended family, multi-generational dwelling; and other combinations. This versatility afforded by virtue of the property's structure and zoning is exceedingly rare.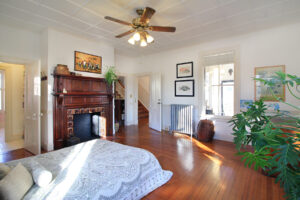 .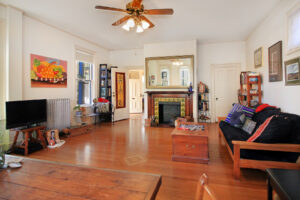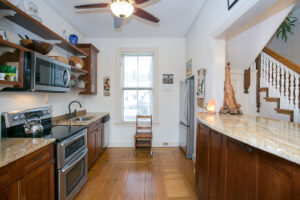 GENERAL BUSINESS ZONING MEANS FEW RESTRICTIONS
As a realtor in Newport County for more than a decade, the number one question I field from prospective vacation property buyers is, "Can I rent this in the winter?" Understandably, everyone wants to know about the economics of a house they're about to buy. But the answer to that question is very tricky elsewhere, given the city's restrictions on rentals. With this property, however, offices, retail operations and even short-term rentals are allowed giving you maximum flexibility.
This house is in impeccable shape, it's in the historic center of Newport, and there is rental potential (office, vacation, short term or long term). It is quintessential New England style in a delightful little island community. Won't you make it yours?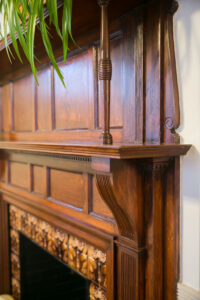 .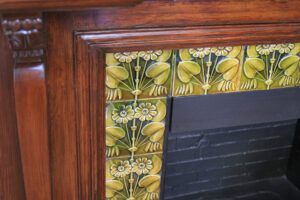 .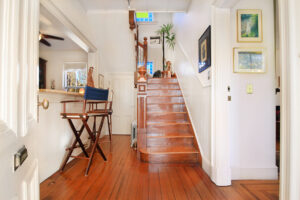 Learn more about Broker/Owner Leslie Hogan here.
Want to learn more? See the Anna Pell House listing here.
See more Newport historic properties for sale here.