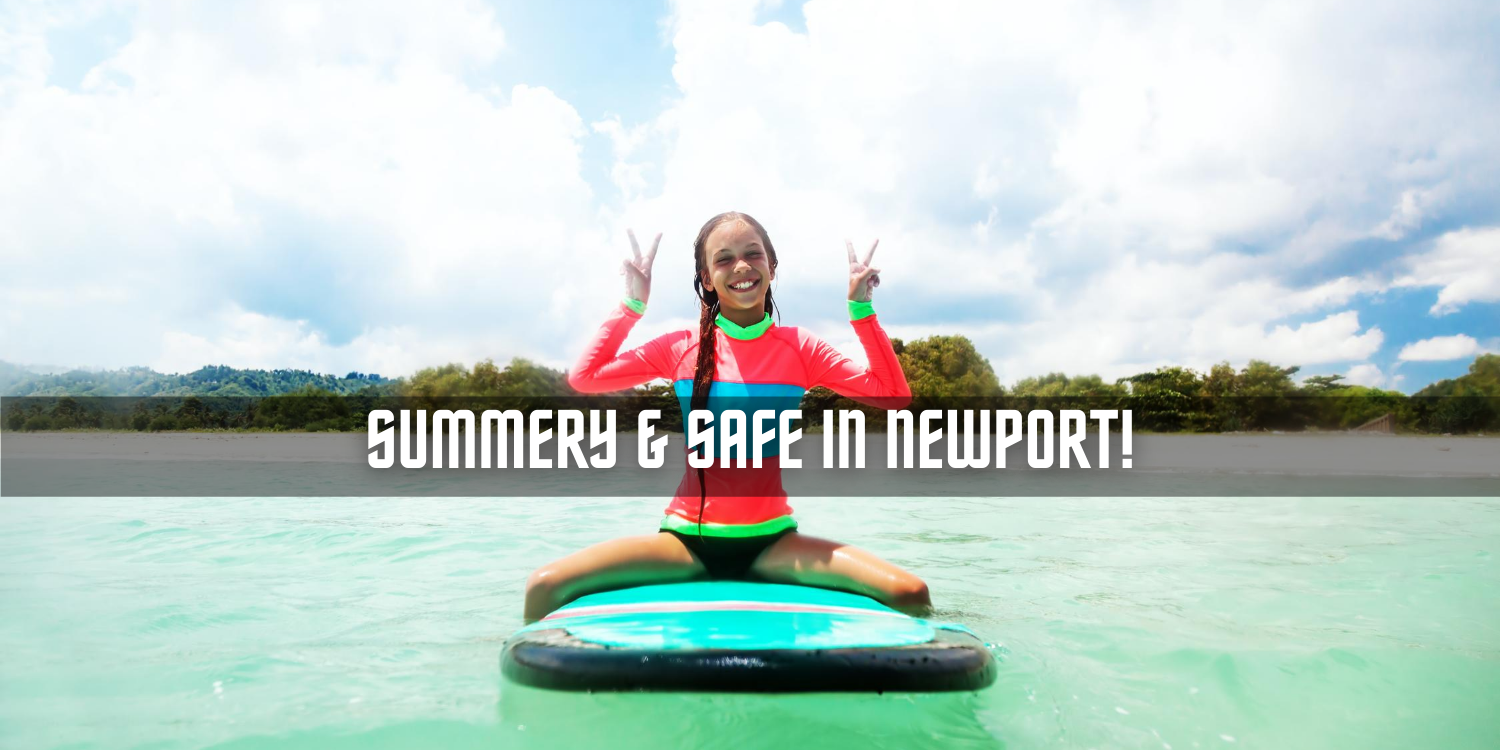 Practicing a socially-distant summer doesn't mean we have to cancel fun outdoor activities with friends and family. Luckily Newport County is an outdoor playground for athletes of all ages and abilities, on land, sea, and sky. From paddleboarding and surfing to tennis and golf, even skydiving, activities are open for business this summer, with a few minor adjustments.
SURF'S UP AT SACHUEST
Head to the beaches during these dog days of summer. You can surf, stand-up paddleboard and swim, all of which are socially distant-approved activities, with a refreshing twist. Though summer isn't the best time for big swell in New England, it's a great opportunity to learn, as the waves are small enough to get you going. Rental boards and lessons (even for kids) are available at Sachuest (Second) Beach in Middletown, with consistent waves also at Newport's Easton's (First) Beach. Third Beach in Middletown, Gooseberry Beach in Newport and Sandy Point Beach in Portsmouth also are great spots for swimming and paddling.
PADDLE TO PURGATORY
For a bigger SUP or kayak adventure, park your car at King Beach near Brenton Point State Park in Newport, and paddle around the southern tip of Aquidneck Island to Easton's or Sachuest Beaches. It's not for beginners, as it takes almost two hours, and you should be prepared for strong breezes and choppy water. But it's an exceptional paddle, and there is nothing like seeing the mansions from that vantagepoint, or paddling into Purgatory Chasm for a rocky interlude. Pack a water-proof picnic and you're set for a day on the water.
TENNIS AT THE CASINO ANYONE?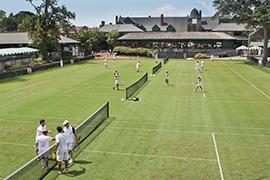 Grab a racquet for a game of tennis at the myriad public courts available on Aquidneck Island. Adjacent to Edward King House off Bellevue Avenue and at Cottrell Field on Freeborn Street in Newport, eight courts provide opportunity to practice your
Ace service or your volley shots with a pal. Gaudet Middle School in Middletown and Portsmouth High School have courts open for play on a first come first "serve" basis.
The historic International Tennis Hall of Fame & Museum in Newport also offers court rentals and lessons for all ages on the only grass courts in the country that host a professional tournament.
NEWPORT'S  PUBLIC GOLF COURSES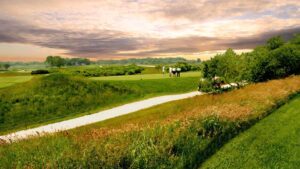 The first U.S. Open Championship in golf was held in Newport in 1895, and the sport has remained a popular activity ever since. Public golf courses are open this summer, with adjusted policies for social distancing and mask wearing among groups. Green Valley Country Club in Portsmouth and Newport National Golf Club in Middletown offer 18-hole, links-style courses with challenging bunkers, sloping fairways and marshes among picturesque environments.
TO BIKE OR TO HIKE?
Now is the perfect time to sequester yourself in the woods, and there are plenty of spots to hike here. Operated by Aquidneck Land Trust, the 10-mile Sakonnet Greenway Trail is the longest scenic trail on Aquidneck Island, with pathways through wooded and farm areas, along a golf course and near water features. Park at Glen Farm in Portsmouth and pick up the trailhead near the polo fields. Or try Albro Woods on Mitchell's Lane in Middletown for another forest adventure with your leashed pets. Take your young kids and make a DIY scavenger hunt out of all the animals and trees you find there!
Bike sales have soared since the pandemic hit this spring, as everyone wants to get outside when the weather is fine. Though there are few bike lanes here, biking (rather than motoring) is encouraged to get to the beach or the courts, and mountain bikes are also welcomed along hiking trails.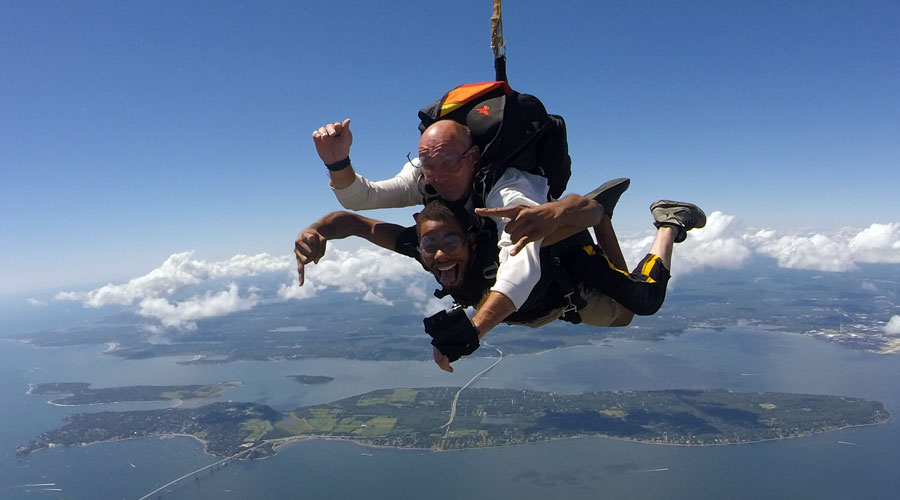 THERE'S SKYDIVING TOO!
The skies are no less off-limits. A tandem skydive with Skydive Newport will showcase views from Long Island to Boston on a clear day. New England's most scenic skydive takes off from Newport State Airport in Middletown, a US Parachute Association Group Member Dropzone, soars up to 10,000 feet before you jump with a certified instructor, and freefall at speeds of up to 120 mph.
If these don't suit you, try roller blading or skating, beach volleyball, basketball or softball with a group of friends or family, or make up your own game of Pickleball in your driveway. As long as you wear a face mask and maintain social distance, this summer will be full of adventure.