By Cathy Wicks
Flashback to early 1900s. The Vanderbilts reined in Newport, and Reggie Vanderbilt (you know his dad, Cornelius II, who built The Breakers), spent his vast inheritance on fast yachts, cars, horses and shrines to these fashionably luxurious sporting pleasures. He bought Sandy Point Farm, a 180-acre property in Portsmouth, in 1902, and spared no expense in its development. He restored the existing villa and created a gentleman's farm, bred horses and livestock, and built a voluminous riding ring, barns, polo fields and garages for his automobiles. This spectacular showpiece sold after his death in 1925, but the beautiful facility has remained a testament to horsemanship as Sandy Point Stables in the 21st century.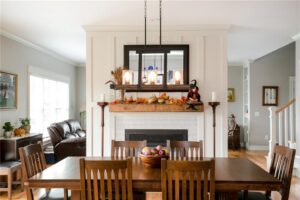 This history and equine vibe permeate the contemporary community at Sandy Point, a residential enclave off East Main Road. Drive down the street and you hear the whinny of horses out for their morning jaunt, or children and adults enjoying a riding lesson in the pastoral pens. You have left behind the speed and frenzy of city life and the highway, in favor of walking trails preserved and maintained by Aquidneck Land Trust, with Sandy Point Beach and Pennfield School on either end of the road. Walk further to Glen Farm Polo fields, and on to Middletown with Third Beach and Newport Equestrian Academy, or catch a glimpse of the newest HGTV Dream House construction nearby.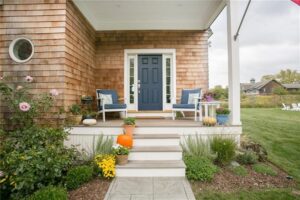 This is an exceptional location for enjoying nature and the fresh salty air of Aquidneck Island.
The history bleeds into your life here, and so many come here to capture that feeling.
You should live here too. Built in 2018 with custom details, 393 Sandy Point Avenue fits in naturally with its surroundings. Riding rings abut its backyard so you can watch your kids or grandkids take riding lessons, mature evergreens line the driveway and a firepit will toast your marshmallows on the stone patio. The roof lines, specially designed by Paul Burke, feature corner flares for added character, and the red cedar shingles complement the warm neighborhood tones. This residence oozes character inside too, with East/West exposure to maximize sunlight, granite countertops, see-through natural gas fireplace between the living room and kitchen, and 9-foot ceilings on the first floor. Its 4 bedrooms and 3,143 square feet allow ample space for your family to spread out, with room for additional guests to linger if you finish the basement space.
Even if you don't ride horses, you'll embrace the equestrian lifestyle in this picturesque Sandy Point neighborhood.