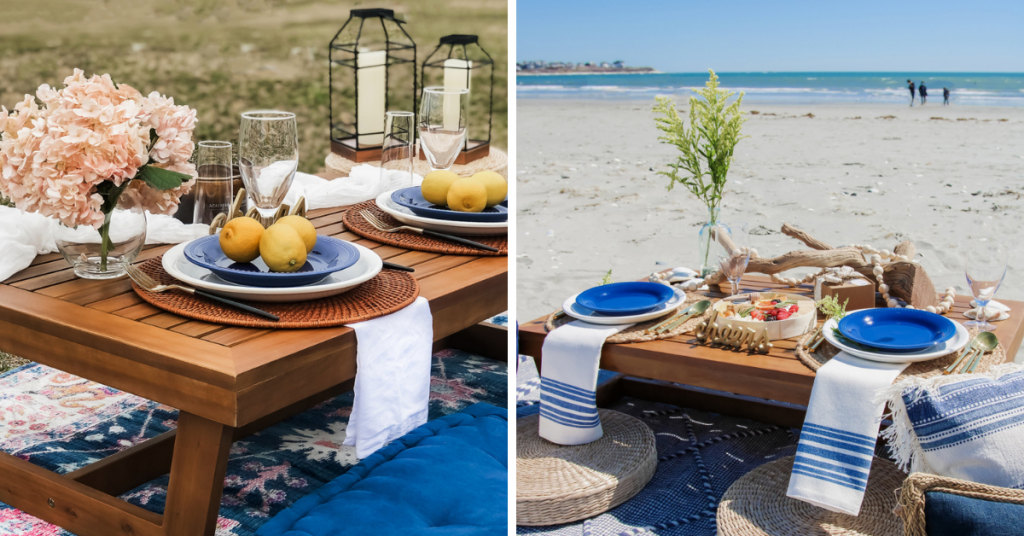 Picnics evoke a sense of nostalgia, relaxation, and the luxury of being "off the clock." Since many people are spending more time outdoors, some of Rhode Island's food providers have made it easier to enjoy a meal in the grass or on the sands of Newport.
Delivery or DIY
There are many ways to create a picnic. Either dust off that beautiful picnic basket set that your Aunt gifted you, or hire a local service to bring their bounty to you.
Pop-up picnics — which started on the West Coast — are now thriving in New England. Whether you're celebrating a birthday, romancing your partner, or bringing the family together, the options range from elegant to casual.
Up and Out
Premier Picnics is a luxury picnic planning service that operates all over Rhode Island. They offer five different curated experiences with themes like "farmhouse," "urban," and most appropriately for Newport: "nautical."
Each picnic experience includes all furnishings and linens, dinnerware and cutlery, so there's nothing you need to bring except your appetite. Each small table is decorated like a magazine photo, complete with mood-enhancing candles and fresh flowers. Premier Picnic's luxury meals start at $200 for two people. Gift certificates are also available.
Another high-end option is Stoneacre Picnics, recently launched by the popular Newport restaurant of the same name. Their talented chefs offer four different menus, including a "Parisien Lunch" or "Polo Picnic." The full-service packages come with a low table or blanket, pretty place settings, and lanterns. For that added touch, upgrades include rose petals and bubbly.
These memorable picnics start at $325 for two guests. Stoneacre's "Grab and Go Picnics" are also available for $149 and can be picked up at the Brasserie.
Pack and Play
If you'd rather prep the picnic yourself (maybe invite the kids to help?), choose items that are easy to transport and the opposite of messy (skip the spaghetti sauce). Foods that can be prepared ahead of time are a great idea.
As a hybrid solution, pick up your provisions at a sandwich shop or farm stand. Sweet Berry Farm in Middletown offers a To Go Menu of pre-packed lunches, hearty salads, and other delicious treats. An advance three-day notice is recommended for all orders. (It's worth noting that this fun and fresh market was named "Best Family Picnic" by Rhode Island Monthly in 2011.)
Another fun picnic event is returning this year! NewportFILM will resume its annual picnic contest with the theme "Go Green: Zero-Waste Picnic." Enter your own chic and sustainable spread and indulge as you enjoy a documentary screening. This event is happening on Thursday, July 29 at Glen Park. Check newportfilm.com for details.
Choosing the Perfect Spot
 In addition to planning your menu, you'll want to choose a location for your alfresco escapade (say that three times fast!). Each delivery service has a specific list of sites where they are allowed to set up, from public parks to local beaches. For a unique experience, Stoneacre can also serve at the Newport Polo Grounds or on the historic landscapes of three of the city's renowned mansions.
Colt State Park in Bristol is a great option (also served by Premier Picnics). If you're packing your own picnic, grab an open picnic table or set up your blanket on the beach. History buffs might enjoy Fort Adams State Park with its majestic views of Newport Harbor. To combine exercise and eating, fill your backpack and bike to Bristol's Independence Park. Or, don a bathing suit and head to one of the coast's beautiful beaches. Just make sure to check the state's website for services and amenities, and don't forget to bring a trash bag so you can leave it as you found it.
Whether you choose to hire one of the area's culinary creators or build your own basket, remember to savor the flavors, breathe in that fresh air, and cherish the memories that you are creating. (Now, could someone please help me straighten out this blanket?)