I was inspired to re-share this post I originally wrote in 2012 after watching the new HBO series, The Gilded Age. As a fan of historic homes (my own home was built in 1753), it's a treat to see these opulent mansions come to life on screen. The series was filmed in both Rhode Island and New York and features Newport mansions such as The Breakers, Marble House, The Elms, Rosecliff, Chateau-sur-Mer, and Hunter House. An upcoming episode, "Tucked Away in Newport," scheduled to air on March 14, will likely include plenty of recognizable Newport backdrops!
Below, I share stories from a member of one of Newport's Gilded Age families, Elizabeth Parke Firestone. "Betty," as she was known, and her husband, Harvey S. Firestone Jr. were one of Newport's wealthiest couples. They regularly hosted black-tie affairs and formal teas in the English gardens of their summer residence, Ocean Lawn. Considered to be the best-dressed American woman in the 1950s, Mrs. Firestone became famous for her lavish lifestyle.
Watching this part of Newport's history told by some of Hollywood's best is a delightful indulgence (Christine Baranski can deliver some devastating one-liners!). It's also a reminder of the colorful and rich history that gives Newport so much character.
* * *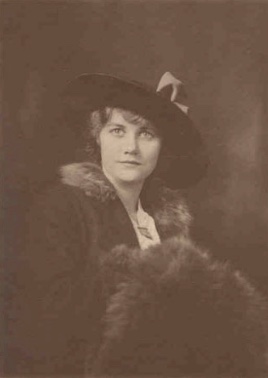 I married into a family of native Newporters descended from the European immigrants who worked in Newport's mansions. As a result, I have heard many amazing stories about Newport's Gilded Age families. Among my favorites is my husband Paul's recollections of Elizabeth Parke Firestone and his visits to her Newport, RI Firestone Estate, Ocean Lawn.
After her husband died, Mrs. Firestone (a.k.a Betty) summered alone at Ocean Lawn, a sprawling 1888 Peabody & Stearns mansion overlooking the water on the corner of Narragansett Avenue and Cliff Walk. She was the widow of the late Harvey Firestone, Jr., son of the founder of Firestone Tire.
In those days, Mrs. Firestone didn't get out much, but she enjoyed a little sherry and conversation with occasional afternoon visitors. Somehow, my husband, Paul, and his pal, Matt, became part of this tradition. (I must admit, I cannot imagine a more unlikely trio.) She enjoyed their company and told them what it was like when Henry Ford's auto business took off, and the money started flooding into Firestone Tire.
According to Mrs. Firestone, her father-in-law was reluctant to make tires for Henry Ford. But as he ramped up his tire business, the auto industry took off and so did the Firestone fortune. According to Mrs. Firestone, "Each day we had no idea what the postman was bringing, where it was from and whether the amounts were correct." They had no idea how much money was coming in, how much was outstanding or how to account for it all. "So, of course," Mrs. Firestone said, "we had to start a bank." The Harvey J. Firestone Bank of Akron, Ohio is still in business today.
Ocean Lawn
On another visit, the conversation turned to more domestic matters. Mrs. Firestone told Paul she was looking for a cleaner and asked him who he used. Paul told her that Plaza Cleaners on Aquidneck Avenue was the best. Mrs. Firestone replied, "I'm still sending my linens to France, and I'm just not happy with the way they're coming back."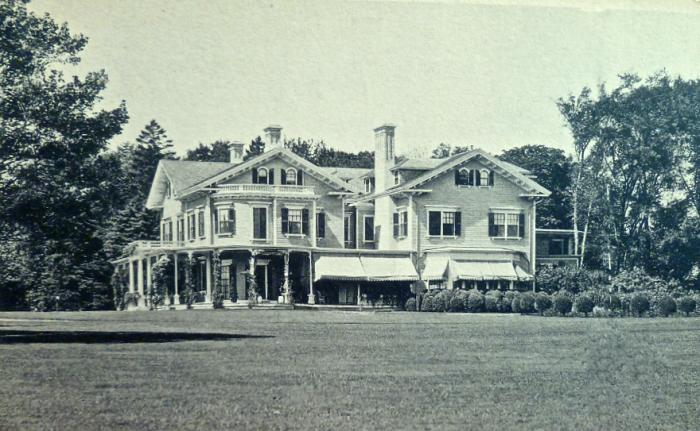 On another afternoon, Mrs. Firestone took her gentleman callers to see her couture dress collection. She had hundreds of custom-made dresses in her closet each with two diminutive pairs of handmade shoes on the floor underneath. In the 1950s Mrs. Firestone was regarded as one of America's best-dressed women, and she liked her shoes. She was a size four and a half.
When Mrs. Firestone needed a place to store her Jamaica furniture, she bought the mansion next door. She said it was good for the furniture, and life was more peaceful without neighbors. Both this house and a spectacular pool house she built for a favorite granddaughter are now grand private homes.
Mrs. Firestone died in 1990. Her home was sold, and the property was subdivided into several large lots between the Cliff Walk and Annandale Road. Today the original mansion, the converted pool house, and several new homes coexist behind the original iron gates.
If you have a Newport Mansion story of your own, don't keep it to yourself! Please share it here.
ABOUT HOGAN ASSOCIATES CHRISTIE'S INTERNATIONAL REAL ESTATE
Hogan Associates Christie's International Real Estate is an independent Rhode Island brokerage founded by Leslie Hogan and Matt Hadfield, two of Rhode Island's most experienced agents, each with a strong track record of success in the Greater Newport real estate market. Hogan Associates Christie's International Real Estate's 36 sales agents work on behalf of buyers and sellers of fine properties in the coastal communities of southern RI. The firm has offices in Newport and Middletown and is a member of Who's Who in Luxury Real Estate, an elite broker network with more than 130,000 sales professionals located in approximately 880 offices in 70 countries and territories. In 2020 & 2021 Hogan Associates Christie's International Real Estate received Newport Life Magazine's Best of Newport County award. For more information, visit HoganRI.com.