HOGAN ASSOCIATES' "PROJECT REGIVE" COLLECTS RECORD-BREAKING AMOUNT OF GIFTS FOR LOCAL FAMILIES IN NEED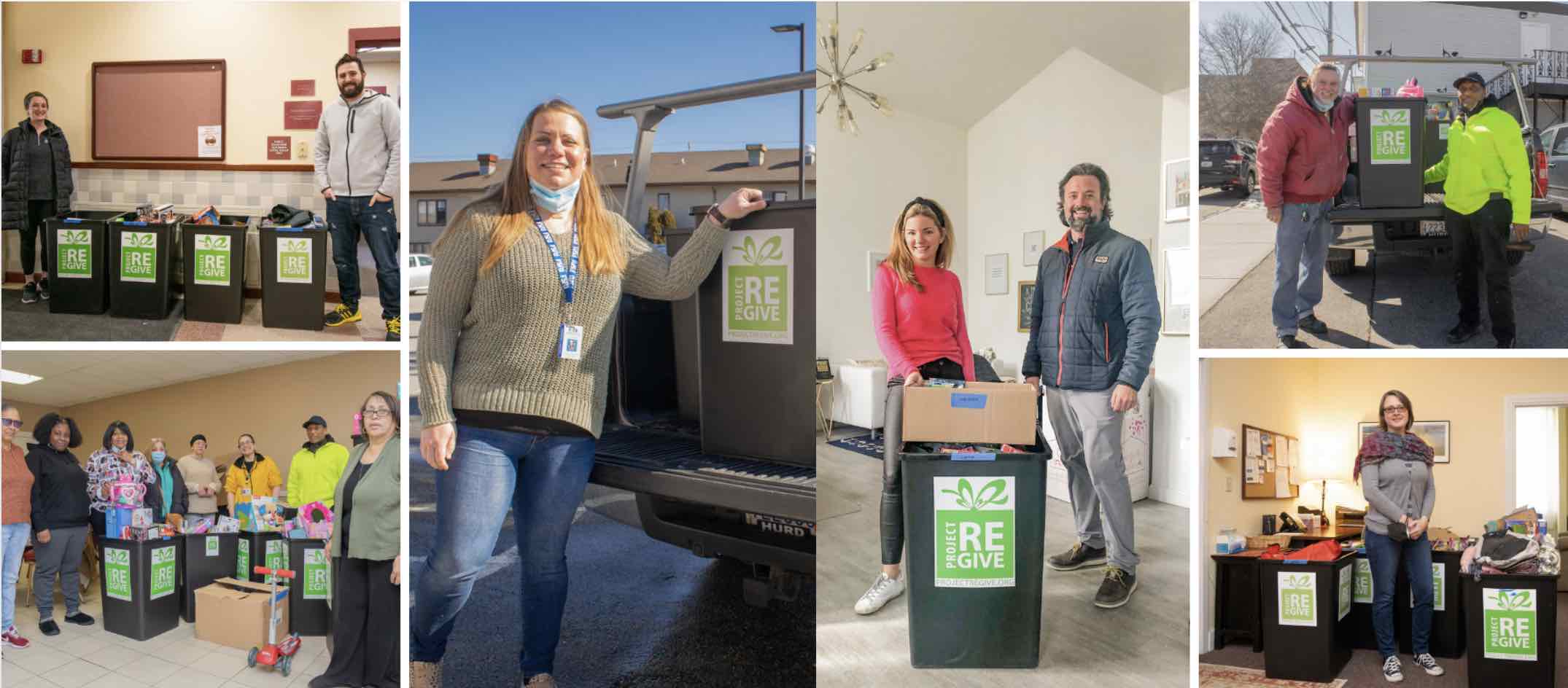 Now in its 8th year, Project ReGive has donated more than 11,000 gifts and household items to local families in need. Donations are collected and sorted by the Hogan Associates team, then distributed to the local charities accordingly. This year's collection broke all previous records–with a total just shy of 2,300 gifts!
Matt Hadfield, Middletown local and co-owner of Hogan Associates Real Estate, launched Project ReGive in 2013 with a handful of collection bins and the help of friends and real estate agents. Since then, the project has grown steadily with the generous support of the community. This year, 20 local sponsors including Bank Newport, Newport Hospital, and Embrace Home Loans were happy to set out the colorful Project ReGive bins in their lobbies and entrances, encouraging visitors to contribute to the cause.
Lucy's Hearth, Newport Community School, and The Women's Resource Center have all been the primary recipients of the collected gifts over the years. Due to the overwhelming generosity of the community this season, Hogan Associates was able to extend the additional donations to The Confetti Foundation, and to Newport's Housing Hotline. The charities then provide gifts to adults and children in need, helping them celebrate birthdays and other milestones all year long.
"One of the beautiful things about Project ReGive is that no one is asked to go out and buy presents. We are simply distributing unwanted, unused gifts to those in the community that can really benefit from them. The kindness in the community is humbling," said Hadfield.
"This is an amazing program in terms of paying it forward," said Kelly Lee, Executive Director of Lucy's Hearth. " The hundreds of gifts we receive really do make a difference for the families."
More information can be found at projectregive.org, or follow along @projectregive.
It doesn't cost a thing to spread a little happiness.
ABOUT HOGAN ASSOCIATES
Hogan Associates is an independent Rhode Island brokerage founded by Leslie Hogan and Matt Hadfield, two of Rhode Island's most experienced agents, each with a strong track record of success in the Greater Newport real estate market. Hogan Associates' 36 sales agents work on behalf of buyers and sellers of fine properties in the coastal communities of southern RI. The firm has offices in Newport and Middletown and is a member of Who's Who in Luxury Real Estate, an elite broker network with more than 130,000 sales professionals located in approximately 880 offices in 70 countries and territories. In 2020 & 2021 Hogan Associates received Newport Life Magazine's Best of Newport County award. For more information, visit HoganRI.com.