Cruising on the water is one of the most thrilling ways to experience Rhode Island. The many coves, inlets, islands, and beaches offer much to explore. Owning a home anywhere in Rhode Island means you're reasonably close to the Atlantic Ocean. The state's nearly four hundred miles of coastline has earned it the nickname "the Ocean State". This, along with a favorable tax environment for boat owners, make Rhode Island's waters very attractive to boaters. We put together this list of some of our favorite coastal areas in and around Newport to give you an idea of how to enjoy our corner of Rhode Island by boat.
The Best Boating Destinations in Jamestown, Rhode Island
Mackerel Cove
This special spot is sometimes called Jamestown's hidden gem and for good reason. It's also known as Jamestown Town Beach and connects the two pieces of land that form Conanicut Island. It's a favorite stop for locals of all ages. Snorkel and fish from your boat with a breathtaking backdrop, or drop anchor and row or paddle to shore to enjoy the tranquil waters known for great swimming.
Fort Wetherill
On the southeastern tip of Jamestown's Conanicut Island sits Fort Wetherill State Park — more than 60 sweeping acres designated for public recreation. It's a beautiful setting, with panoramic views of Narragansett Bay. Once used as a vantage point during the Revolutionary War, the protected coves of Fort Wetherill now make it a popular spot for scuba diving, snorkeling, and spearfishing.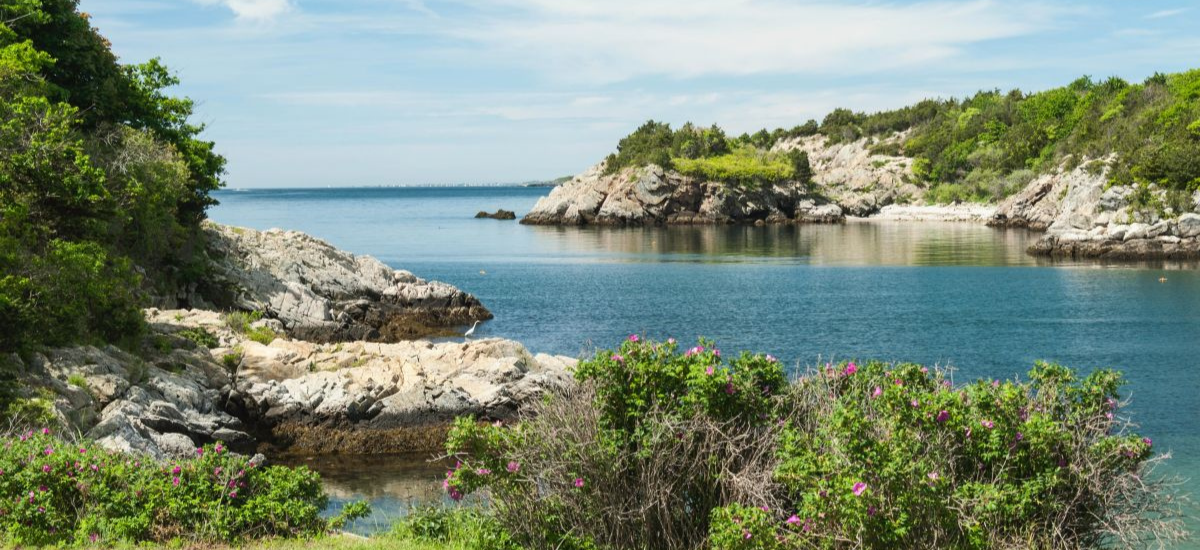 Great Boating Stops in Newport, Rhode Island
Rose Island
This local treasure, only accessible by boat, is a must-visit. It's an 18-acre secluded island with a striking view of the Pell Bridge. Beach your boat or drop off guests (no anchoring or tying up at the dock is permitted). Tour the lighthouse museum, explore the grounds, or enjoy some top-notch bird-watching as the island is home to egrets, snowy egrets, and glossy ibis. This is also a great area for canoeing and kayaking. Visitors are welcome to spend the night on the Island with reservations, making Rose Island one of the few lighthouses in the United States that allow overnight guests. Daily admission fees apply for all visitors to benefit the Rose Island Foundation.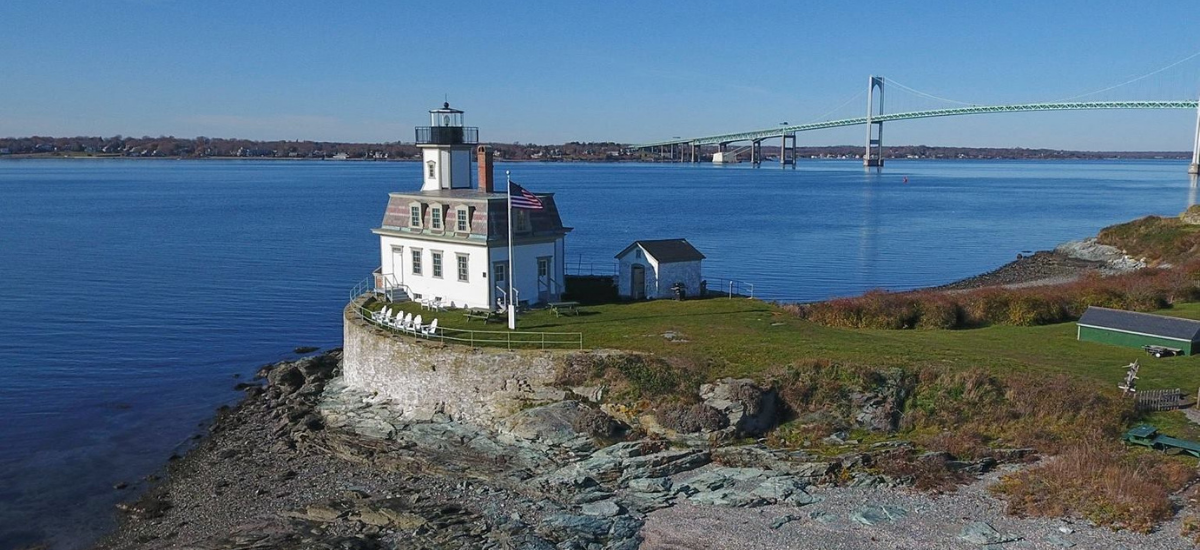 Gooseberry Beach
Anchoring your boat at this popular, public Newport beach located along famous Ocean Drive is a wonderful option since its parking lot is known to fill up fast. Gooseberry Beach is for great swimming and a truly family-friendly experience. The cove-like area offers minimal waves for a calm, peaceful way to enjoy the ocean.
Fort Adams State Park
This historic site makes a great boating destination. You can enjoy the music of the Newport Folk Festival or Jazz Festival held annually at Fort Adams from your boat but plan to arrive early and stay a while since traffic in the bay is heavy on festival days. Fort Adams' 6+ acres is full of history and offers unrivaled sweeping views of the Pell Bridge and Narragansett Bay. There is a courtesy dock in front of the park visitor center available for pickups and drop-offs.
Our Dock-to-Dining Restaurant Pick in Newport: Forty 1° North
Pull right up by boat and enjoy a delicious, waterfront meal in the heart of Newport at Forty 1° North. Its marina takes reservations and offers dockside dining on-board your yacht plus indoor and outdoor dining at the restaurant and bar. Enjoy great oceanfront views, food, and drink. Don't miss the lobster roll!
There are also plenty of public dinghy docking options available, from daily, transient to overnight docks, which the City of Newport conveniently lists here.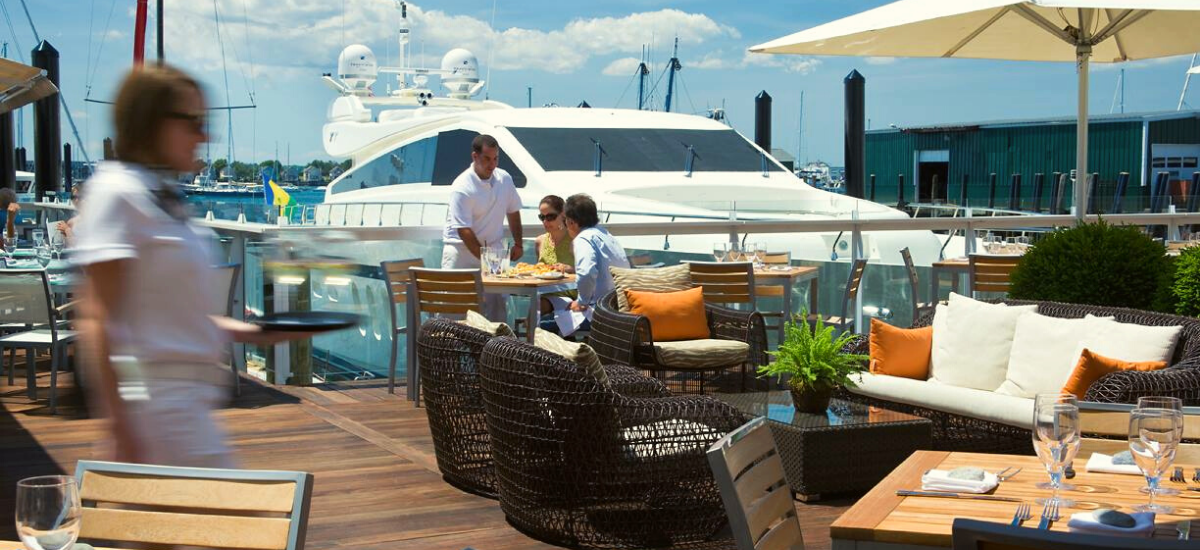 Where to Go Boating in Portsmouth, Rhode Island
Dyer Island
On the west side of Aquidneck Island, with Weaver Cove to the southeast. Only a half a mile long, Dyer Island feels like a true escape and is known for the best-around beachcombing and bird-watching thanks to undisturbed salt marshes. There's no place to dock, but it's a great place to anchor and wade ashore at your leisure. Remember to plan your visit outside of nesting season!
Gull Cove
Boat right on into this beautiful spot and anchor down to enjoy scenic views of the Sakonnet and Mount Hope Bay, great for small boat exploration. This is a well-protected cove that's known for its kayaking, bird-watching, and especially fishing. If you feel like going ashore, there's also a beach walk and good shoreline fishing, but it's important to know that swimming isn't recommended here.
Potter Cove (Prudence Island)
Facing the East Passage of Narragansett Bay, Potter Cove is on Prudence Island — an inhabited island and local gem off the coast of Portsmouth. Its sandy beach, idyllic picnic spots, fishing, and kayaking opportunities make it a great spot for family retreats. Bonus points for breathtaking views! There are no public moorings at Potter Cove, but you are welcome to anchor within the cove itself. Keep in mind, it can get awfully busy, so head over early and plan to spend the day. Speaking of busy, if a giant floating boating party is your thing, check out Aquapalooza, held here annually as a celebration of boating life. It typically attracts hundreds of boats at a time, so plan to join in, or steer clear if you're after a low-key visit!
Our Pick for Dock-to-Dining Restaurant in Portsmouth
Dock at the Safe Harbor Marina to enjoy Gulf Stream Bar & Grille. It's known for coastal cuisine that's a favorite among the locals, who are partial to their Cuban and cajun offerings, Bermuda fish chowder, and more. Beyond its eclectic menu, it offers stunning sunset and harbor views and is a dog-friendly option for outdoor deck dining if you've got your furry friends in tow.
Our favorite boating stops in Tiverton, Rhode Island
Grinnell's Beach
The Sakonnet River is a must-experience when boating in Newport County, and Grinnell's Beach is a fantastic spot for checking it out. Fish at the Stone Bridge Pier or enjoy a beach day on the sandy beach nearby while taking in gorgeous views of the Sakonnet as well as Gould Island.
Nanaquacket Pond
If you're boating on the Sakonnet River, you can easily slip into the pond by passing under the Nanaquacket Bridge. Bring along a kayak, standup paddleboard, or a fishing pole to catch a few scup. Nanaquacket Pond is known for the calm waters of its protected cove. It's also home to Evelyn's Drive-In restaurant, with dock space available to pick up your meal and dine at anchor on the water. Try some of their famed clam cakes and fish 'n chips.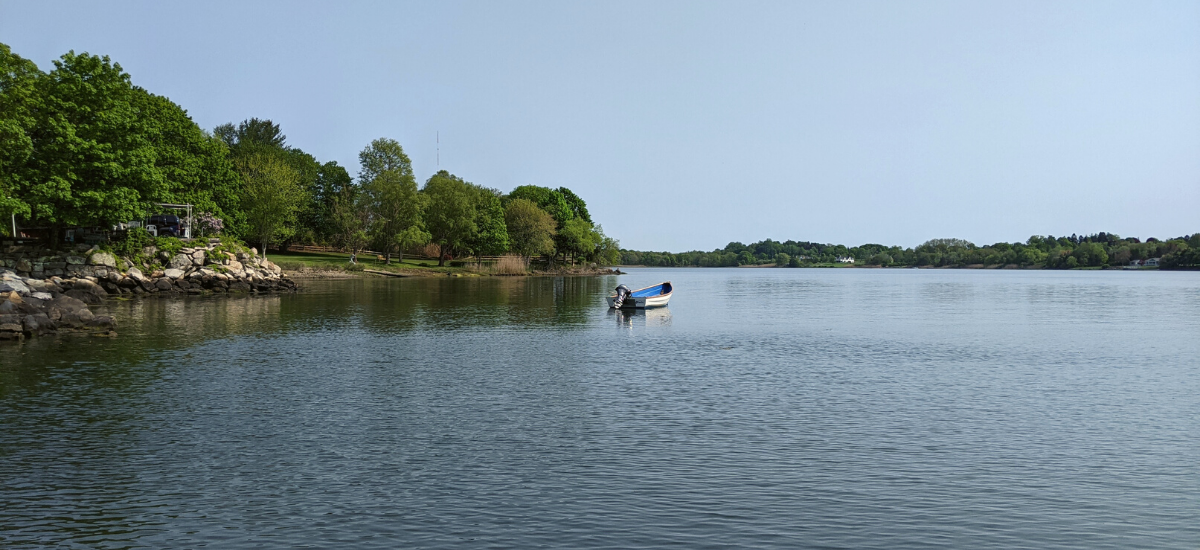 Our Dock-to-Dining Restaurant Pick in Tiverton: The Boat House
The Boat House is a local favorite and a must-visit if you're boating on the Sakonnet.You can enjoy scenic views of the river whether you're dining inside or outside. The menu is overflowing with delicious seafood options. We love the baked stuffed lobster!
If you're considering buying a home and enjoy boating, give Rhode Island a look. We'd love to help you find your perfect match.
Search RI Waterfront Homes for Sale