The Simple Life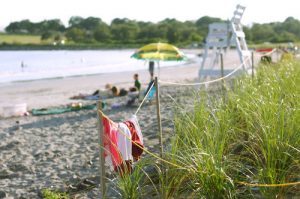 Life in Jamestown is rejuvenating, and refreshing, as well as a fantastic destination at any time of year. Being an island, Jamestown is surrounded by water on all sides and has a number of beaches and coves. Mackerel Cove, also known as Jamestown's town beach, connects the two pieces of land that make up Conanicut Island. This quaint beach has attracted visitors and residents for many years and continues to be a travel must when visiting the 401.
Only half of a mile long, the parking for Mackerel Cove is limited with first come first serve regulations. Each vehicle costs $15 per day; however if one is a Jamestown resident or vacationing on the island for thirty days or more, resident permits are available.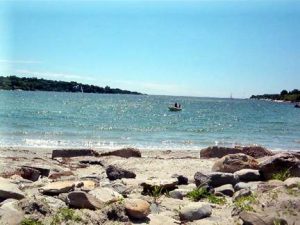 Being a cove, this is a perfect beach destination for a family with young children or for someone in search of a relaxing spot to enjoy the sunshine and a good book. Mackerel Cove is a calm and quiet beach with lifeguards on duty from June 6th to September 7th, 9am-5pm each day. Being a small, public beach, Mackerel Cove does lack private changing rooms, showers and a concession stand; however, there is usually a Del's truck to be found in the parking lot. Because Jamestown is such a small island, the local cafes and shops are just a skip and a hop away.
Day Trip Getaway
Because Mackerel Cove is situated interior to mainland, there are typically little to no waves and a no wake zone closer to shore. This is one of the major factors that differentiates it from a number of the other town beaches scattered throughout the state. However, at the right given time, the cove can be filled with fish, squid and other types of ocean creatures that can easily be caught while fishing.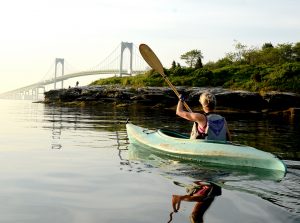 Mackerel Cove has so many great features to offer from swimming, to fishing, or relaxing on the shore with a nice cold drink and a newspaper. Be sure to make this a stop on your next trip in Rhode Island!
Last, but not least, if you're looking for a fun boating excursion, Jamestown and specifically Mackerel Cove is your place. With the water surrounding Jamestown much deeper than that of Narragansett, it makes the perfect location to drop your anchor, fish, or just relax.