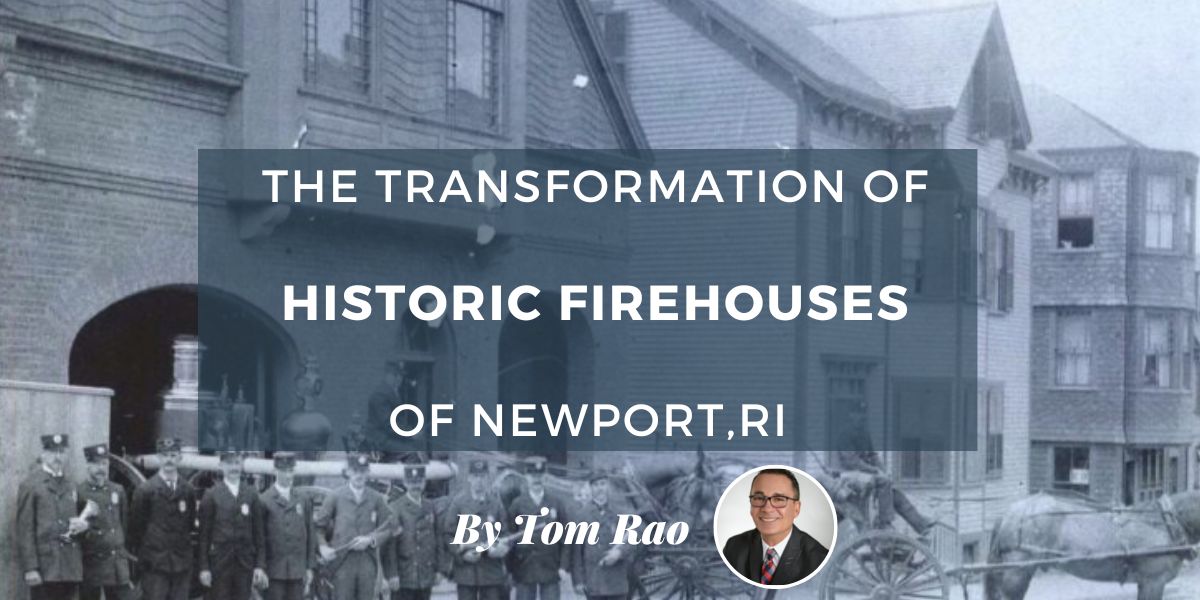 When you think of a fire station, you don't typically imagine scenic water views, modern amenities, and cozy bedrooms. Recently, however, a number of Newport, RI's historic firehouses have been transformed into luxury living spaces. While restoration can be a significant undertaking, the structure and location of these buildings has caught the eye of some savvy real estate investors. Firehouses are typically recognizable, culturally significant buildings that are centrally located downtown. Their brick design and characteristic barn doors are attractive and unique. High ceilings and large, wide-open spaces provide interior designers with a blank canvas with which to create custom layouts.
While Newport currently has only two active fire stations, there was a time when there was one in every neighborhood. The abundance of wooden structures and the fact that most homes shared a wall with other homes meant that fires spread easily. Traveling by horse and buggy through Newport's hilly neighborhoods made it challenging for firemen to get to the scene of a fire quickly. The innovation of the steam/combustion engine was one of the factors that resulted in the need for fewer fire stations. Though it's been many years since Newport's volunteer fire department was established back in 1790, the adaptive reuse of its decommissioned stations contributes to the historic charm that lends so much character to Newport. Let's take a look at how some of Newport's old fire stations are being used these days.
Firehouse Theater
4 Equality Park Place, Newport, RI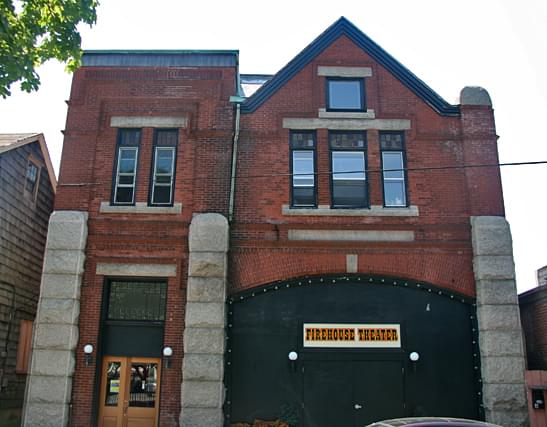 If the Firehouse Theater could talk, its stories could fill a book. The structure has played host to a union hall, bus terminal, and even a laundromat. In 1999 it was transformed into a theater, hence the name. It was known as the Newport Steam Fire Engine Station #4 building when it served as an active fire station from 1885 to the 1920s. The building is a two-story rectangular structure with a tower. The ground floor housed fire engines, horses, and a common area for the firemen. The second floor was the sleeping quarters. It was built by the city of Newport for its first paid city firemen. These days, this intimate, 75-seat venue hosts original plays, improv comedy performed by the Bit Players, and the captivating "Tell Newport" series during which locals share a true, personal 10-minute story.
The Firehouse – A Vacation Rental
595 Thames Street, Newport, RI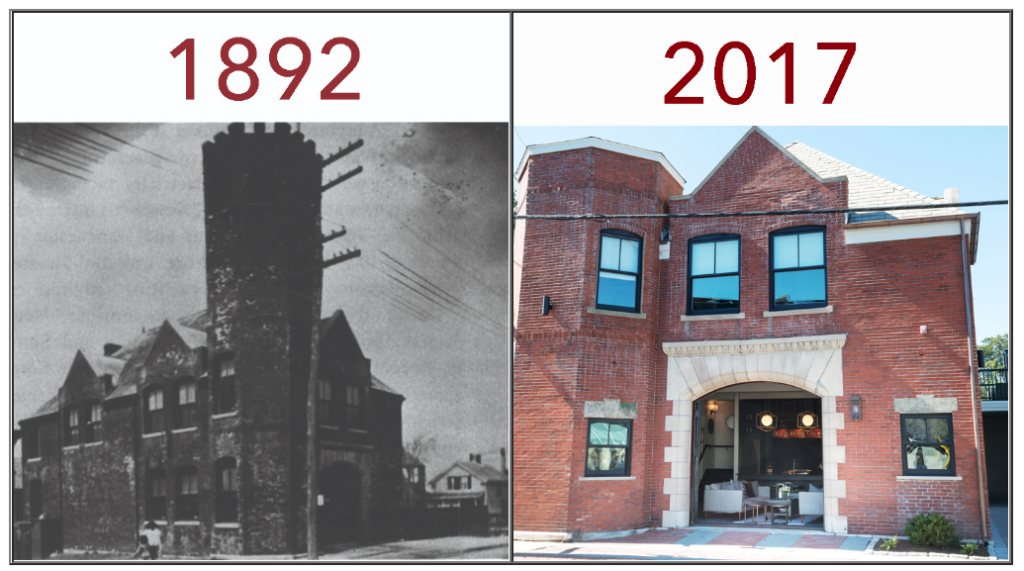 Newport Fire Department's Hose Co. 6 opened in 1892 and served the south section of Newport. The castle-like tower used as a lookout to watch for fires came down after it was damaged in the famous hurricane of 1938. Many Newport locals remember this location as Firehouse Pizza – a local hangout with graffitied walls and a parking lot frequently used by aspiring skateboarders. The glory days of Firehouse Pizza came to an end in 2012 when it was transformed into a beautifully appointed vacation rental home. In 2016, the interior of the building underwent a complete overhaul, including an intensive brick, window, and firehouse door restoration. Fortunately, the original slate roof was preserved. Since 2017, The Firehouse has been hosting overnight guests who come to experience Newport while based out of one of its unique, historic structures.
Fire Station House
10 Young Street, Newport, RI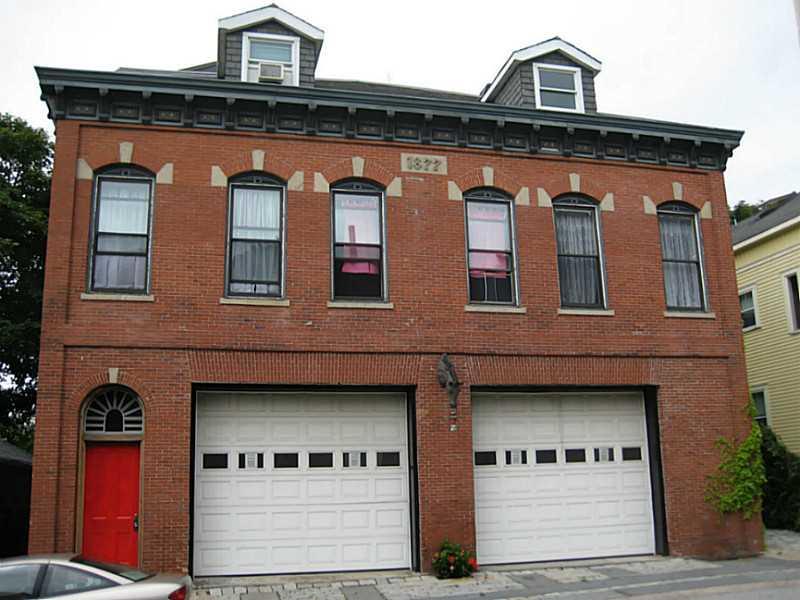 Located just off the main drag of Thames Street in Newport's Historic District, the only indication that this small, charming structure was once a firehouse is its brick exterior and a set of prominent garage doors. Recently, this former fire station, originally built in 1877, was converted into a residential property. The building contains two apartments, each with four bedrooms and two bathrooms, high ceilings, and a massive garage that can fit several cars plus a boat. As a bonus, its large outdoor space is a rare find in downtown Newport.
Redwood Hose Station 8
118 Prospect Hill, Newport, RI
This large, present single family residence is located in the Historic Hill neighborhood of Newport. The Redwood Hose Station 8 was last active in 1912 but don't let its long history fool you. The property was taken apart brick by brick and rebuilt to be more eco-friendly with a focus on sustainable living with a commitment to historic preservation. The design integrates the old and the new by maintaining features such as the original fire pole while incorporating a Tesla charging station and a geothermal heating and cooling system. That achievement earned this residence the prestigious Doris Duke Preservation Award. And, just in case the fire pole is not your preferred mode of transportation within the building, an elevator provides access to all three floors of the residence.
Fire Station No. 1
25 Mill Street, Newport,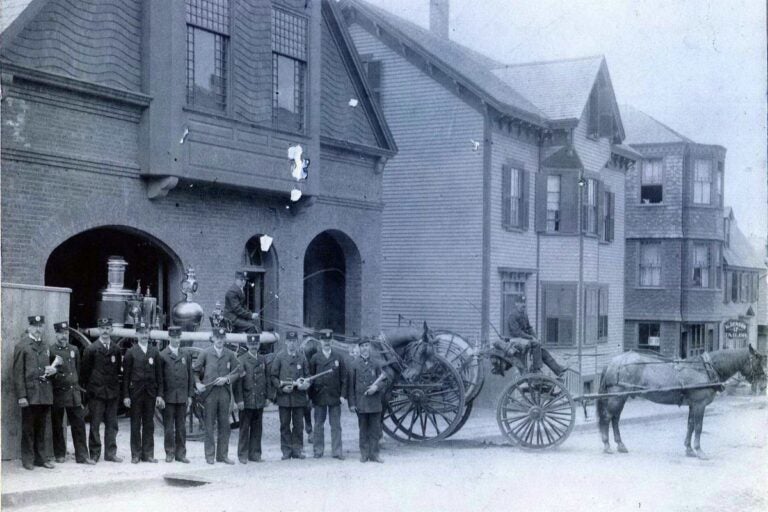 Fire Station No. 1 is an anomaly of a property. This stunning building will stop you in your tracks as you walk down Mill Street towards the bustle of downtown Newport. Its elegant details and bright, brick and cedar-shingle exterior have a classic Newport look. Built in 1885, this building housed one of the nation's first organized fire companies known as Old Torrent No. 1. It was home to Newport's first horse drawn steam engine until the steamers were replaced with motor-driven equipment in 1913. Unfortunately, these early model fire trucks weren't designed to handle the steep incline of Mill Street. So, after 29 years of service, the station was closed and the horses, steamer, and the building were sold in 1915. The building traded hands over the years, and after falling into disrepair in the 90's local residents restored Fire Station No. 1 and the building was added to the National Register of Historic Properties. The structure boasts a 65-foot lookout tower with views of Newport Harbor, the original brass fire pole, 12-foot high ceilings, 6,000 square feet of living space, and a private roof deck overlooking the harbor and Queen Anne Square area that can rival any luxury property in the area. The building is presently under new ownership, and the interior is in total renovation as a single family residence.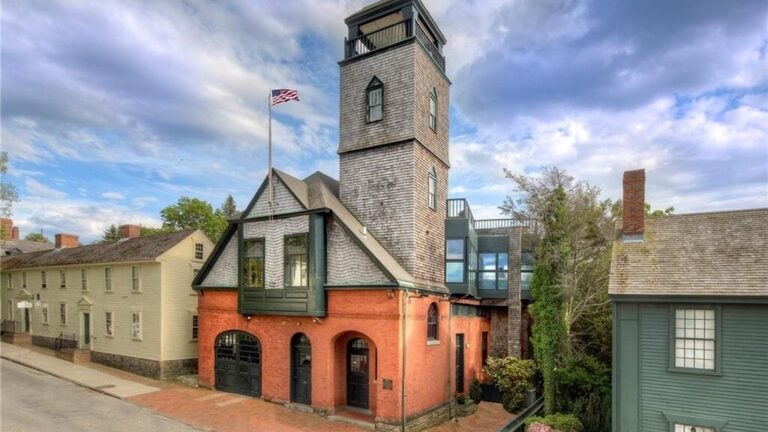 The adaptive reuse of Newport's historic buildings not only adds character but helps to add needed housing in the increasingly popular City-by-the-Sea. I am proud to have helped in selling Fire Station No. 1 and hope you appreciate all of Newport's fire houses and their significant historic value, as I do. Interested in learning more about Newport, RI's unique properties? Give me a call at (401) 474 – 9004 or email me at tom@tomrao.com

ABOUT HOGAN ASSOCIATES
Hogan Associates is an independent Rhode Island brokerage founded by Leslie Hogan and Matt Hadfield, two of Rhode Island's most experienced agents, each with a strong track record of success in the Greater Newport real estate market. Hogan Associates' 36 sales agents work on behalf of buyers and sellers of fine properties in the coastal communities of southern RI. The firm has offices in Newport and Middletown and is a member of Who's Who in Luxury Real Estate, an elite broker network with more than 130,000 sales professionals located in approximately 880 offices in 70 countries and territories. In 2020 & 2021 Hogan Associates received Newport Life Magazine's Best of Newport County award. For more information, visit HoganRI.com.