For wine lovers and craft beer connoisseurs, Newport County is the place to be for taste-tempting creations and unique experiences that are sure to please even the pickiest of palates. 
Vineyards
For wine enthusiasts, Newport County's beautiful vineyards are a true delight. Whether you're searching for a new pinot gris to add to your collection or the perfect picnic spot to enjoy a refreshing rosé, the unique vineyards on and around Aquidneck Island will not disappoint. 
Greenvale Vineyards 
This sixth-generation family farm nestled along the Sakonnet River is the perfect way to spend a day. Greenvale Vineyards has been producing delicious wines since 1982. Visitors are invited to a unique "outdoor wine experience" with its sprawling vineyard and breathtaking land and seascape with ample outdoor seating and picnicking areas.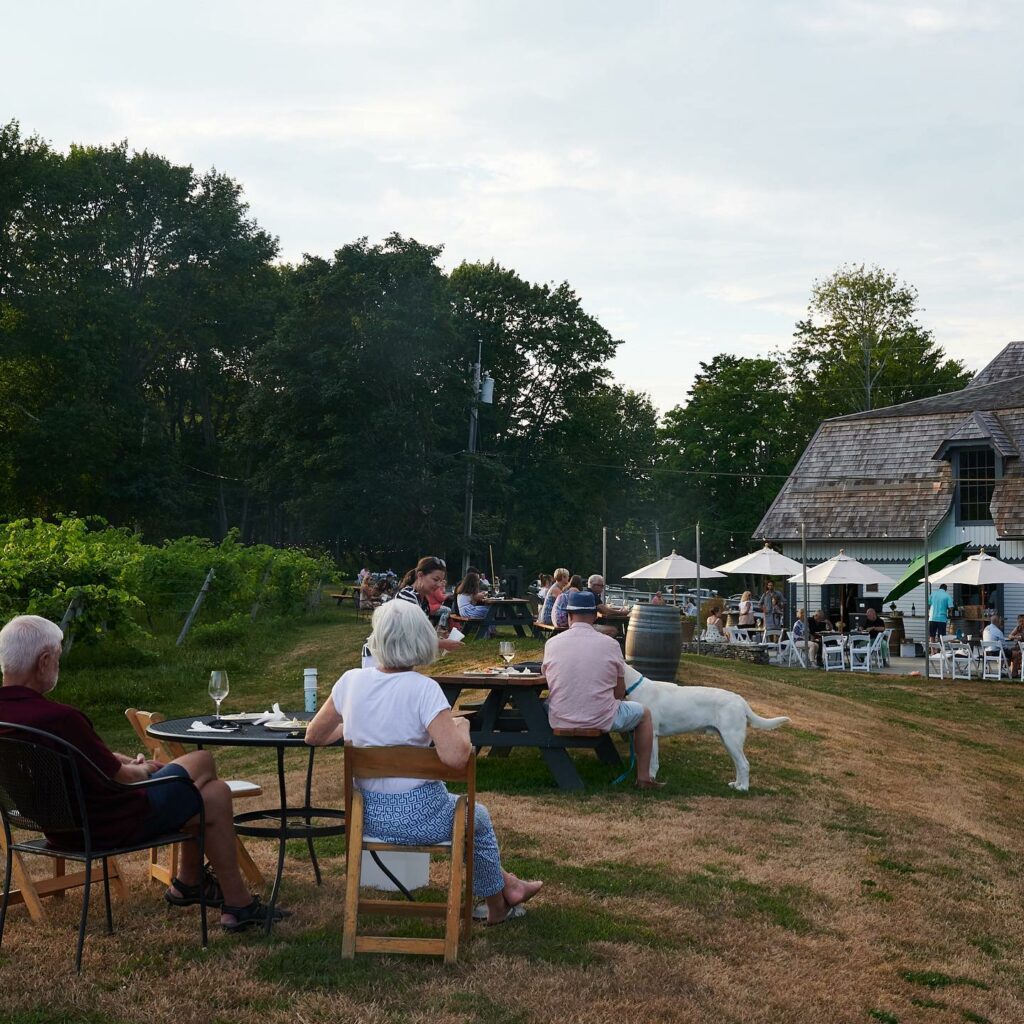 You can take a tour of the vineyards and learn more about its "country life concept" and the call to return to nature. Sample its selection of estate wines in Greenvale's warm and welcoming tasting room. Or bring a blanket and some charcuterie for a picnic in its recently added string-lit Wine Garden among the vines. Greenvale is located at 582 Wapping Road in Portsmouth, a 15-minute drive from downtown Newport. Be sure to check out their calendar of events to see the schedule of food trucks and entertainment. For large groups, be sure to call ahead.
Carolyn's Sakonnet Vineyard
If you're looking for a wide selection of wines, look no further than Carolyn's Sakonnet Vineyard. The beautiful 150-acre site set between two waterways in Little Compton, Rhode Island has been producing award-winning wines since 1975, making it one of New England's oldest vineyards. Currently, 19 wines are produced at Carolyn's Sakonnet Vineyard, and you can sample their selection of reds, whites, roses, and dessert wines by the glass or tasting flight. You might even find a new favorite to take home among its varietals.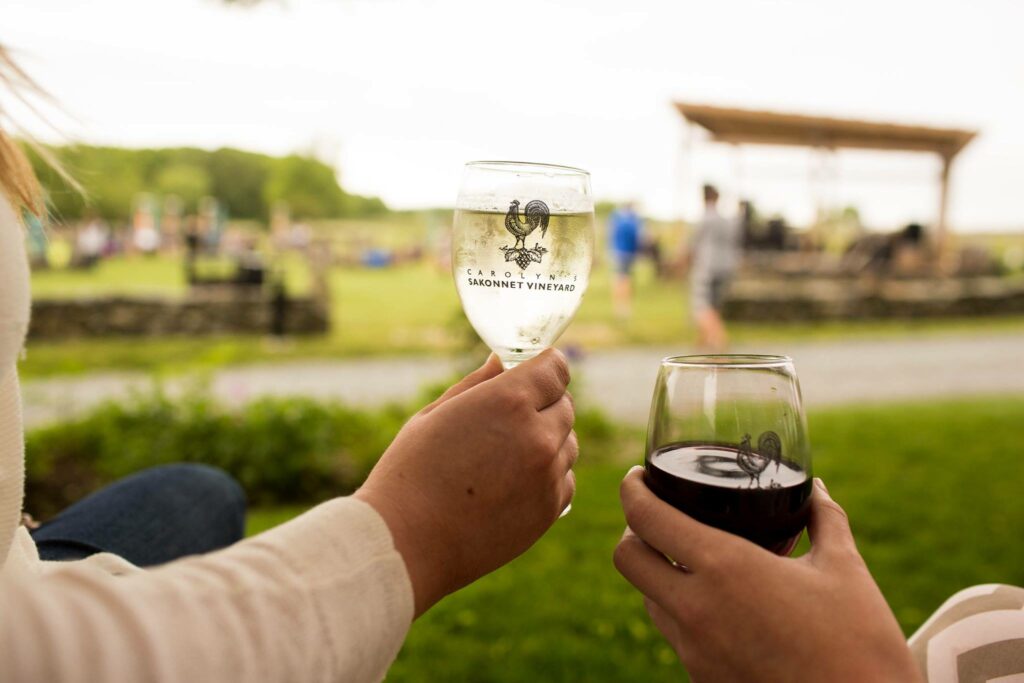 Guests are welcome to stroll through the vineyards and enjoy its spectacular views or settle into the Adirondack chairs or a table with an umbrella while sampling its offerings. A selection of "grab and go" food items are available for sale, but food cannot be brought onto the property. Traditional wine tastings are offered in the tasting room when staffing permits. 
Newport Vineyards
https://www.newportvineyards.com/
When you just can't decide whether you're in the mood for wine, beer, dining, or shopping, Newport Vineyards has the answer. This lovely 100-acre historically preserved farmland in Middletown, Rhode Island has been perfecting its estate-grown wines for 25 years. From traditional varietals to tasty blends, you're sure to find a wine to please everyone in your party. Winery tours are offered Sunday through Friday at 11 a.m. and advance booking is recommended.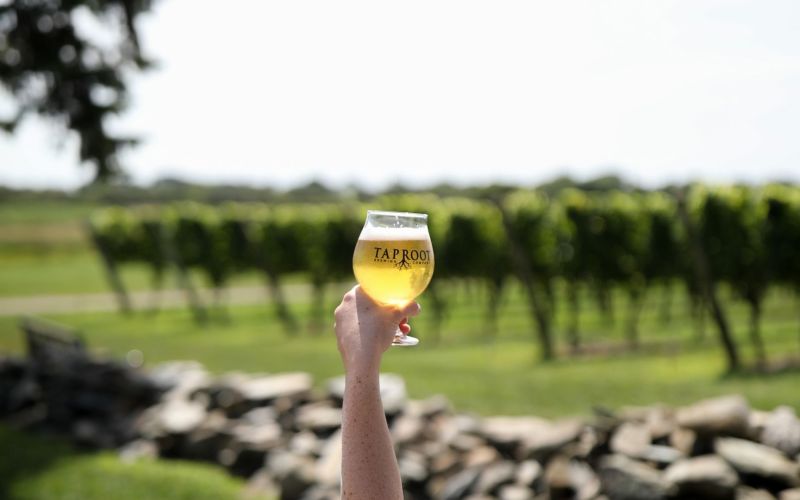 For those who prefer hops to grapes, the seven-barrel Taproot Brewing brewhouse offers small-batch, unfiltered beers made with locally farmed ingredients. Find out what's on tap here. And be sure to try one of their house-made pretzels – the perfect pairing for a pale ale!
Tastings are offered daily for both wine and beer, either at the bar or strolling outside among the vines. The bars are open on a first-come, first-served basis with no reservations, or you can enjoy the outdoor areas with walk-up beverage service available year-round.   
Be sure to bring your appetite with you to Newport Vineyards as well! Along with its wine and beer, the farm also boasts a complete farm-to-table scratch dining experience thanks to an on-site kitchen and a partnership with more than twelve local farms and artisans. Reservations are recommended for dining in one of its three indoor dining areas, during which you can also sample beer or wine by the glass or flight. 
Before you leave, be sure to check out the Newport Vineyards market as well, where you can find wine and beer to go, along with distinctive gifts and apparel to enjoy long after your memorable day at the vineyard. 
Breweries
Rhode Island is home to a vibrant craft beer industry, and Newport County is no exception. Whether you're craving a hoppy Indian Pale Ale, the sweet molasses flavor of an oatmeal stout, or something in between, these breweries won't disappoint beer enthusiasts. 
Ragged Island Brewing
https://www.raggedislandbrewing.com/
Ragged Island Brewing Company is a 37-acre farm in Portsmouth offering incredible views of its hop fields alongside picturesque Narragansett Bay. Opened in 2022, the new 10-barrel brewhouse is housed in a renovated barn, along with a renovated farmhouse serving as its taproom. 
Visitors to the brewery find a friendly atmosphere with outdoor decks, a greenhouse, and walking trails all with stunning vistas. From customer favorites to new creations, their small-batch beers are always being brewed at the farm and you'll find a rotating selection of beers on tap in the taproom, open seven days a week. Its offerings include IPAs, double IPAs, lagers, farmhouse ales, stouts, and more.
In addition to sampling these finely crafted brews, Ragged Island Brewery has a full line-up of events from spring through fall, featuring live music and food trucks. 
The General's Crossing Brewhouse
https://www.generalscrossing.com
Opened in 2019, the General's Crossing Brewhouse on Narragansett Avenue in Jamestown is just a stone's throw from the water. It prides itself on being the second smallest brewery in Rhode Island with the freshest beer available. "We brew beer we want to drink" is a phrase they like to use, and one that should tempt the taste buds of beer tasters everywhere. There are four to six seasonal brews available on tap at any given time, and the offerings are quite different from what you find at other breweries. Perhaps a witbier is your speed, or you prefer to savor the deep ruby color of a cherry porter, or maybe a dark lager with some caramel sweetness is your choice? Whichever you choose, you can't go wrong with these freshly brewed beers. 
You'll also find complementary snacks to cleanse your palate between tastings, board games, and a dart board to add to your fun. And feel free to bring your four-legged friend with you because General's Crossing is dog-friendly too. The brewhouse is open seven days a week and accepts reservations, though they're not necessary. You're also welcome to bring food in with you or order delivery from a local restaurant. This downtown Jamestown is a must-stop if you're looking for a beer you can't get just anywhere! And you can become a member of its Culper Ring for special pricing, member-only events, and other perks. 
Rejects Beer Co.
https://www.rejectsbeerco.com/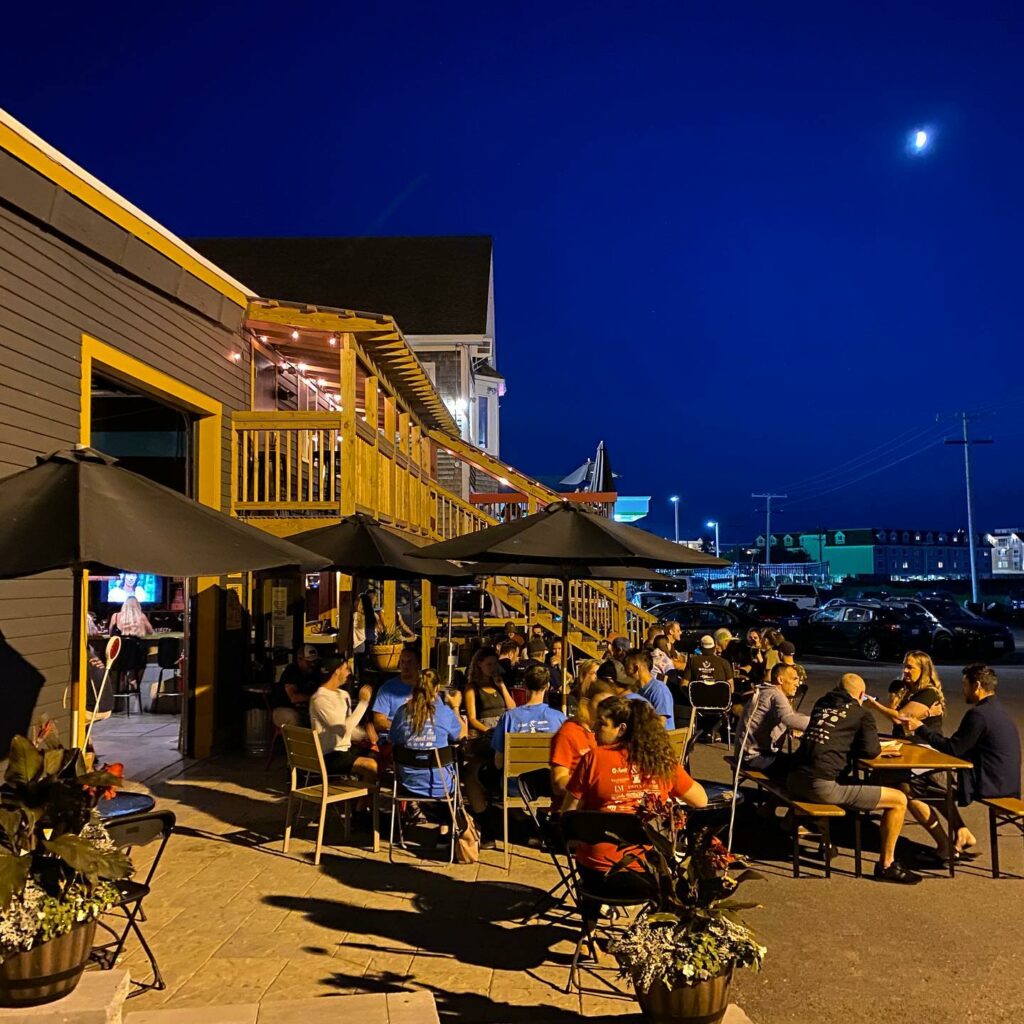 Established in 2020, Rejects Beer Company is located at 124 Aquidneck Avenue in Middletown, just two blocks away from the beach. Open seven days a week, the brewery resides in a renovated 1,800 square foot garage, with a 25-seat bar and an outdoor patio. The brewery offers "great beer without too much fuss" in a welcoming space where everyone can feel comfortable. Their focus is on offering high-quality modern beer styles, such as IPA, fruit, and sour beers as well as session ales and lagers, available on tap and in cans. Rejects also has a robust events calendar that includes a fun mix of live music, art shows with local artists and comedians. They even have some old-school video games to go along with their 80s throwback vibe in the taproom. While they don't serve food, they have seasonal food vendors and are also right next door to Diego's Barrio Cantina for take-out Mexican food.
Newport County has some of the most established as well as some of the newest wineries and breweries in New England. Interested in learning more about life in Newport County? Call us at (401) 680-6588 or send a message to info@hoganri.com.