Newport, Rhode Island, is known for its picturesque coastline, historic architecture, and charming downtown district. What many visitors and potential homeowners may not know is that Newporters also share a long-standing commitment to creating, preserving, and nurturing the green spaces and gardens of our treasured City-by-the-Sea.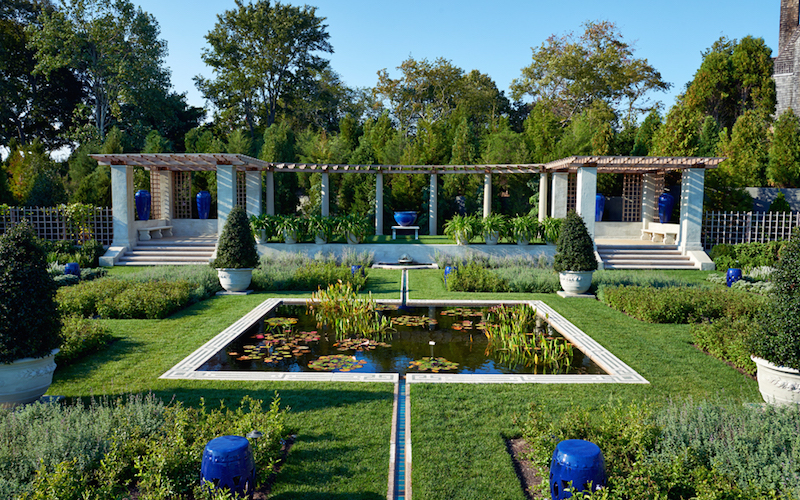 From the two-year-long restoration of the famed Blue Garden by the late philanthropist, garden-lover, and summer Newport resident Dorrance Hamilton to the preservation of the world-famous Green Animals Topiary Garden, we take pride in our gardens and greenery as much as we love being out on the water. Even the renowned Newport Mansions offer a glimpse into Newport's historical love of gardening through over 250 years of landscape design. 
You'll find many open parks and walking paths throughout Newport. Even downtown, where some bits of land measure mere feet, you'll find gorgeous patches loaded with small flower gardens for everyone to enjoy. These gardens not only add to the city's beauty but also provide a space for residents and visitors to savor the weather and connect with nature. 
Cultivating Pride Throughout the City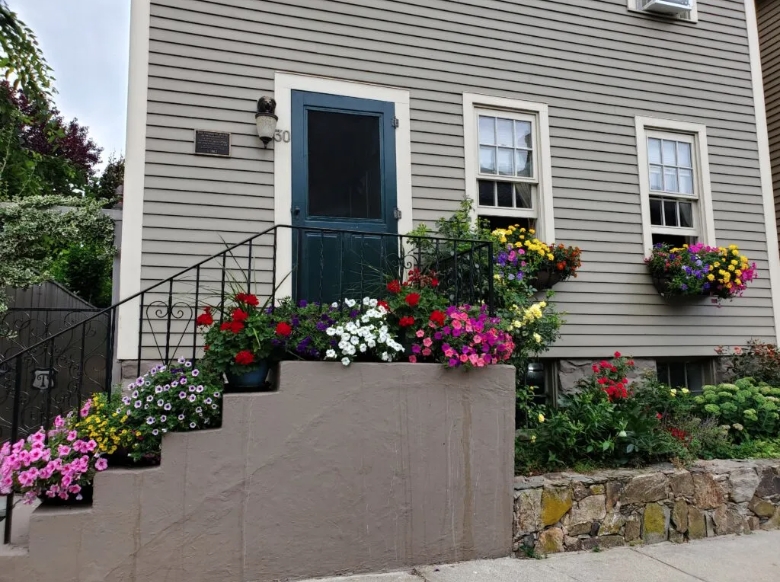 Public gardening events and community projects, like Newport in Bloom, unite the community while beautifying the city for visitors and residents to enjoy. Newport in Bloom is an all-volunteer, 501(c)(3) nonprofit organization started in 1982 that encourages residents and businesses to spread the beauty of flowers and gardens throughout the city. Activities include an annual plant sale, garden competitions, window decorating contests, daffodil bulb giveaway, and much more.
The Daffodil Project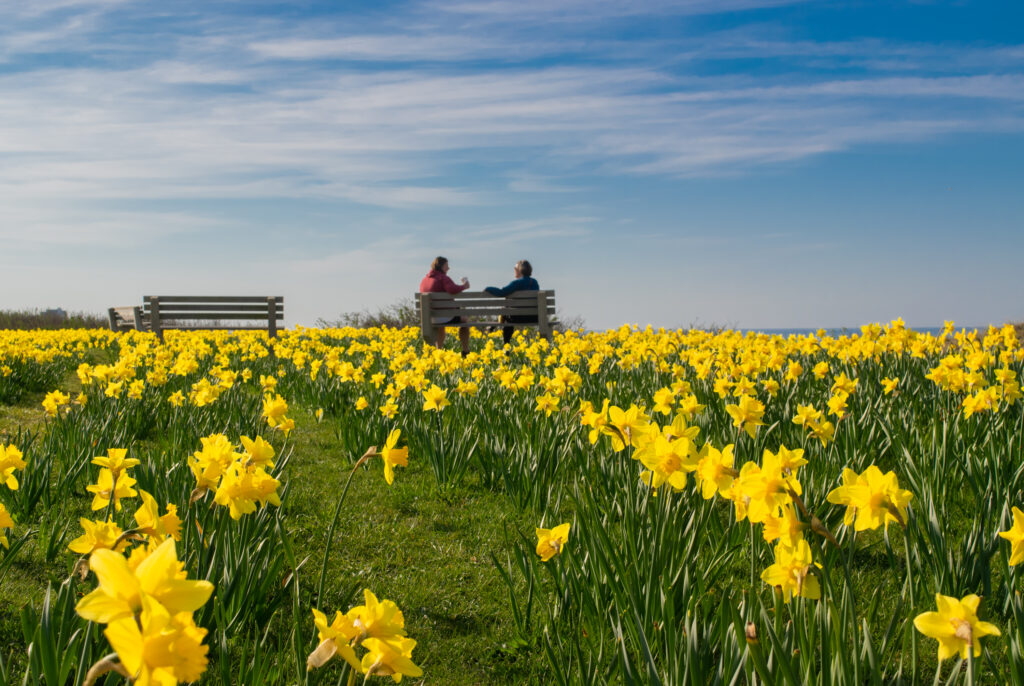 One of Newport in Bloom's most popular events is Daffodil Days. Started in 2012, Daffodil Days gathers volunteers to plant fields of more than 1.3 million daffodils throughout the city, including along Coddington Highway, the famous Cliff Walk, near Easton's Beach, and more. In March 2023, Travel + Leisure named Newport one of the best places to see daffodils in the spring. 
Newport in Bloom sponsors a free daffodil bulb giveaway each October to encourage all residents to participate in the tradition. 
If you've been to Newport in the spring or summer, you may have noticed one of the 140 hanging baskets lining the beautifully scenic streets of Newport. Those are also the handiwork of Newport in Bloom. 
The Newport Flower Show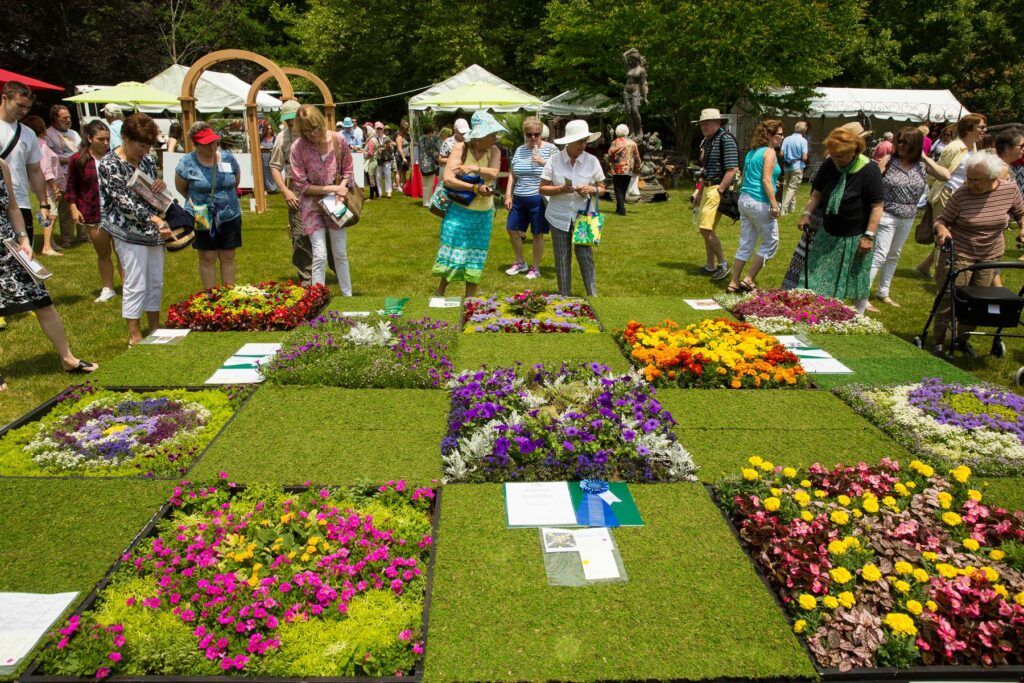 Newport in Bloom runs many events from April through November and helps sponsor popular annual events such as the Newport Flower Show, which is run by The Preservation Society of Newport County from June 23 to June 25. The Newport Flower Show showcases the flowers of the city's vibrant gardens and attracts visitors worldwide. Newport in Bloom's success is partly due to Newporters' deep pride in the natural beauty around town. 
From its historic architecture and lush, gorgeous gardens to the serene coastline of Ocean Drive, you never quite get used to the wonder and magic that has drawn people to Newport, RI, for over 380 years. It's a feeling that fosters a sense of pride in Newporters and has drawn many of us to become stewards of America's First Resort.
Whether you are a  lifelong resident, a potential home buyer, or a summer renter, Newport's commitment to enhancing and preserving its natural beauty will surely make you fall in love with this charming City-by-the-Sea.
If you're interested in renting or purchasing a home in Newport, RI, or its surrounding communities, Hogan Associates Christie's International Real Estate would love to help you start your journey. Call us at (401) 680-6588 or send a message to info@hoganri.com.