In case you've seen the latest existing home sales report, it isn't all the sunshine and rainbows as you may have expected. But why is that? Everywhere you see that the housing market is hot hot HOT, why would there be a steep decline in sales numbers?
First, this is not the end-all-be-all metric of the housing market. It's one of several to consider when evaluating current and future housing markets. The monthly Existing Home Sales figure is certainly a strong indicator, but it can vary month to month, and lately it's been more erratic than usual.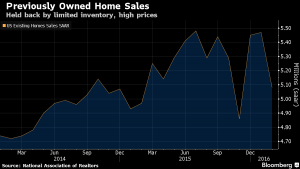 From first glance of the report, existing home sales decreased 7.1%, so the volume of sales decreased compared to the month earlier, but compared to the year earlier, it's still up 2.2%. Prices are also up, nearly 4.4%, from a year ago. You look at who's buying: Cash buyers, (comprising of 25%), if investors are still feeling optimistic, perhaps the market has a way to go? First time home buyers are still on the fence, (30% of transactions vs the historical rate of 40%) Meaning there's a backlog of buyers still floating out there, giving room to grow.
My take;
It's pretty simple: Low inventory means low sales volume. This doesn't necessarily mean the market is turning, or it's depressed, or getting worse. There is certainly a demand still floating out there, it just means buyers are getting frustrated. There is just a gap between sellers and buyer which will need to be met. Eventually, as time marches on, buyers get more comfortable coming up to the seller's numbers as the market continues to improve.  The absorption rate, or number of months of inventory left on the market, only 4.4 months, and improving compared to the month earlier.    Certainly a seller's market.
If you're a buyer;
Don't be discouraged. If anything, be determined. With low inventory markets you need to be diligent, look at as much as you can, don't be shy on submitting offers and most of all: be patient. Your home will come onto the market eventually, just work with the right REALTOR and you'll find it.
If you're a seller;
Call your REALTOR, find out what you think the market can bear in value and don't hesitate to "go fishing" at first. You might be surprised at what the market can bear for your home, especially if you've done recent upgrades or fall within a certain price point (Call your Hogan Associates REALTOR to find which price ranges are more active than others) The market is strong, don't hesitate to try towards the higher end of your broker's CMA at first, but gauge the market's reaction over the next few weeks, if you're not getting showings this time of year, you're priced way out of the park, but if you're getting several showings a week and even a few offers, you might be closer than you think.
End of the day, in a market as manic as this one, a REALTOR that's active in his/her market will be able to tell you the real skinny, way more than a few national numbers will.
Call an experienced REALTOR today (ahem.. like this guy) to find out what the market is really doing in your neck of the woods.