If you live in Newport year round, chances are you have some connection to boats, sailing and other nautical pursuits.  Take David Norton, for example.  He's the owner of Lemon & Line, and the subject of my first Hogan Associates' blog post.
This is the first in a series of blog posts about one-of-a-kind shops in Newport. Lemon & Line is nautically inspired and based right here in Rhode Island. Growing up in Barrington, Rhode Island, David Norton was an avid sailor and lover of the ocean. After graduating from Saint Michael's College, he returned home with a plan in mind. With his ideas and passion for the sea, he created his company Lemon & Line. This was where the nautically inspired bracelets were born in the year 2010. Originally based out of his home, Dave hand crafted his sea inspired rope bracelets and sold them in different boutiques all over the nation. In May of 2014, Lemon & Line's Flagship store opened in the heart of downtown Newport, Rhode Island.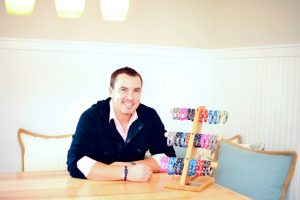 NEWPORT'S SAILOR ENTREPRENEURS – SALTY AND CREATIVE
The first style created was the Newport Style, a classic sailor's knot bracelet. As time progressed, more designs emerged such as a spin off the original turk's head. There are now seven different styles all named after different places located in Rhode Island and Massachusetts including Jamestown, Vineyard, Sakonnet, and Nantucket. In addition to the bracelets, different accessories have made their way into inventory as well. These include beach totes, key fobs, belts, tee shirts and hats all garnished with the famous Lemon & Line logo. It is not uncommon to see someone sporting their bracelets, hats and tote bags around Aquidneck Island as well as their eye catching stickers plastered on bumpers, cell phones and laptops.
THIS IS KNOT YOUR AVERAGE SUCCESS STORY
Aside from the New England inspired bracelets, Dave has created specialized bracelets for various foundations and events such as the Confetti Foundation, Sail Newport, Lukemia Cup Regatta and the official bracelet for Alvimedica, a member of the 2015 Volvo Ocean Race.
LIFE IS BETTER ON THE WATER 
With the thriving business, Dave has opened two smaller scaled "pop up" stores in Nantucket and a second Newport location on Bowen's Wharf. The expansion has done wonders for the company and will continue to aid in its growth. With the help of Dave's wife Elizabeth and daughter Elle, he is living his dream as a successful sailor and businessman.
Click here to view the wide variety of bracelets and other accessories: http://www.lemonandline.com/