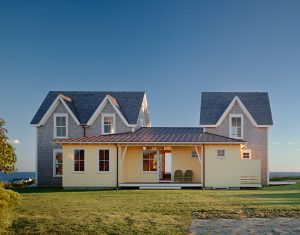 Traditional Homes With A Modern Twist
James Estes and Peter Twombly, founders and owners of Estes/Twombly Architects, have slowly begun to give quaint New England a taste of the new, contemporary houses growing increasingly popular across America. Some would argue that these stunningly beautiful, yet modern homes have no place here in New England, while others love the thoughtful adaptation of the traditional colonial cottage.
Most of their designs utilize different materials that are climate friendly, and provide natural heating, lighting and ventilation. Their work is innovative yet simplistic, and slowly gaining appeal with classic (some might say staid) New Englanders.
New Age Designs
With the firm's work often replicating the farm-cottage look, these homes add a contemporary feel to the traditional ocean front cottage we know and love. Some of the new modern elements include the addition of the colored metal roof, kalwall panels, divided light windows and different geometric designs on the interior. Estes Twombly homes are a beautifully restrained mix of traditional and contemporary – always memorable, never over the top.
As the popularity of Estes/Twombly's designs continue to flourish, each house is noticeably unique with different features tailored to the specific property. Whether it be floor to ceiling windows allowing natural light to flow through the house or a sliding barn door to add a rustic feel to a two car garage, each design is exclusive and different.
Historical Impact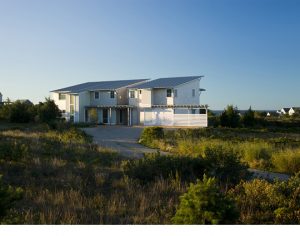 As the saying "bigger is better" is slowly dying out, homes like Estes/Twombly's are making a more dramatic appearance in the world of real estate and home buying. With the McMansion designs being reeled in, the beach-cottage-farmhouse combos are taking off and becoming the home of choice around New England. Estes/Twombly's architecture and artisan skills are impeccable and will continue to be marveled over as history and the economy continues to change.