Looking to combine beach-going with home-owning? Consider coastal homes for sale on Portsmouth, RI's Sakonnet River.
Location Is Key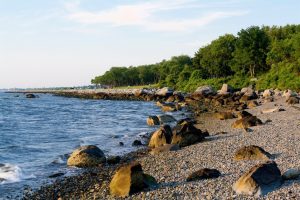 Buyers searching for waterview homes in Portsmouth, RI are often surprised to learn there are numerous neighborhood beaches up and down the Sakonnet River. The Sakonnet River is a tidal strait that is 14 miles long and flows between Mount Hope Bay and the Rhode Island Sound. It separates Aquidneck Island from the eastern portion of Newport County. There are a number of waterfront properties that line the coasts of the Sakonnet River throughout Aquidneck Island such as the Lawrence Farm, Sea Meadow, McCorrie Point, Indian Avenue, Warren's Point and Black Point.
These neighborhoods have spectacular views of the Sakonnet River as well as the breath taking sunrises. Many of these homes have outstanding panoramic seascapes of the water and access to the secret shared beaches below the various properties; this is one of the major perks of living in beach oriented neighborhoods. On any given day in the summer, one will often see children and families relaxing, kayaking and paddle boarding at the different neighborhood beaches.
Water View Estates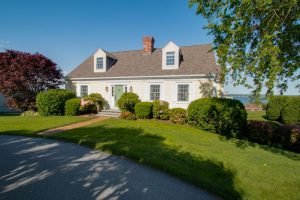 One specific property located at 18 Friends Street in Portsmouth, has recently been listed in one of the prominent waterfront neighborhoods along the Sakonnet River. This 3,126 square foot Cape Cod home is a four bedroom-four bathroom home with a spectacular waterview and neighborhood private beach access. Equipped with a state of the art kitchen, wet bar, and large deck, this house is perfect for entertaining. The location of this particular home is fantastic due to the proximity of the town beaches, different marinas, golf courses and a large shopping district.
In addition to the gourmet kitchen, the house has an attached three-car garage, a deck off the master suite, central air conditioning and is move in ready. With the selling price at $739,000, this is one house you do not want to miss!
Secret Beaches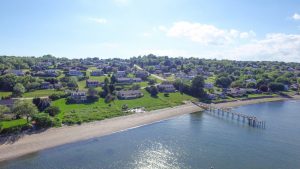 Finding the public beaches to be too crowded? Look no further! With these waterfront neighborhoods, each of them have their own private access to some of the best beaches around. More and more island residents are finding out about the little known secluded beaches in the area and have started to disclose their inexpensive yet beautiful locations. For example: the photo on the right showcases the open seacoast and beautiful dock located at the base on Friends Street in Portsmouth, RI.
Discover beautiful Rhode Island! You never know what you might find.