Newly Listed Cape Property
Cape Cod style homes originated in southern New England and have remained popular in the Northeast through the centuries. These homes are simple and symmetrical and were made to hold up against the stormy weather of New England. The classic exterior of this style home is unpainted shingles, which often turn a weathered grey, adding more authenticity to the home. In addition to the shingles, Cape Cod homes are known for their central chimneys, gables and moderately steep pitched roofs. Over the years some adaptations have been made including expanding the wings and adding roof dormers for extra natural light. Capes are usually 1 and 1/2 stories because the roof line starts at the top of the first floor and dormers are used on the second floor to add space and windows/light. It makes them economical to build and interesting to look at.
Calling All Home Buyers
This terrific Cape Style Property is located in a coveted coastal neighborhood, just minutes away from Easton's and Sauchest Beach. This large corner lot has a fenced in yard along with an above ground swimming pool; a fantastic outdoor entertainment space. With sliding glass doors leading out to the wooden deck from the kitchen, this provides an open feel and fluid movement from the interior to the outdoor relaxation and recreation area.
The House That Has It All
In addition to the spacious yard, there is a private patio space with perineal plantings and garden beds as well as blueberry and blackberry bushes. You may even want to participate in the local farmer's market http://www.aquidneckgrowersmarket.org/home/ selling the bonus fruit! If you have a green thumb, then the green house on the property will be your new favorite feature. Looking for extra storage space outside the home? The large wood shed found in the backyard can handle anything from tools, beach gear, bikes and more.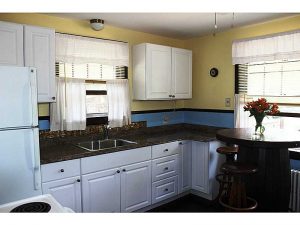 In regards to the interior, there is a comfortable living room, dining room and first floor bed/bath that all offer many possibilities. For those HGTV lovers, this might be your next "Fixer Upper" http://www.hgtv.com/shows/fixer-upper or DIY project. There are also two bedrooms upstairs, beautiful hardwood flooring and a full concrete basement with inside/out access.
This lovely cape cod home was recently listed and is selling for $355,000. Contact Holly McLear at 401-855-0485 for a showing today!