ALL WATER VIEW HOMES NEAR NEWPORT RI ARE NOT ALIKE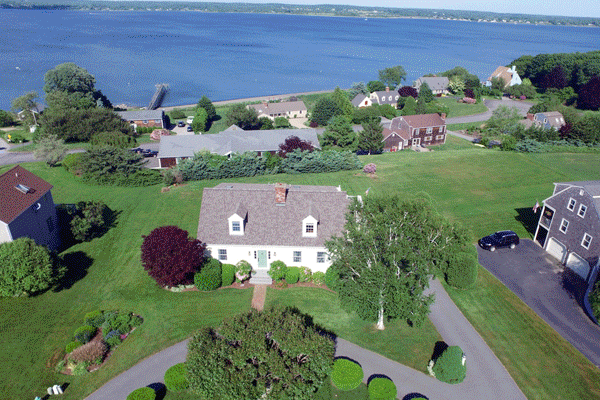 It's not hard to find a nice waterfront or water view home in RI. That's because Little Rhody has nearly 400 miles of coastline, and much of it is located on the East Bay here in Newport County. Once you find that water front gem, however, there are things to consider before making your move. Here are a few:
BEWARE THE VACANT LOT & THE WATER VIEW HOME
Understand what could happen between you and the water. If you're in an established neighborhood and every lot is occupied by a well maintained home, you view is probably safe. But a vacant lot or a potential tear-down between you and the water could obliterate your view.
STEEP HILL +WATER VIEW HOME = PERFECT COMBO
If you're on the high side of a steep hill you not only get commanding views you also get terrific view protection. A steep hill and a 35' height restriction (that's the norm for new construction on Aquidneck Island) cures most view threats.
All things being equal, go for the steep hill.
IS YOUR WATER VIEW HOME IN A FLOOD PLAIN?
FEMA redrew their maps recently so be sure to ask your real estate professional if the home is in a flood plain. It's not enough to ask whether the current owner has flood insurance. Flood insurance is only required if you have a mortgage. No mortgage? No mandatory flood insurance.
Two questions to ask:
How high is my risk? That question can be partially answered by an engineer's elevation certificate mapping out the height of the land relative to sea level.
How much will the flood insurance cost? An insurance rep will calculate the risk and the cost using the elevation certificate.
Flood plains don't have to be deal breakers, but they shouldn't come as a surprise.
IS THERE ACCESS TO THE WATER? WHAT'S ALONG THE SHORE?
The ability to access the water isn't guaranteed. Check to make sure there is legal access and understand what activities are allowed. Can you launch a boat? Is it sandy or rocky? Are there neighborhood rules and regs? Are there shared financial responsibilities like community docks?
CAN YOU GIVE ME AN EXAMPLE OF A SAFE SENSIBLE WATER VIEW HOME?
Sure can! 18 Friends Street (the one in the photos above) is a tidy Portsmouth, RI Cape with a mighty view of the Sakonnet River, Tiverton and Little Compton. It's on a steep hill with well-kept homes between it and the water. That means future development is unlikely, and its relative height will protect its amazing water views. You can also walk to a beautiful sandy beach just down the hill, and it's well above the flood plain. It sold for just under $680,000 in November, 2016.
If you'd like to know more about waterfront / water view homes, you can search here, or just give me a shout.