Picture Perfect
Located near Ocean Drive in Newport, this Jim Estes custom designed home sits on a private cul de sac off of Coggeshall Avenue. Abutting Almy Pond and with distant views of the ocean, the home is surrounded by the sights and smells that make living in Newport so worthwhile. Mentioned in a previous Estes/Twombly blog , this style of home is a hearty blend of New England beach cottage and stylish contemporary.
With over a year of planning, the homeowners and the architect poured over every special detail. Like most of Jim Estes homes, this 8 year old home takes full advantage of the environment, both aesthetically and efficiently.   Being avid gardeners, the homeowners wanted the landscaping that frames the large narrow lot to function as drapery. As a result, the grand living room picture windows are framed in colors and shapes worthy of a painting.
Top of the Line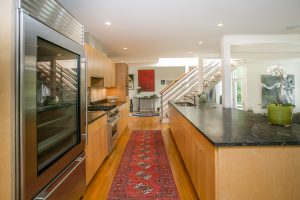 The house is filled with many special features that make it truly one of a kind. Each section has noteworthy details reflecting many hours of thought and planning. From the grilling porch off of the kitchen to the pocket doors throughout the house that allow closing off or opening up as desired. The consistent, cool colors of the materials throughout the kitchen and baths seem organic and natural but nothing in this home was left to chance.
The master suite is one of the key features of this property. With cathedral ceilings, wrap around windows and access to the second floor terrace, the space is filled with natural light and the water and garden views are stunning. Stroll through the walk-in closet to the en suite bath with shower and tub for two.
Award Winning Home
RI Monthly and the American Institute of Architects both rewarded this home and design for its "clarity", modern lines and sophisticated mix of materials. It was given the thumbs up for its green existence and the subdued way it mixed in with the New England Newport neighborhood.
If your sensibilities tend toward the spare and the beautiful, this work of art will make your heart sing.