MULTI FAMILY HOMES & NEWPORT RI NOSTALGIA
Remember when….
As life seems to move faster and faster with technology, busy schedules and less time for what really matters, it's nice to remember a time where your neighborhood was your family, when we talked instead of texted and when everything felt safe. We biked to buy an ice cream, we called friends from the wall phone (stretching that spiral cord around the corner and down the hall for privacy!), made plans to meet at the movies and we walked to the park to play sports and meet the gang.  As those times and neighborhoods seem to be slipping away and with quality of life being at the center of many peoples priorities, it's nice to find a home like 52 Houston, in the heart of that classic neighborhood in a town that celebrates the beauty of the ocean, its beaches and the simplicity of life.
2 FAMILY DIGS? 2 ZILLION OPTIONS!
Just off of Newport Harbor, this home is walking distance to just about everything, but removed enough to be out of the hub bub of downtown.  It's a neighborhood where people are friendly, take pride in their homes and seem to enjoy all that Newport and the Fifth Ward have to offer.  Kids walk to sailing lessons, adults take their bottle of wine to hear the music at King Park and everyone loves the smell of the harbor and sound of the fog horns.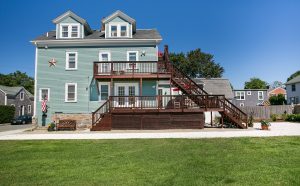 MULTI-FAMILY MATH (YOU'RE GOING TO LIKE THIS PART)
Even better, are the options this home provides.  Whether you are looking for a second home or year round, this home can always generate income.  Come for the summer and live upstairs in the larger apartment, rent out below, and then rent both for the winter market.  Or keep it all for yourself.  Completely updated and renovated, there is nothing you need to do, but move in.
A LITTLE MULTI MINUTIA
And just because history is so fun and there is so much of it in Newport, I did a little research on the house and what it used to be.  The Ramos family have been the only owners since 1890, until the current owner bought the property.  Victoria Ramos was the original laundress to Fort Adams and is picture on the front porch of the home receiving the day's workload!