ISLAND LIFE – NO BETTER PLACE THAN RI
Close your eyes and picture this: Strolling to dinner in Jamestown village, hand in hand with your sweetheart, or along the waterfront eating a melting ice cream. You're catching up as the sun sets on the bridge, waving to friends as you pass by, sharing a story about your grandkid's recent birthday. The air is warm and calm with a slight salty scent, as the buzz of street lights click on to illuminate your path.
This might sound like a familiar Woody Allen movie scene, and it probably mimics many of them – there's a reason famed filmmakers have chosen Jamestown for their settings. This quaint coastal community has a charming island allure that attracts new residents and visitors year round, but especially its nonchalant summertime vibe is most appealing. Did I mention Jamestown has the third lowest property taxes in the state? Just an added bonus.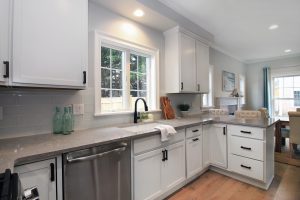 A BRIDGE TO EVERYWHERE
One of the values of Conanicut Island living is its proximity to so many Ocean State amenities, while feeling like it's a world away from the chaos. This is especially true at the island's iconic Beavertail Lighthouse, where the rocky promontory whisks everyone away. Given its central location at the southern shores of Rhode Island, this mantra of escapism applies to the island itself, as well as many of its residences, including the Jamestown Landing condominiums. Ideally situated just off the beaten path, within walking distance of the island's main business district, playground, school and library, these newly-developed homes tempt a broad array of potential owners who seek simplicity and a downsized casual lifestyle.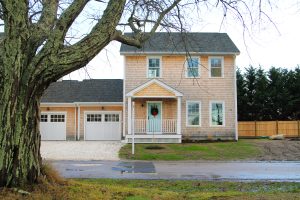 HISTORIC TOWN meets MODERN CONSTRUCTION
The two bedrooms with ensuite bathrooms draw a single person or young couple to begin their life together, as do the minimal condo fees and brand new, easy-care everything. High-efficiency windows and furnace, plus excellent insulation means superb heat retention year round and low energy bills. Energy Star appliances in the custom kitchen, plus over-sized windows cut energy costs too, and allow natural light to permeate the space. An attic overhead and a one-car garage provide storage for all the bikes, kayaks and other outdoor gear you'll be using once you move in. The garage also is placed in between the two condos in each building, so it acts as a noise buffer between you and your neighbors. Specific attention was paid to the style, with neutral colors dominating the beachy space. A gas fireplace adds natural warmth and ambiance, while details like wood floors and crown molding offer personality.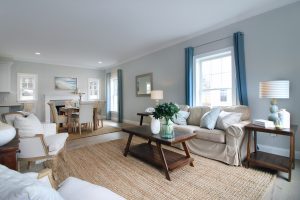 So you see, this home and its island oasis is truly perfect. All you have to do is visit it for yourself.
See more about realtor associate J. Michael Hill and his listings here.