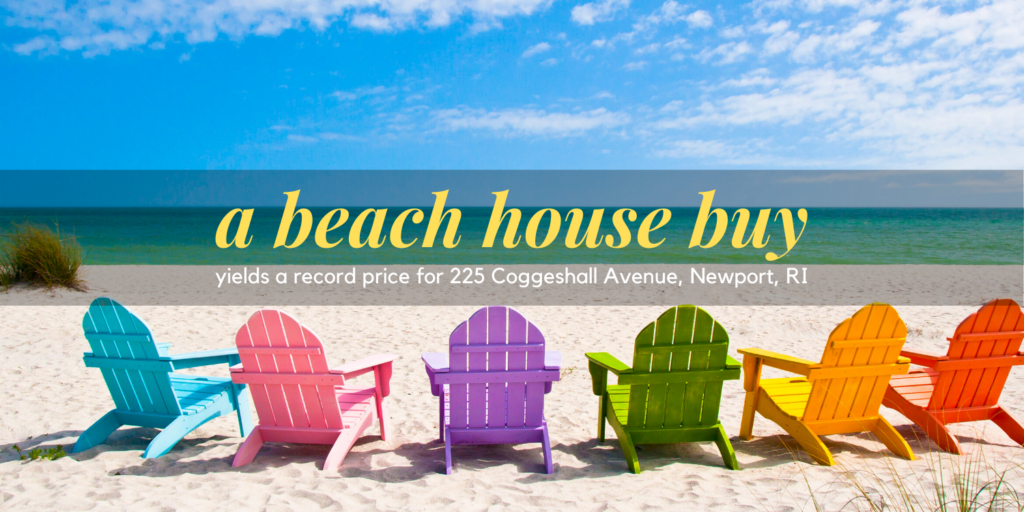 Livin' the dream. It's all about location…
Living near the beach in the Ocean State is a dream come true for many. Now a lucky homeowner is making that dream a reality, with the purchase of 225 Coggeshall Avenue in Newport, R.I. Steps from Bailey's Beach and with frontage on Almy Pond, the location was motivation for the buyers to pay $2.1 million. Its style, a tall, contemporary shingled home, was originally designed in 1982 by architect Michael Abbott of Newport Collaborative Architects.
RECORD SALE FOR NEWPORT
One of the largest recent real estate transactions in Newport County, the sale occurred just days after the seller decided to actually sell the home she had owned for 33 years. She was on the cusp of renovating the three-story, 1,772-square-foot home, which has two bedrooms and two baths with large living and dining spaces. Perfect for entertaining and hosting guests, the space features beautiful wide plank pine flooring, a spiral staircase from India, decks on each level as well as two roof decks and a cupola.
Evergreen gardens encompass the .45-acre property, and were tended by the seller, who downsized to a smaller condo in the City by the Sea. The sale is a chance for her to downsize and to devote time to other things, like being involved in the community and to travel, rather than own and maintain several properties.
This type of transaction is what I live for. As an agent in the Newport County real estate market for more than 20 years, it is very satisfying when I'm able to help people attain their real estate goals in life. Let me help you attain yours.
For more information on Lynn Creighton and her listings, click here.
Search for similar Newport RI beach homes near Bailey's Beach click here.