PREPARING FOR PROJECT REGIVE 2019 / 2020
Did you get something that's not the right size or style this holiday? Did your kids get something unsuitable and it's too late to return to the store? Maybe you forgot your wife's gift from last year in the attic?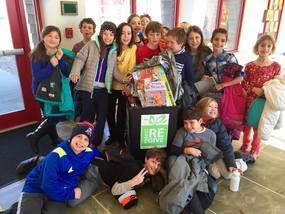 If the answer is yes, you don't have to banish your orphan gifts to the island of misfit toys. Consider giving them to someone in need with Project ReGive, the Newport County initiative that has donated nearly 8,000 unwanted gifts since its founding in 2013.
UNEXPECTED KINDNESS IS THE GREATEST GIFT OF ALL
"It's important to do something more for families, and I felt like all the opportunities to give were concentrated around the holidays," says Matt Hadfield of Hogan Associates, who started putting collection bins at area businesses six years ago. "This is not about opening your wallet. It's about regiving things for the holidays that you don't need or want. We kindly ask people to give us the presents you're not going to use, to regive them to kids in need to be used throughout the year."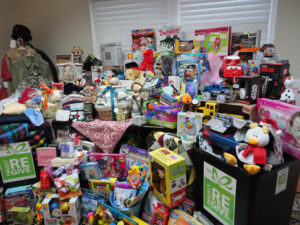 What grew from a few collection points in Newport donating a few hundred items has grown to 33 locations on Aquidneck Island accepting 1700 donations last year from the community. The Hogan Associates team sorts the items and takes everything to the three beneficiaries based on their need. Lucy's Hearth, the Women's Resource Center and Newport Community School all have different clientele with different needs, so Hadfield says Project ReGive tries to target that demand. "It started out with kids items, but then we received all sorts of things, like cookware and adult clothes. So we discovered there is a need in these organizations and the community for these items. So as long as it's new, we'll take it and find a place for it," Hadfield says. "We really appreciate all the locations that participate and make this possible. It's very humbling."
Donated items must be new and unwrapped. There is no age or gender focus – you can donate any items for any age person. Items will be accepted through January 10, 2020. "We put the bins out this week as a visual reminder through the holidays," Hadfield says. "So if you get something you don't want, you can put it in one of the 33 bins all around Aquidneck Island."
Some organizations need toys, some need clothes and toiletries for families who are transitioning between homes. So when you get a duplicate gift this holiday season, even if you think it's irrelevant or useless, there is a brighter future ahead for it. Give it to someone else who might not have had such a cheerful Christmas. "We're just trying to help people holistically," Hadfield says. "And it's pretty amazing to be able to collect so many items without anyone having to pay anything. It's crazy to think how big this has become, and it's exciting to watch it grow."
For a list of donation sites and more details, visit ProjectReGive.org