GIFTS CAN BE BETTER THE SECOND TIME AROUND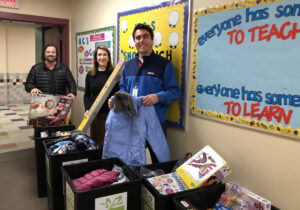 Clothing. Arts and crafts supplies. Board games. Toys. They are brand new, all unopened. And they are all donated by the community to kids who didn't have a stellar Christmas.
Enter Project ReGive. Established in 2013, Project ReGive has collected all of these items – nearly 8,000 excess toys from families and friends in Newport County. And then it donates all of them to three distinct organizations on Aquidneck Island, one of which is Newport Community School.
"Collectively, any executive director is amazed that this grass roots movement repurposes something for someone who really does need it," says NCS Executive Director Tracy Shea. "And that's the most impactful thing. It doesn't cost anyone anything to do this. Not the person who is donating, not the person who is organizing. We are using community resources. It's all volunteer and it's amazing. Plus, it's not your usual clothing or toy drive. It's a completely different concept."
As a school-based non-profit at Thompson Middle School and Rogers High School, NCS provides all out-of-school programs and intervention programs – so every free paint set, notebook, sweatshirt and puzzle really makes a difference. Thanks to Project ReGive, they are helping more and more students every year.
EVERY FREE PAINT SET, NOTEBOOK, SWEATSHIRT & PUZZLE REALLY MAKES A DIFFERENCE
"We do arts and crafts projects with the students to take home to their families, or we give them school supplies if they don't have them. Some teachers will even tell us about a student wearing the same sweatshirt to school for multiple days. It lowers their self-esteem, because they know when they stand out, and feel different than the other kids," says NCS Program Coordinator David Vieira. "But the items that come in from Project ReGive are brand new, they're perfect. This definitely helps them and their self-esteem."
Impacting 100 students out of 600 at Thompson is a significant achievement, says Vieira, and Shea echoes that. "This means the world to us and our students. And you can't put a price on that," she says. "Looking at the bottom line too, this is significant."
Vieira recalls when they received one large bin of items the first year, and they were grateful. This year they received seven containers the size of municipal trash bins, and they were over the moon. Though Shea says the organizers do a great job with strategically dividing the items to go where they're needed, it still takes him two days to sort and store everything for proper distribution.
THE DONATIONS KEEP GETTING BETTER AND BETTER
"The program has definitely grown. There are more bins, more companies accepting donations, more flyers around town promoting it. They do a fantastic job of promoting it every single year," says Shea. "For us, we can see the difference in what we received the first year, which we thought was fantastic, to what we received in year three. And they are great with understanding our needs. That's good for NCS and all the programs that benefit from this project."
As Project ReGive gets bigger, Vieira and Shea are looking forward to continuing this partnership to help more and more public school students. "People ask about the program or when the bins come in, there are teachers that ask about items for specific families. We tell them 'this is a really great thing, if you see the bins next year, put something in it,'" says Shea. "It's not just impacting NCS, it's impacting so many non-profits that have an equally important mission and goal. I think this is going to keep growing."