NEWPORT, RI: AND JUST LIKE THAT YOU'RE ON VACATION!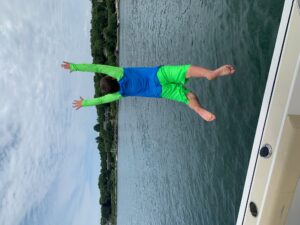 One of the best parts of living in Newport County is you can be on "vacation" in 5 minutes after your work is done. For me, I head down to the boat.
This is the lifestyle many dream of when moving here, and you can make these memories here too. Newport County, R.I., offers easy access to myriad unique coastal harbors and inlets that offer charming anchorages for an afternoon on the boat. Marinas and services here are top notch, there are plenty of slips available and the six-month boating season extends well into fall. Plus, there are destinations a little further afield for a day or weekend trip that offer a longer getaway, like Block Island, Cuttyhunk or Martha's Vineyard.
Being in a different world has its perks. So here are a few of my favorite anchor-friendly coves for a picnic and dip with the kids.
Gooseberry Beach, Newport
Set back in a cove looking out to sea, Gooseberry Beach and its confectioner sugar sand are surrounded by rocky outcroppings that buffer the ocean waves. Little other boat activity means you'll have the water to yourself, so swim, paddle and splash to your heart's content. The scenery is phenomenal with many of the best Ocean Drive estates within eyesight.
Third Beach, Middletown
A secluded bay on the Eastern shore of Aquidneck Island, where the Sakonnet River meets the Atlantic Ocean, Third Beach is a nice quiet anchorage for a day trip or overnighter. Its natural environs and distance from Newport offer a welcoming peace. Little wave action means it's prime for standup paddle boarding or windsurfing, and stripers chase baitfish here in the fall, so take your fishing rod. Hop in the dinghy for hot dogs or ice cream at the concession stand, or a hike at Sachuest Point National Wildlife Refuge that flanks the southern end of the beach. Or just laze around the boat, taking turns doing swan dives off the bow. There's also a boat ramp if you want to launch here and explore the river and adjacent Tiverton/Little Compton shoreline.
Mackerel Cove, Jamestown
Across Narragansett Bay from Newport is Conanicut Island, with a quiet enclave at the southern end of the island that is perfect for paddling, wakeboarding, or relaxing in the sun. Mackerel Cove is open to all cruisers, situated at the "beaver tail" of land, which gives the adjacent Beavertail State Park its name. A wide cove with deep water flanked by beautiful estates atop rocky cliffs, Mackerel Cove is a great spot to raft up with friends for a quintessential summertime day on the water. Teach your kids to sail in the strong southerly breezes, or drop a line to catch the plentiful fish that run through here year-round. Whatever you do, make sure you're altogether and taking lots of photos to savor these special memories.
*Adjacent Jamestown Town Beach is restricted to residents June-September.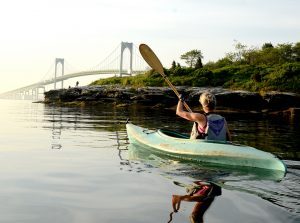 Potter's Cove, Jamestown
At the base of the Newport Pell Bridge, Potter's Cove is easily accessible from both Jamestown and Newport, and has a surprising treat: it's a great spot for quahogging. You can find these classic Rhode Island clams on just about every restaurant menu from here to Providence, but all you have to do is grab a rake or a shovel and dig into the sand an hour before low tide for a free (for R.I. residents) version of this delicacy. Take them back to the boat and grill them up for a fresh and tasty appetizer. If shellfish aren't your thing, there are plenty other fish in the sea, or just appreciate your surroundings and the awe-inspiring view.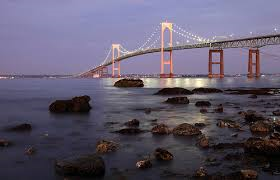 Additional resources:
http://www.blockislandinfo.com/
If you're buying property in Newport County, and want the boating lifestyle, here are a few marinas where you can tie up, gas up and secure additional services:
Clark Boat Yard and Marine Works
Find more information about Matt Hadfield and his listings here.