NEWPORT SUMMER WINDS DOWN & CARRIES ON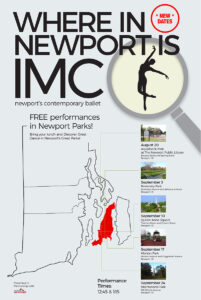 Enjoy these last weeks of summer with a smorgasbord of arts and cultural activities. From outdoor film and dance to art, food, and history, Newport County, R.I., is alive and well this season. (Meanwhile, social distancing and mask mandates are in place, so please be considerate.)
DANCE
Island Moving Company has been presenting pop-up live dance events this summer during its "Where in Newport is IMC?" series. Hosted in public parks across the city, the contemporary ballet performances will occur each Thursday in September at 12:45 p.m. and 1:15 p.m. Bring your lunch and your friends while exploring Newport's green spaces, including Rovensky Park, Queen Anne's Square, Morton Park and Miantonomi Park.
FILM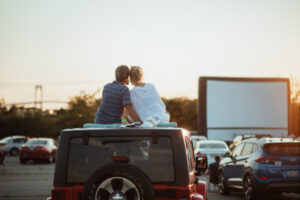 Outdoor movies have been hot this summer, and newportFILM continues to showcase its award–winning documentaries, live music, interviews with filmmakers and subjects, fabulous food and community spirit in an al fresco setting. Set amongst Aquidneck Island's beautiful outdoor spaces, including Rough Point and Easton's Beach, the drive–in movies have been particularly popular, so add this to your calendar asap. If you can't make it in person, the films are available to stream online.
ART
Newport Art Museum reopened this summer after four months of COVID closure, and its new exhibit line–up knocks it out of the park. The "Private Moments: Photographs from Another Era by Bob Colacello" is a fascinating peek inside the star–studded parties and celebrity events the photographer attended with friend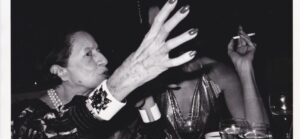 Andy Warhol. Recorded with a tiny Minox 35mm camera to capture behind–the–scenes moments, "This exhibition of Colacello's black and white photographs serves as a very candid document of a special moment in time by someone with an educated eye and a dry wit." Available through September 27.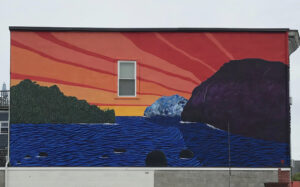 To see free art, all you have to do is take a stroll downtown, and check out Newport Public Art's latest installations: A small but colorful mural on the exterior wall of Mission Burger on Farewell Street at River Lane, and at Salvation Café on Broadway. Or take advantage of buying art tax free in Rhode Island and peruse as many as 28 local galleries via Newport Gallery Night on the second Thursday of the month, 5-8 p.m. through December. Its free walking art tour also is offered through October.
HISTORY
Additional museums across Aquidneck Island are also open, providing a glimpse of luxury race cars, tennis memorabilia, and the famed Gilded Age mansions. Take the time to relish in a self–guided walking tour of Ft. Adams, a pre–Revolutionary War fortress with inimitable views of Narragansett Bay and Newport Harbor.
MUSIC
Spend Thursday nights at Newport Vineyard during its recurring series of live music events with beer and wine flights and its farm–to–table menu. Each week through September, reservations are required to sit outside on the patio to enjoy local musicians and the vineyard's bucolic setting.
POLO

Of course, summer isn't complete without stomping the divots at Newport Polo. Bring a picnic to tailgate at the match, and enjoy the én plein air environment of the entire equestrian grounds at historic Glen Farm in Portsmouth. You can also bring children, leashed pets, and your best "Newport coastal chic" attire, and try to keep up with the game's chukkas and goal scoring. General admission lawn seating tickets are available at the gate, but be sure to reserve an official spot in advance if you want more space ringside, or in the pavilion. Games start at 5 p.m. in August, 4 p.m. in September.