Newport, RI – Could there be a better place to Work From Home?
Spending more time at home these days has many of us looking for space to spread out. And since working from the kitchen table puts most working parents in the line of fire, home offices have become ever more appealing this year.
These latest listings feature designated work–from–home space, like an actual room with a door (that you can close!), a second apartment that could be converted to a work space, or a private nook in a larger space that could be privatized with a curtain or tri–fold screen. Whether you're a large family or have modest space demands, these properties will tackle your work–from–home to do list.
Historic Two–Family + Rental Opportunity + Office potential = Win Win Win
This historic property in Newport's general business district was once a single family, but is now configured as a two–family house, which makes it ideal for a work–from–home situation. The second floor is best suited for residential use while just upstairs a finished attic space is home office heaven. A finished basement offers more office potential while the grand first floor could morph seamlessly from office, to retail, to rental apartment. There are cabinets and closets galore for storage, plus 2,408 square feet of breathing room.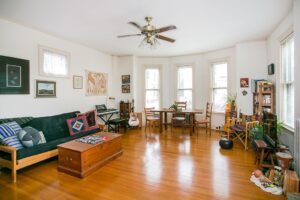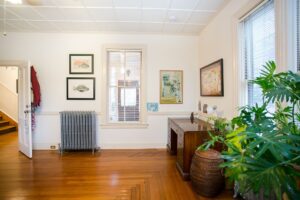 Outstanding Cupola Office
2040 East Main Rd., Portsmouth
There is plenty of extra space in this colonial home near Aquidneck Island's main thoroughfares. And with 2,806 square feet to play with, you can be like Goldilocks testing her porridge before you alight in your perfect office. (Though you'll likely settle on the private, third–floor cupola with 360-degree views.) The heated pool and hot tub also offer a year-round distraction from your work, while the landscaped grounds allow work/life balance.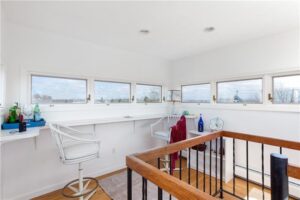 Compound Living and Working
There are so many work–from–home options in this unique home, so here's the skinny: There are two connected cottages with "Optionality" of flexible living, office, and private quarters. Main cottage has a sunny enclosed insulated porch currently used as an office, and the second cottage offers 2 bedrooms, full bath and butlers kitchenette that can be closed off for complete privacy. Convert the first floor bedroom to an office, home schooling, or media room, or rent for income. Fenced Yard with Pavilion, Patio, gardens, and hot tub offers peaceful respite. you can live and work here, while you rent extra space to others who can also live and work here. Channel those relaxing vibes during your daily Zoom calls, while. Everyone will have their own slice of heaven.
Cool and Convenient Cape
This charming expanded Cade Cod–style home is nestled among a lush half-acre of landscaped grounds, so you can stroll through the private yard when you're brainstorming ideas for your next work pitch. The 2,791 square feet and comfortable four bedrooms offer just enough space to spread out, with cool spots for the family to gather at meals or playtime, like the gourmet kitchen, sun–drenched living room or attic game room. Plus, it's conveniently located near Middletown businesses, so you can pop out for a quick coffee or take-out lunch in between Zoom meetings.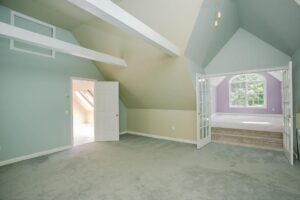 Fresh–Faced Office
This brand new construction can be anything you want it to be. With two bedrooms and two en suite baths, a large open living space and partially finished lower level with garage, this blank slate is ideal for those with a smaller budget and no children taking up all the space and bandwidth. Tucked onto a corner lot, it has easy access to the highway and Jamestown Bridge for whenever those in–person work meetings resume.