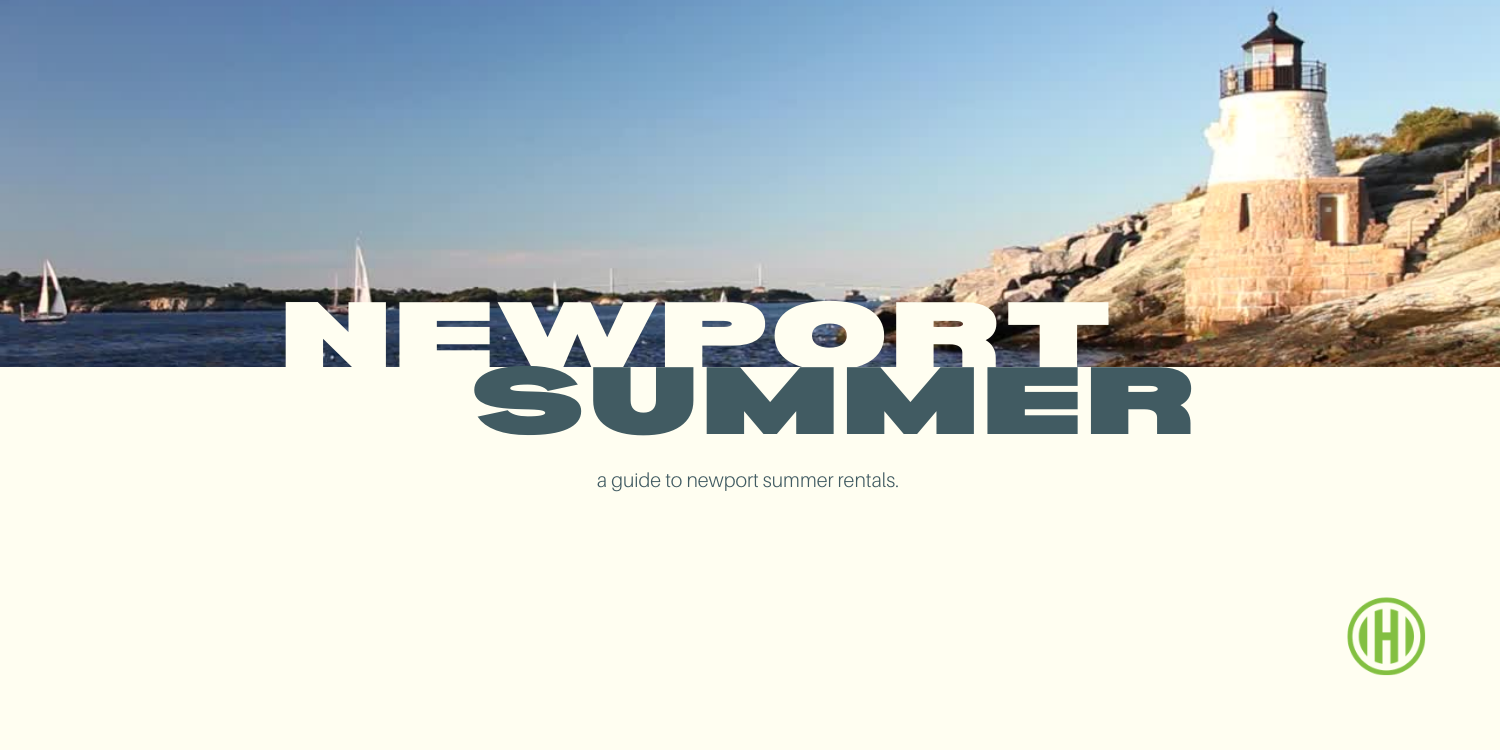 By Chris Davis and Devon Hogan
Thinking of renting a house or apartment in Newport County this summer? Let us help. We have been living and working in real estate in this awesome community for more than a decade combined, intimately know the area and its unique marketplace, and can advise you on navigating a rental here.
Consider these tips and tricks before signing a lease.
QUESTION: WHAT IS THE RENTAL LANDSCAPE IN NEWPORT?
ANSWER: VARIED
We welcome every kind of renter here: full-time, temporary, seasonal, students, military, the list continues. They all have unique demands, budgets, and expectations, which impact the seasonal and year-round rental landscape. Newport also differs from other vacation destinations like Cape Cod and the Hamptons, too, which affects inventory, restrictions, and pricing.
QUESTION: WHEN SHOULD I START LOOKING FOR A RENTAL PROPERTY?
ANSWER: YESTERDAY
Especially with summer rentals, the earlier you start looking, the better your chances. It's exceptionally competitive here, so you'll have more leverage in finding what you want, at the right price, and there is more inventory, if you ask about rentals at least six months in advance. Landlords also are looking for early commitments, so it's a win win. Even now in March, a lot of the already limited inventory for June occupancy is gone, and summer listings may have increased in price.
QUESTION: WHERE IN NEWPORT SHOULD I LOOK FOR A RENTAL?
ANSWER: EVERYWHERE
Downtown Newport is known for its hustle and bustle, restaurants and shopping within walking distance, and plenty of eye candy. As a result, summer apartment rentals are popular, somewhat hard to find, and get snatched up quickly. Tenants pay for convenient location and walkability – they want to park their car and leave it there for the duration of their stay.
If that environment isn't for you, there are options in the greater Newport vicinity, as well as outside of the city limits that should tempt you. Expand your search to include Middletown and Portsmouth, even Jamestown for a quieter locale. You'll get more space, nicer accommodations, larger properties that might include a backyard and parking, and it's a quick drive to downtown, the beaches, wineries and other activities. Plus, they're in less demand because they're off the beaten path.
For example, a large single-family home in Newport, closer to Ocean Drive, is rare and might cost $60,000 for the summer season. If you look in Middletown, near Easton's Beach or Sweet Bery Farm, you'll find rental homes there are spread out, it's more family friendly, with a few restaurants nearby, and it has a charming beachy vibe, for $35,000. It's still walkable, and it's only five minutes to Newport.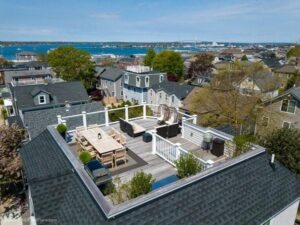 QUESTION: WHAT DO I NEED TO SECURE A LEASE?
ANSWER: CREDIT REPORT, APPLICATION + REFERENCES
A credit report, completed application with employment history, and references from a previous landlord are required to sign a lease. Students or those without full-time employment need a co-signer to verify funding, and homeowners don't generally need a landlord reference. You should have this ready so it doesn't cause delays.
If your credit isn't great, or you had a bad experience with a previous landlord, just tell us in advance so we can work around it to secure a lease. We will outline the payment schedule for your summer term, whether it's upfront, or in installments.
QUESTION: ARE SUMMER RENTS NEGOTIABLE?
ANSWER: NO
You can try to negotiate a lower rent, and you might get what you want. But 99% of the time, another tenant will swoop in offering the asking price and they'll sign the lease while you're trying to penny-pinch $50 a month. So, do yourself a favor: sign the lease while it's available. If your demands and budget are out of whack (like expecting to pay $800 a month in downtown Newport, which won't ever happen), consider adjusting one or the other so you get what you want at the price you can afford.
Winter rentals (September-May) are slightly different, and because there is more inventory, landlords might negotiate a bit for the right tenant. But in the summer high season (June-August), you should take what you can get.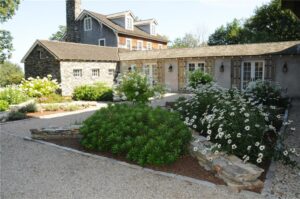 QUESTION: HOW QUICKLY SHOULD I BOOK A RENTAL?
ANSWER: IMMEDIATELY
With the current low inventory and high demand, summer rentals and properties in general in Newport County are available one day and gone the next. So, if you find something you like in your pricepoint, move at lightning speed to sign the lease, otherwise someone else will take it.
QUESTION: CAN I RENT IN NEWPORT FOR THE WEEKEND?
ANSWER: NO
Short-term leases are anything less than a month, and they are not permitted in the City of Newport, unless the property is zoned accordingly or is owner occupied. They are available elsewhere on Aquidneck Island, but it's tricky, and that further limits inventory. So, if you want to rent here for the summer, it must be long-term. Consider a local hotel, bed and breakfast, or Airbnb for a shorter stay.
QUESTION: CAN I HAVE A POOL?
ANSWER: PROBABLY NOT
The likelihood that a house with a pool will be available is very low. There are few rentals with pools, especially since many second homeowners didn't rent during 2020, and are still assessing the 2021 market. So, don't hold your breath and wait for a property with a pool, because you might miss out. Instead, rent a house near the beaches and walk down to the sand for a sunset swim.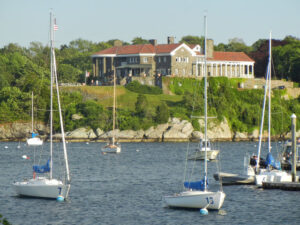 QUESTION: CAN I BRING MY ______ (INSERT PET NAME HERE)?
ANSWER: PROBABLY NOT
Very few landlords will allow pets in their summer rental apartments or homes, because of the potential damage they might cause. Smaller animals might be allowed for an additional "pet rent," so communicate with us in advance and we will filter out rentals that don't allow pets or try to find you one that does. But that will significantly reduce your potential properties. Multiple pets, or bigger breeds will most likely not fly. For a service animal, make sure you have the necessary paperwork. In most cases, it's best to leave your dog/cat/pig/hamster at home.
QUESTION: WILL MY RENTAL INCLUDE CLEANING SERVICES, BEACH ACCESS, ETC?
ANSWER: NO
Expect to clean up after yourself, pay for parking wherever you go (including the beach, and downtown etc.). Properties usually include furnishings, linens, and kitchen cookware and utensils etc., but you'll have to personalize it yourself. For example, BYO food and liquor, shampoo, soap, cleaning supplies. Each property is different so consult the listing for details.
WANT MORE? START YOUR SEARCH HERE
LEARN MORE ABOUT CHRIS DAVIS AND DEVON HOGAN HERE.