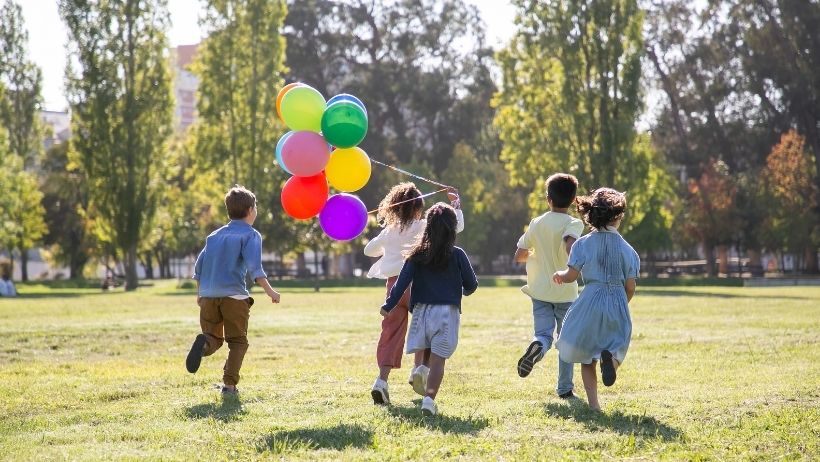 Newport, RI affords locals and visitors plenty of open space, forests, parks and coastal access. Families can enjoy a wide variety of activities including walking along waterfront paths, exploring tide pools, and splashing in the waves. We also know that access to quality playgrounds is sometimes just what the kids need! Thankfully, there's no shortage of great playgrounds right in our area.  We consulted our real estate agents with young kids to find out which playgrounds their families enjoy most. Whether you're looking to try something new or find your local favorite, we hope your family will put our must-visit list to the test and let us know which ones you love.
Miantonomi Memorial Park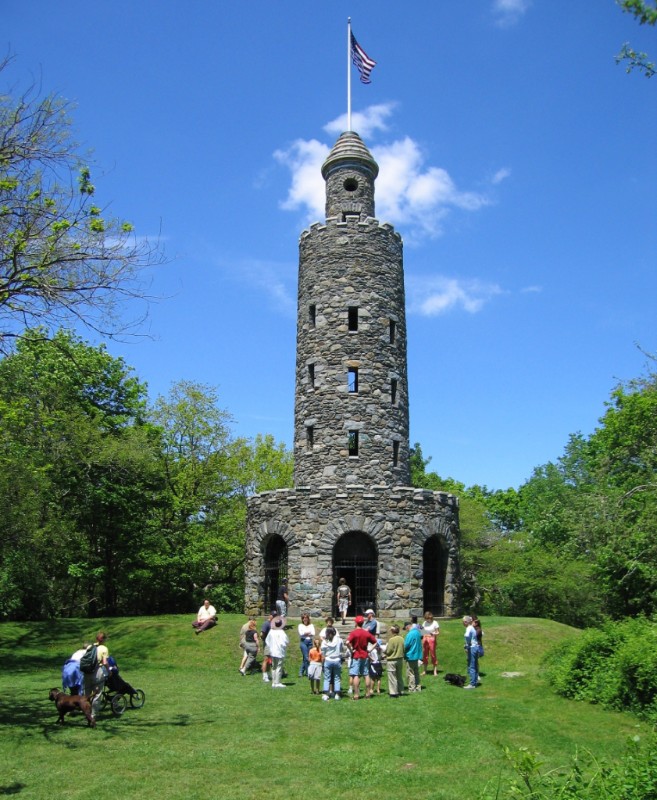 120 Hillside Ave, Newport
This dog-friendly park is a great spot for strolling and picnics. The playground is designed for kids of all ages and there's plenty of free on-street parking. Bring your bikes – Bike Newport recently installed a "pump track" that helps riders keep their momentum going after a few pedal rotations. Follow the walking path from the playground to the historic stone tower to access the highest point on Aquidneck Island. It's even possible to climb the tower when it opens on certain weekends during Newport Open Tower Days. From the top, you'll enjoy sweeping views of Narragansett Bay and perhaps even Providence and Block Island on a clear day!
Insider tip: It's best to enjoy this play spot when there's no direct sunlight, as it sits in full sun and the slides can get hot.
King Park
125 Wellington Ave, Newport
Considered by many locals to be the best park in Newport, this spot is full of rich history along with a playground, beach, baseball field, and more — not to mention front-row views of Narragansett Bay. It's the former Revolutionary War landing site of General Rochambeau and includes a picturesque gazebo where summer concerts are held. Free on-street parking is typically available. While small, the playground has all the basics and the scenic views make this spot well worth the trip.
Insider tip: King Park's playground is set back from the hustle-bustle of downtown Newport, making it ideal for escaping crowds while enjoying some of the best water views. 
Morton Park
42 Morton Ave., Newport
Just a block away from the Bellevue Avenue scene, this gem is lesser-known among the tourist crowd and a favorite among locals. It's got plenty of shade, making it an ideal spot even on warm summer days. Once the city's oldest playground, it got an upgrade a few years back and features fun elements like a merry-go-round, tube slides, a climbing tower, and more. There's a volleyball court right in the park, just remember to BYOB (bring your own ball!).
Insider tip: This is one of the largest playgrounds around, and is also ADA-accessible, making this spot ideal for one and all.
Jamestown Community Playground
41 Conanicus Ave., Jamestown
Jamestown Community Playground is at the top of our list of local play spots. Not only is it one of the biggest around, but it's fenced in for added safety for the whole family. Aside from the many swings and slides to tire bridges, sandboxes, a zipline, and climbing nets, the lighthouse and boat-themed structures are sure to be a hit.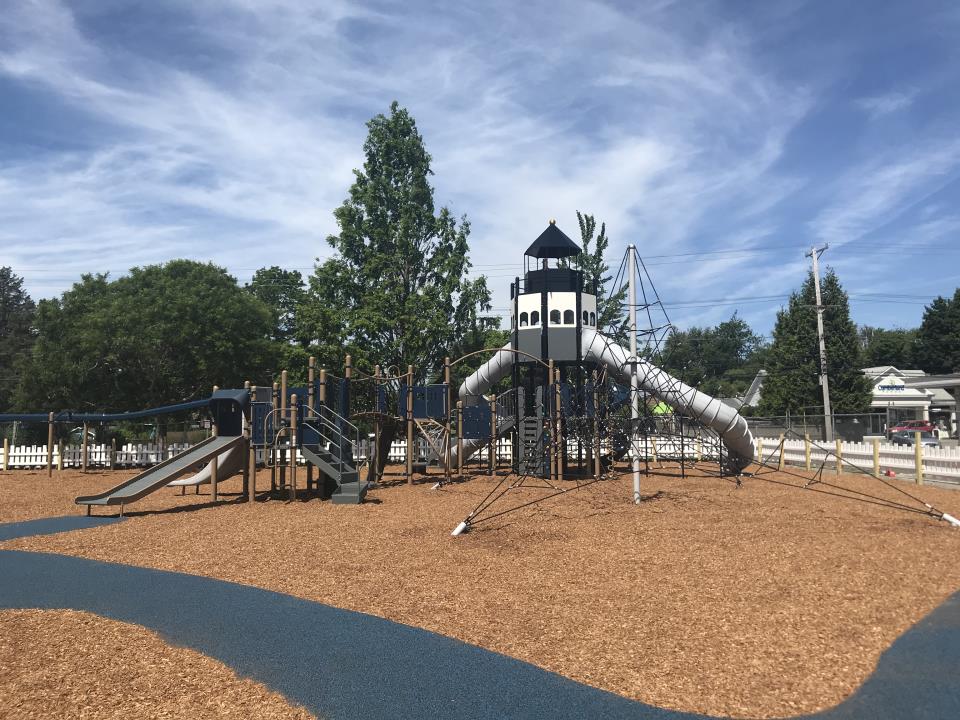 Insider tip: Check out the specific stations for kids of all ages, from toddler to big kid, with signage sharing age suggestions for the playground structures.
Easton's Beach
175 Memorial Blvd., Newport
The playground at this popular spot, known as First Beach among locals, is an artificial climbing rock. It's fun to explore for ages five and up, and, as we say, location is everything. It's near the historic Easton's Beach Carousel and a snack bar that serves up some of the best lobster rolls in town. Families also have direct beach access and can enjoy the sweeping ocean views while playing, making this an extra sweet stop for all. Note: The carousel and snack bar are temporarily closed while the city of Newport plans some upgrades.
Insider tip: The Easton's Beach lot is pay-to-park in peak season, but parking passes are good for the day, and it's a short walk over to the Cliff Walk if you're up for more outdoor adventuring.
Aquidneck Park Playground
300 Spring St., Newport
Aquidneck Park Playground has beautiful surroundings and a relaxing vibe. The playground itself offers the basics, from small slides to swings and a popular merry-go-round. A sizable pavilion provides shade over the adult fitness circuit for grown-ups looking to get a workout in while their kids play just a few yards away. The park offers plenty of room to run and explore. There are also tennis courts and lots of bench space for resting and picnics. Keep in mind the closest restrooms are located in the library located at the edge of the park.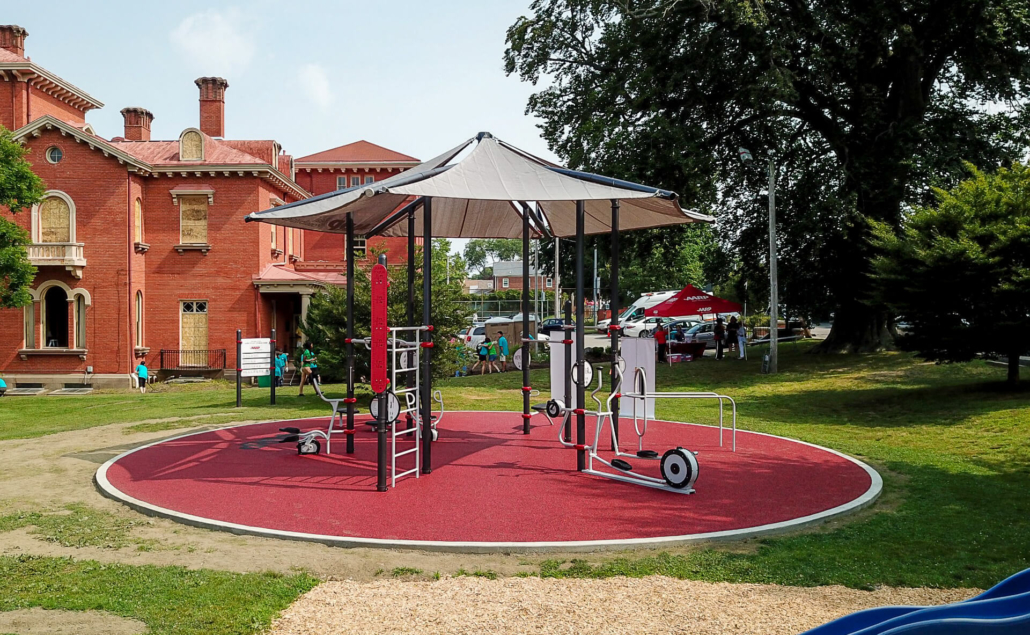 Insider tip: This playground is a short walk to the Newport Public Library, making it a great two-for-one family outing and offering free, convenient parking to boot. 
Braga Park
Kay St., Newport 
Located within a community park over eight acres in size, this playground offers swings, slides, a rock-like climbing structure, and more. It's specifically designed for children ages five to twelve. Braga Park also has basketball courts, soccer and baseball fields, and a few benches and picnic tables. Set only slightly inland from Easton's Beach, you can enjoy ocean views while you play or picnic. Parking can be a little confusing, so keep in mind that the two parking lots are located on Kay St. and Ellery Rd.
Insider tip: Braga Park is also the access point for Easton's Pond rim trail, a short stone dust path that follows a portion of the levees of the pond. It's a great place to bring your four-legged friends for a stroll. Check out this post if you're looking for the top pet-friendly places around Newport.
We love Newport County and all it has to offer. Give us a call (401-680-6588) or send us an email info@hoganassociatesre.com if you're interested in learning more about Newport or are looking to buy or sell a home. We'd be happy to help.
About Hogan Associates
Hogan Associates is an independent Rhode Island brokerage founded by Leslie Hogan and Matt Hadfield, two of Rhode Island's most experienced agents, each with a strong track record of success in the Greater Newport real estate market. Hogan Associates' 36 sales agents work on behalf of buyers and sellers of fine properties in the coastal communities of southern RI. The firm has offices in Newport and Middletown and is a member of Who's Who in Luxury Real Estate, an elite broker network with more than 130,000 sales professionals located in approximately 880 offices in 70 countries and territories. In 2020 & 2021 Hogan Associates received Newport Life Magazine's Best of Newport County award. For more information, visit HoganRI.com.