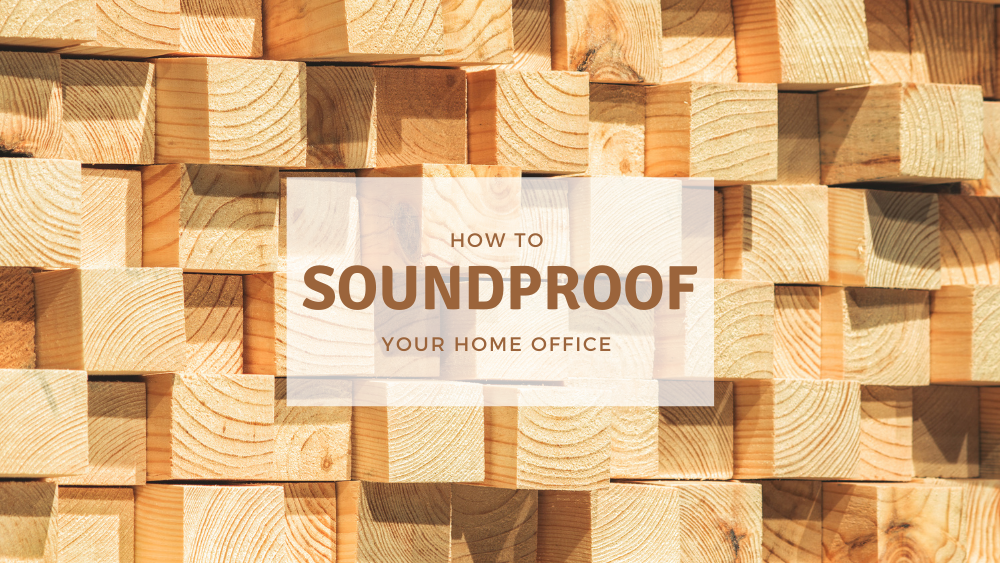 With the increased need and flexibility surrounding for remote work, more people are at home during the workday. Noise from video conferences, pets, or children playing creates distractions and are obstacles to productivity. While working from home has its advantages, it can be challenging to find a quiet space.
Consider Soundproofing Your Workspace
The best time to soundproof a workspace is during construction, whether it's a new home or a remodel. However, it's possible to retrofit a space and can be done at a reasonably low cost and without the help of professional builders.
Soundproofing Basics
Spencer Cordtsen McCombe is Principal Architect at Cordtsen Design Architecture. He has experience in sound-proofing workspaces, including his own. I asked him to share some insights.
Q: Can soundproofing be a DIY job?
SCM: Absolutely. But keep in mind that not all noise will be eliminated. Outdoor sounds, such as those made by lawn mowers or car horns are probably entering through the windows, so triple glazed windows might be your best option.
Q: Are all types of noise the same?
SCM: There are two main types of noise in a home: airborne noise and contact noise. Airborne noise is produced when someone is talking or music is playing. Contact noise comes from clicking heels or footfalls. It's more difficult to control contact noise.
Q: How can airborne noise be reduced?
SCM: Sound doesn't pass as easily through dense objects like concrete. Older homes, like many in Newport, Rhode Island, have heavy plaster walls that are great at dampening sound. However, the drywall used for modern homes lets more sound pass through.
A homeowner can retrofit a room with denser walls to reduce airborne noise. The easiest method is to use a resilient channel strapping (RC). This is a thin metal channel that is installed between the wall stud and the drywall to create a space between the walls. After installing the RC, add a layer of 5/8-inch drywall on each side of the wall stud. Two layers would reduce noise even further. Staggering the seams of the drywall would also decrease sound transmission. Insert a layer of mineral wool in between the drywall. After the walls have been soundproofed, the doors become the weak point. I would suggest 1-3/4″ solid MDF doors with weather stripping if you really want to isolate the room.
Q: How can a homeowner reduce contact noise?
SCM: I recommend using the RC method I described for the walls. Add two layers of 4″ mineral wool in the floor cavity instead of one. Then install multiple layers of drywall on the ceiling side of the floor. Placing a carpet with padding on the floor above your office would significantly help reduce noise as well.
Another method I can recommend is effective in reducing noise but can be more expensive. It involves having mass-loaded vinyl professionally installed, which is like rubber roofing, but heavier and denser. It adds a lot of weight without taking up much space.
Q: Are there any other techniques you suggest?
SCM: Rugs, couches, throw pillows, heavy drapes and the like also help absorb sound. Triple-glazed windows will reduce outside noise if that is the issue.
In our office, we reduced noise by creating our own stretched art canvases. We stretched fabric printed with images over wood frames containing two-inch sound-absorbing insulation. They adorn our walls and are suspended from the ceiling between cubicles to act as baffles.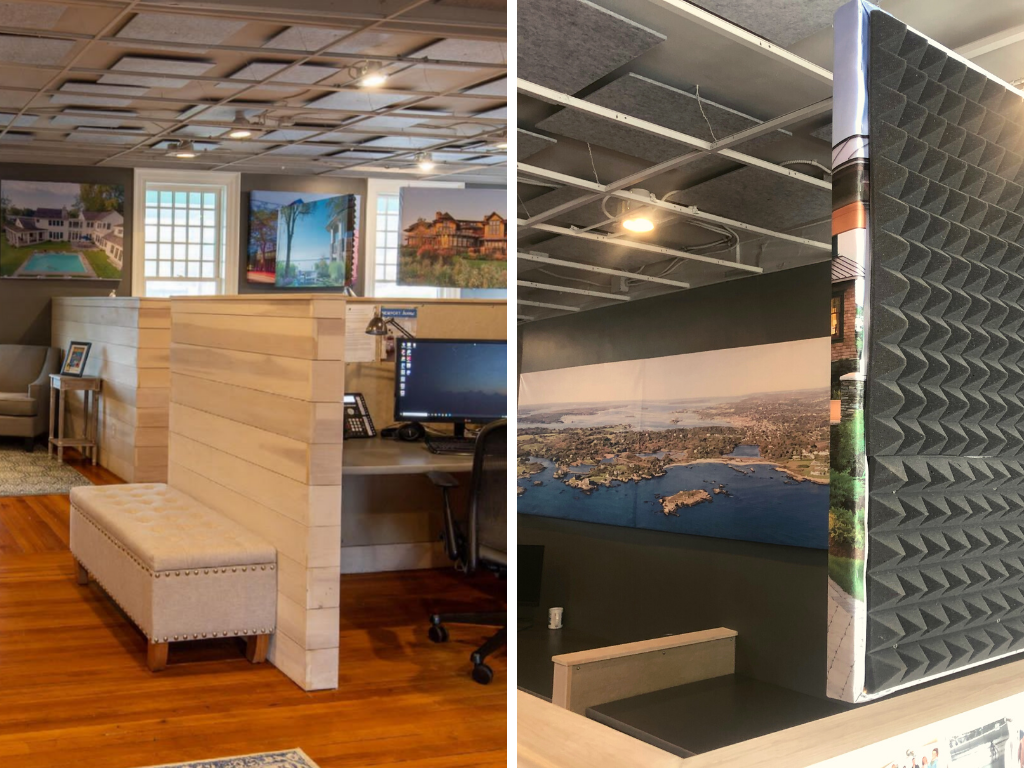 You can significantly reduce the noise in your home office with a bit of planning and investment in time and materials. Here are some additional strategies you can try:
Location, location, location: Noise travels more freely between rooms whose doors are directly across from one another as opposed to next to each other. When choosing a location for your home office, consider sharing a wall with the kids playroom instead of sharing the sound tunnel that doorways create.
Wall decor: Check out FeltRight.com for wall decorating options for noise reduction.
Rug padding: In addition to laying down rugs, consider rug underlays. Not only will they add an extra layer of cushion under your feet, it will help cut down on contact noise.
Soundproofed home offices may even become a standard in new home designs. It's a worthwhile investment, as homes with well-designed home offices could be more desirable for years to come. But more importantly, a soundproofed home office will help increase your productivity and reduce your stress.