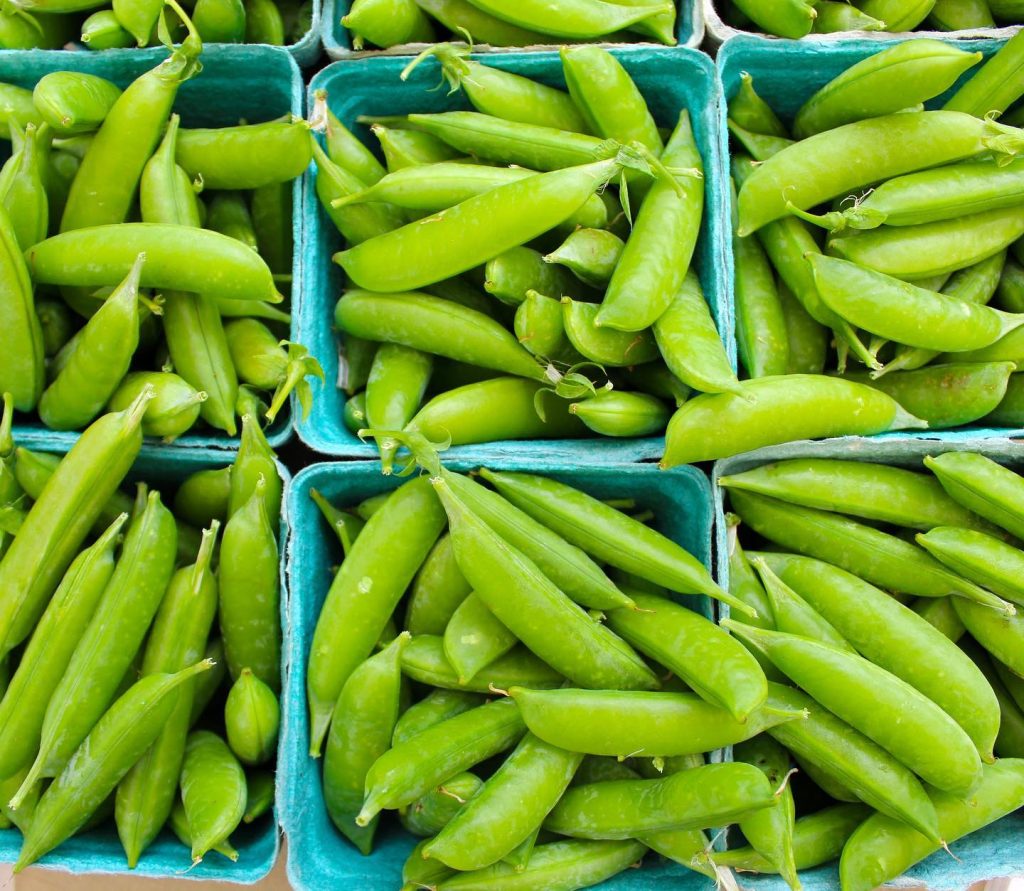 While its agrarian glory days are in the past, the farming tradition lives on in Newport County. Farming experienced a boom during America's Gilded Age and many small farms are still scattered along Rhode Island's lush coast.
One of the benefits of living in Rhode Island is how easy it is to access fresh, seasonal foods. Produce sold at farmer's markets and roadside farm stands are often harvested the same day it's sold. Locally grown foods are not only fresher, they also reflect the flavors of the local land. We put together this list of some of our favorites so you can enjoy nature's bounty throughout the growing season and beyond. Markets and farm stands sprinkled throughout Newport County, so you never have to travel too far for farm-fresh food. (For a complete list, visit the Farm Fresh RI website.)
One last reminder: bring your grocery carriers since plastic bags are now banned in many parts of the state.
PORTSMOUTH
Decastro Farms
1780 East Main Rd., Portsmouth, RI
Open: April – December / Monday – Saturday, 8 am – 6 pm
This local garden center and farm stand has been serving the Portsmouth community for over 60 years. The family-owned and operated business offers a wide variety of native vegetables such as string beans, tomatoes, cabbage, summer squash, and cucumbers grown on 100+ acres of farmland. Known for their sweet corn, ears are picked daily starting in August. Locals flock here in the spring to buy seedlings for vegetable gardens, patio pots, and flower boxes.
Mello's Farm Stand
444 Boyd's Lane, Portsmouth, RI
Open: Mid March – December 24 / Monday – Saturday, 10 am – 6 pm
The Mello family sells fresh, local produce and flowers at their farm stand. They grow crops on 30 acres of farmland in Tiverton and Little Compton, RI. They grow sweet corn, tomatoes, green and yellow squash, leaf lettuce, raspberries, pumpkins, and more. Although not officially a certified organic farm, the family uses organic growing methods. They also practice sustainable agriculture, including soil conservation, crop rotation, and biodegradable weed control. Mello's also offers seedlings and a wide selection of flowers and gardening supplies.
TIVERTON
Tiverton Farmers Market
Tiverton Middle School Gymnasium, 10 Quintal Drive, Tiverton, RI
Open: Year-Round / Sundays, 10:00 am – 1:30 pm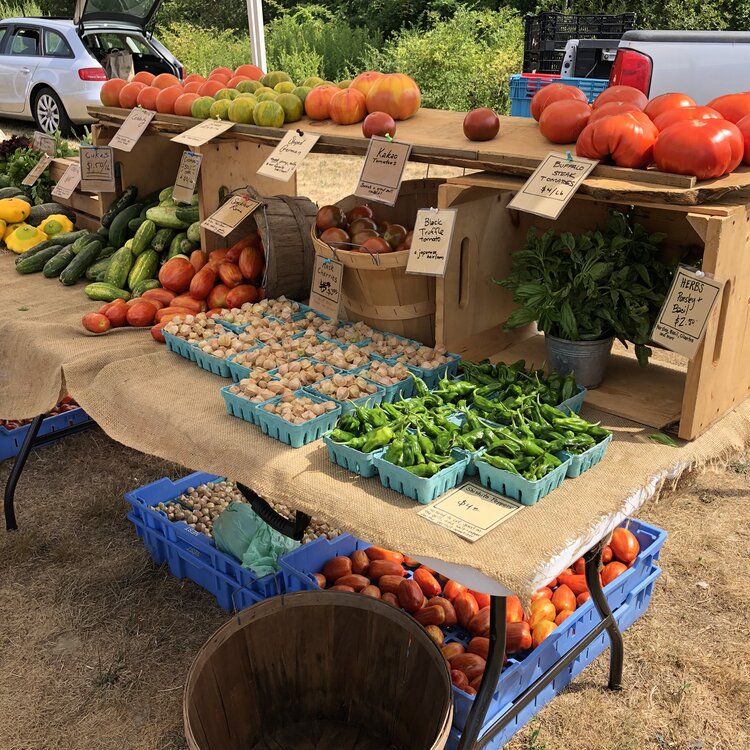 This local Farmers Market launched in May of 2020 in the middle of the cozy town of Tiverton, RI. In addition to traditional items such as fresh and local produce, meats, seafood, and baked goods, you can also find vegan and vegetarian options, sauces, jams, and some prepared foods. In the two years since its opening, the market has grown to include food entrepreneurs, makers, artists, musicians, and local & non-profit organizations. Also, check their website for special Holiday Pop-up Markets held for holidays and special occasions.
JAMESTOWN
Jamestown Farmer's Market
Jamestown Recreation Center, 41 Conanicus Blvd., Jamestown, RI
OPEN: June 20 – September 5, 2022 / Mondays, 3 – 6:30 pm
You'll find a bounty of fruit and vegetables, flowers, and baked goods, as well as local grass-fed meats, farm-raised eggs, and more at this market overlooking Jamestown Harbor. You can also purchase art produced by local artists and artisans or try the unique beverage sold by Jahmu (like their caffeine-free Turmeric Chai). Area musicians serenade shoppers and passersby.

MIDDLETOWN
Sweet Berry Farm
915 Mitchell's Ln., Middletown, RI
OPEN: May – Christmas 2022 / Daily, 9 am – 6 pm
From May through December this farm market sells a variety of produce, local dairy products, gourmet items, prepared foods, and premium ice cream. The self-serve café located inside the market is a perfect spot for lunch. Visitors are welcome to pick strawberries, blueberries, raspberries, blackberries, peaches, flowers, apples, and pumpkins during the growing season. Fresh, pre-picked seasonal fruits are available in the market from June through October.
Simmons Farm
1942 W Main Rd, Middletown, RI
OPEN: November – May / Friday 12 pm – 6 pm, Saturday & Sunday 12 pm – 5 pm
June – October / Daily 10 am – 6 pm
Closed on Tuesdays and Wednesdays
You'll likely be greeted by a herd of friendly goats and several cows as you arrive at this charming farm. It's a great place to pick up seasonal produce, pasture-raised eggs, grass-fed beef, and pastured pork. In addition to growing traditional and heirloom vegetables, farmers Brian and Karla Simmons make their own Farmstead Cheese in their certified on-site dairy. You'll love the fresh farm products and the pastoral beauty of this farm that keep locals coming back.
LITTLE COMPTON
Wishing Stone Farm
25 Shaw Rd., Little Compton, RI
OPEN: May – October 31, 2022 / Saturday & Sunday 10 am – 5 pm
This farm started in 1983 as an early adopter of the organic movement and they remain committed to sustainable agriculture. On-site, they sell vegetables, local honey, and prepared foods. The farm also offers a CSA program during fall and summer for those who'd like to purchase a share.
Young Family Farm Stand
260 W Main Rd., Little Compton, RI
OPEN: May – October 2022
July & August: Thursdays – Mondays, 9 am – 6 pm
September – November: Thursdays – Sundays, 10 am – 5 pm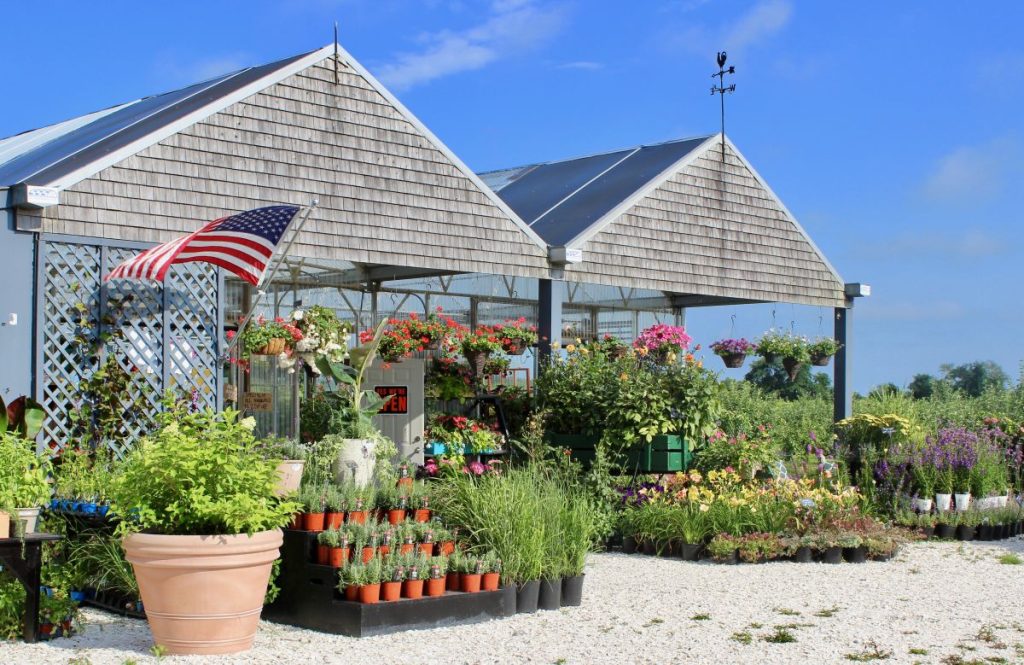 This family-run farm truly has something for everyone. In addition to selling produce and fresh-cut flowers, the Young Family Farm is a destination for birthday parties, field trips, and farm tours. In the fall, you can pick apples or take a hayride through the property, which has 100 acres devoted just to potatoes.
NEWPORT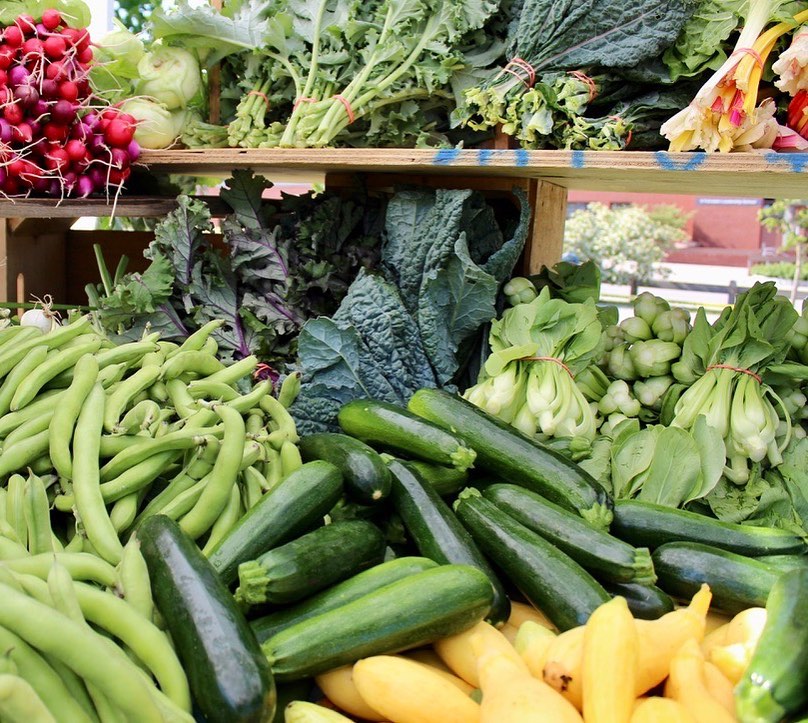 Monday Market: Miantonomi Park, Hillside Ave., Newport, RI (starts in July)
July 11 – August 29, 2022 / 2 pm – 6 pm
Wednesday Market: Memorial Blvd. between Chapel & Edgar, Newport, RI
May 18 – October 26, 2022 / 2 pm – 6 pm

Saturday Market: Embrace Home Loans Campus, 25 Enterprise Dr., Middletown, RI
May 7 – October 29, 2022 / 9 am – 12 pm
Yankee Magazine named this a "Can't-Miss-Market." They offer both organic and conventionally-grown vegetables, flowers, herbs, fruit, and plants, plus a selection of prepared foods (helpful if you get hungry while perusing!) Markets feature a changing roster of local artisans and food businesses so make sure to check their website before you head over.
ABOUT HOGAN ASSOCIATES
Hogan Associates is an independent Rhode Island brokerage founded by Leslie Hogan and Matt Hadfield, two of Rhode Island's most experienced agents, each with a strong track record of success in the Greater Newport real estate market. Hogan Associates' 36 sales agents work on behalf of buyers and sellers of fine properties in the coastal communities of southern RI. The firm has offices in Newport and Middletown and is a member of Who's Who in Luxury Real Estate, an elite broker network with more than 130,000 sales professionals located in approximately 880 offices in 70 countries and territories. In 2020 & 2021 Hogan Associates received Newport Life Magazine's Best of Newport County award. For more information, visit HoganRI.com.