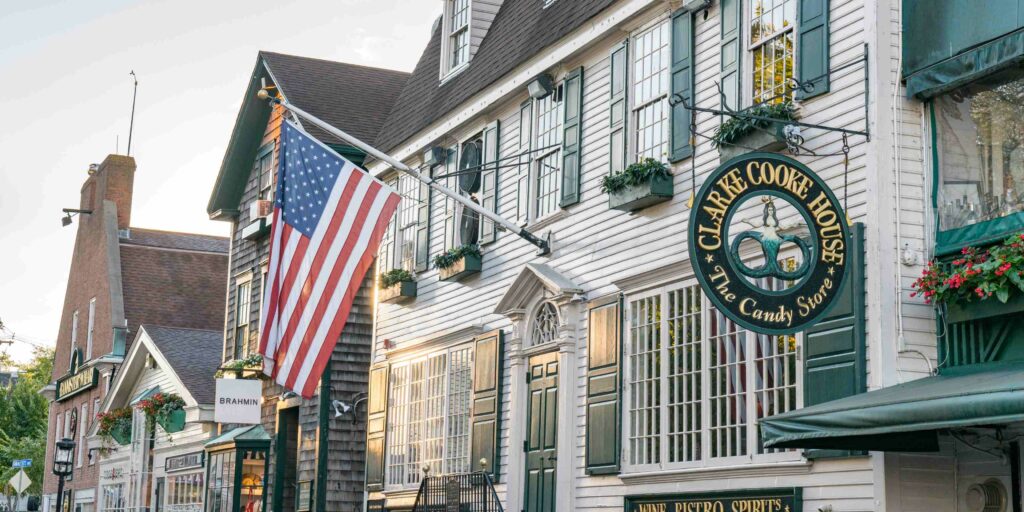 Living in or near Newport, RI gives you access to a wide range of summertime fun. Now that the sunny season is well underway here in Rhode Island, we're sharing our agents' top ten recommendations for some of the best experiences Newport has to offer. While some are old favorites and some are new discoveries, all are guaranteed to be quintessentially Newport, RI.
Take a private tour in a classic Jaguar around Newport's most iconic spots and attractions. Your guided tour can be three hours long or a full day. Cruise to wine tastings, art galleries, scenic vistas and more.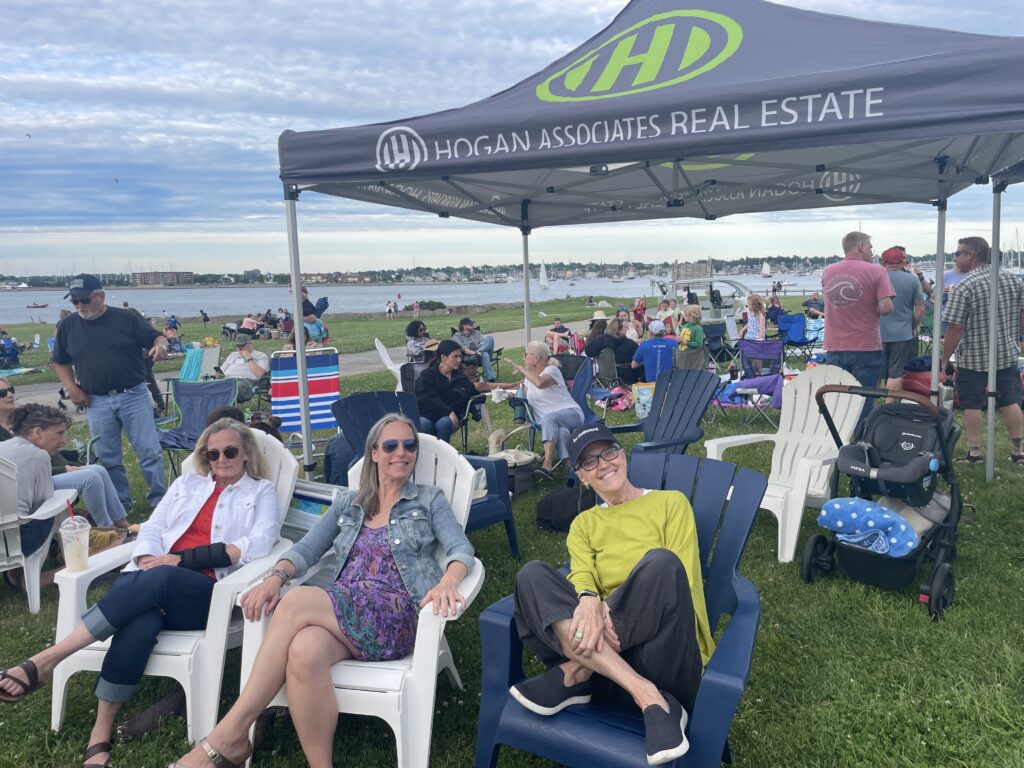 Bring your beach blankets and chairs for a night of music at the historic Fort Adams. Bands including The Ravers, the Rhode Island Youth Stage Band, Those Guys, and more grace the stage this summer. Arrive a little early for a self-guided tour of the restored north overlook with views from the top of the Fort walls. A beautiful way to spend the evening on the waterfront and enjoy an unobstructed view of the sunset over Jamestown.
Wednesday July 13th, Wednesday August 24th and Wednesday Sept 7th. Doors open 5 – 8pm.
Stoneacre Brassiere, 28 Washington Square, recently launched high-end, full-service, private picnics. Starting at $325 for two guests packages include low-table, cute place settings, and add-ons. Stoneacre's "Grab and Go Picnics" are also available for $149 and can be picked up at the Brasserie.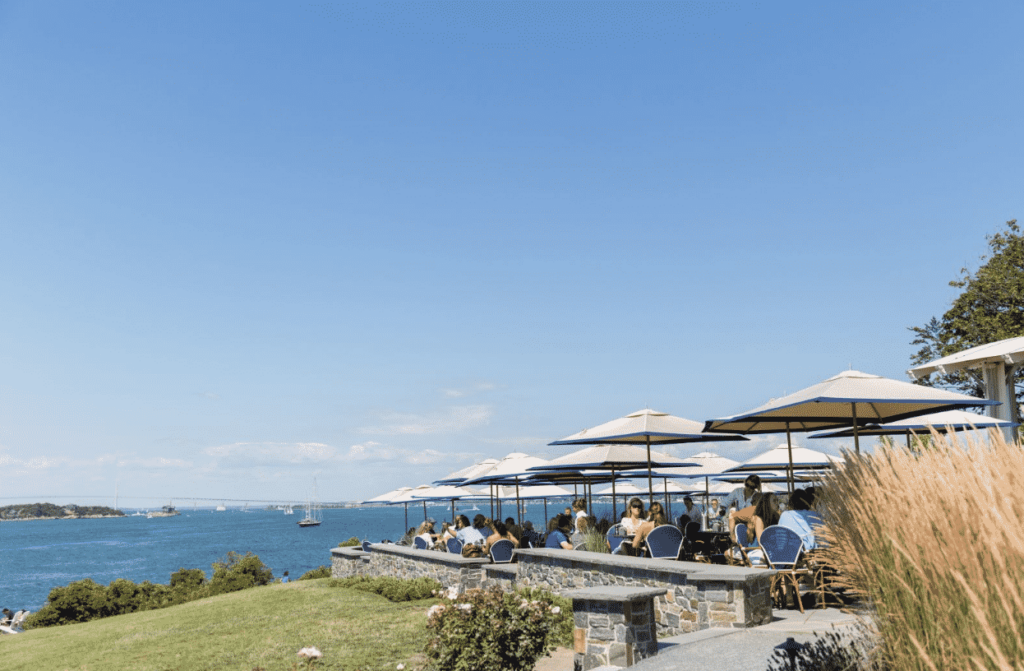 Cruise along Ocean Drive Take to one of the best sunset views in Newport. Sip cocktails while lounging in Adirondack chairs on the pristine grounds that overlook Narragansett Bay. Not drinking? Castle Hill's house made ice cream and sorbet are the perfect indulgences. Or make an evening out of it and stay for dinner.
Get your yoga flow on right in Doris Duke's backyard with the ocean as your backdrop. Rough Point was the Newport home of heiress, collector, and philanthropist Doris Duke. Now a museum, it hosts exhibits and musical performances during the summer.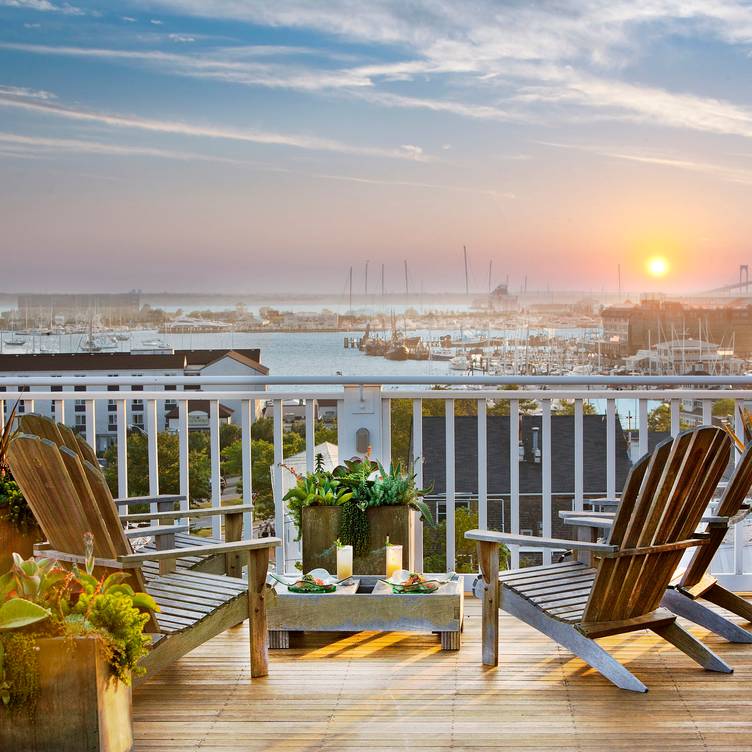 The Roof Deck at The Vanderbilt Hotel has one of the only rooftop bars in Newport boasting gorgeous panoramic views of downtown Newport and the harbor.
Locals will freely boast this is one of, if not the best spot in Newport for sushi. Dine at the sushi bar and watch your rolls be made or order from anywhere in the restaurant.
Walk the nature trail to Hanging Rock at Norman Bird Sanctuary situated right over the Newport/Middletown town line. Here you'll get a bird's eye view (pun intended) of Sachuest Beach, the famed St. George's, and Sachuest Point Wildlife Reserve. Day trail pass prices range from $7 for adults, $6 for seniors and military, and $3 for ages 3-18. Open Monday-Friday 9 am-5 pm. 583 3rd Beach Road in Middletown.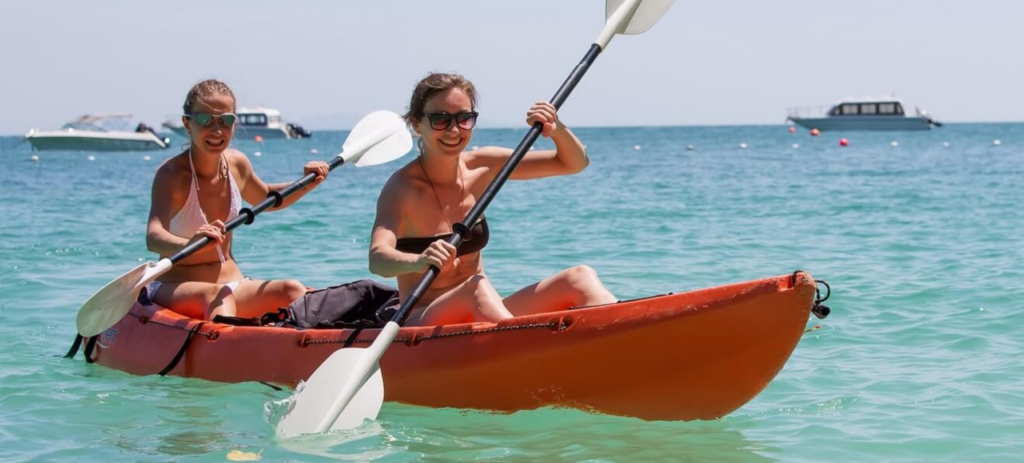 Mobile Kayaks will deliver a kayak or paddleboard to your location of choice, seven days a week from 8am to 8pm. Set off on a paddle at the Fort Adams boat ramp, Kings Park, Gooseneck (on Ocean Drive), Elms Street boat ramp or Newport Harbor.
A lush garden awaits behind The Elms' formidable walls. It's no wonder they're filming scenes for HBO's "The Gilded Age" series here. Tickets range from $25 for adults to $10 for ages 6-12.
Music festivals, shopping downtown, mansion tours, wineries, breweries, beaches, and more make Newport, RI chock full of memorable experiences. We wish you a wonderful summer full of discovery and relaxation. And don't forget to pick up a Del's lemonade while you're out!
Looking for a summer home or permanent residence in or around Newport, RI? Give us a call (401-680-6588) or send us an email at info@hoganri.com. We'd be happy to help.
ABOUT HOGAN ASSOCIATES
Hogan Associates is an independent Rhode Island brokerage founded by Leslie Hogan and Matt Hadfield, two of Rhode Island's most experienced agents, each with a strong track record of success in the Greater Newport real estate market. Hogan Associates' 36 sales agents work on behalf of buyers and sellers of fine properties in the coastal communities of southern RI. The firm has offices in Newport and Middletown and is a member of Who's Who in Luxury Real Estate, an elite broker network with more than 130,000 sales professionals located in approximately 880 offices in 70 countries and territories. In 2020 & 2021 Hogan Associates received Newport Life Magazine's Best of Newport County award. For more information, visit HoganRI.com.