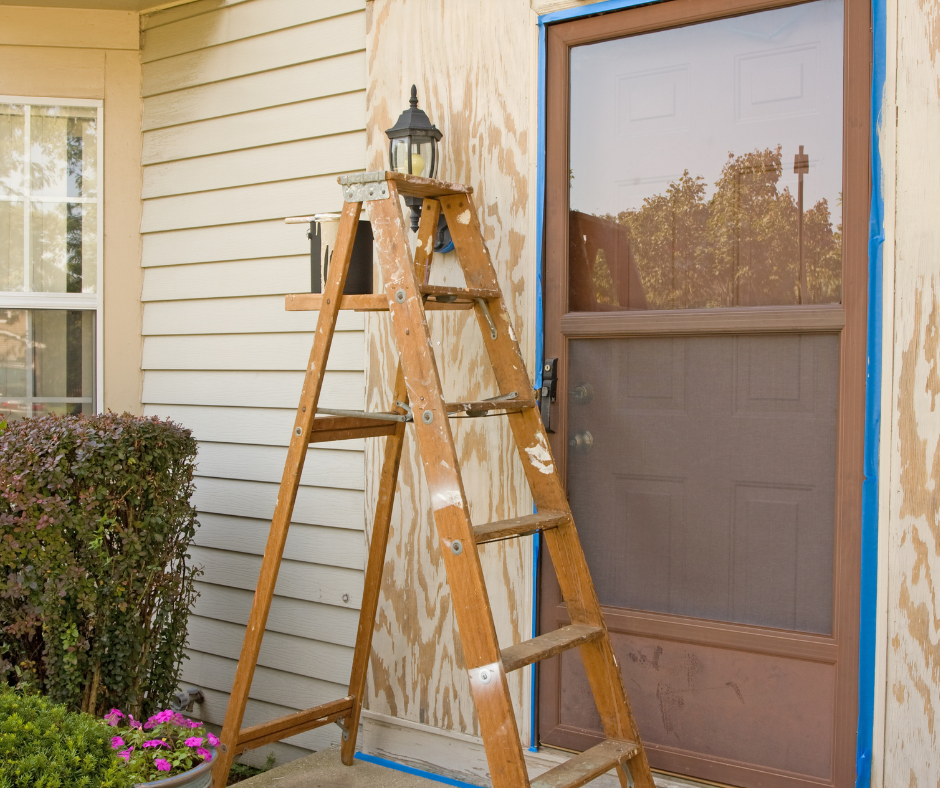 Buyers can sometimes get more home for the money if they can accept the need for renovations. A fixer-upper is an available property that requires major maintenance and therefore, comes with a lower purchase price. But before you make an offer on a home that looks like the one the Baileys spent their honeymoon in during the movie It's a Wonderful Life, make sure to review the following pros and cons.
The Benefits of Buying a Fixer-Upper Home
1. Lower Purchase Price
Overall, the greatest appeal of buying a fixer-upper is that the sticker price is generally lower than that of a turnkey home. For example, you may find yourself drawn to a particular neighborhood in a certain town. If you fall in love with that area but can't find many listed properties there, or you realize that most of the homes are out of your price range, a fixer-upper might be a great option.
Putting an offer on a property that needs a lot of work is one way to gain access to a region that offers features you are looking for, such as good public schools, mass transit, or public parks. In addition, homes with a lower listing price have the benefit of a lower down payment and smaller monthly mortgage payments. These are the most popular reasons for buying fixer-uppers.
2. Freedom to Customize Your Home
When you buy a home that's move-in ready, you may need to accept the improvements made by the prior owner. There are more opportunities to customize the home to your needs and preferences when you purchase a fixer-upper. The best part of renovating is that you get the chance to make the home truly your own. You can update the parts of the home that you care most about (wrap-around porch, anyone?) and at your own pace. Usually living in a home for a while is the best way to find out how to remodel it to suit your needs.
3. Less Competition
Since renovations require time and money, most home buyers prefer homes that they can move into immediately. For this reason, there is often less competition in the marketplace for properties that aren't in turnkey condition. Properties that need work don't often end up in a bidding war. Making an offer on a fixer-upper means you can potentially buy at a lower price than other homes in the same town.
The Drawbacks of Buying a Fixer-Upper Home
1. Unforeseen Home Renovation
Challenges
Four out of ten do-it-yourselfers end up going over budget on their remodeling projects. Issues can pop up during renovations that were not discovered during the walkthrough or inspection. These unfortunate surprises can put a remodel well over budget.
This sometimes happens with older properties. Even a qualified home inspector may not catch things such as asbestos in the home (which could require steep disposal fees). In other cases, the need for significant repairs may not be discovered until renovations begin, such as when wallpaper removal reveals rot that cannot be ignored.
Some jobs — like roofing and major electrical work — are far too dangerous for novices to handle. A mistake could cause major damage or worse, a person could get seriously hurt. Work that requires a professional is usually more costly than doing it yourself. All of this means that buyers could end up barely breaking even on their purchase of a fixer-upper. 
2. Long-Term Construction
Another drawback of buying a rundown property is that It might take months — or even years — to turn that investment into a "dream home." During renovations, buyers must plan to either live somewhere else or delay moving in. If you don't have anywhere else to go in the interim, you must decide whether you and your family will be comfortable sleeping in a construction zone.
Another factor to consider is your time. Renovating a home can be very time-consuming. If you choose to work on the property yourself, make sure you're realistic about how many hours you can dedicate to the work involved. If you choose to hire professionals, finding contractors and supervising their work will also demand your attention. With either option, consider the stress of either living in a half-finished home or running back and forth to an ongoing construction project. 
3.
Limited Financing Options
No two remodels are the same and surprise costs often pop up. For this reason, it's difficult to come up with an accurate estimate for renovating a fixer-upper. 
Traditional mortgages don't always cover renovation costs. In addition, there are fewer "standard" options for financing these types of properties compared to traditional homes. Special renovation loans may be offered by your bank, but these loans generally come with limitations on which upgrades you can make, as well as how you can do the work.
The purchase price for a fixer-upper — plus the cost of its renovations — can sometimes add up to more than it would for a move-in-ready home. Depending on how much work a property needs, buyers must acknowledge this risk before investing in one.
To Buy, or Not to Buy, a Fixer-Upper?
Buying a fixer-upper can be a way to get a good home at a great price, especially if you can handle the big repairs yourself. Before making an offer on a home that needs some work, do as much research as you can and seek out the input of experienced professionals. 
And remember, George and Mary Bailey lived on a Hollywood set.
The easiest way to find your own fixer-upper to transform into your dream home is to work with your realtor. Give us a call at (401) 845-9500 or send a message to info@hoganri.com
About Hogan Associates
Hogan Associates is an independent Rhode Island brokerage founded by Leslie Hogan and Matt Hadfield, two of Rhode Island's most experienced agents, each with a strong track record of success in the Greater Newport real estate market. Hogan Associates' 36 sales agents work on behalf of buyers and sellers of fine properties in the coastal communities of southern RI. The firm has offices in Newport and Middletown and is a member of Who's Who in Luxury Real Estate, an elite broker network with more than 130,000 sales professionals located in approximately 880 offices in 70 countries and territories. In 2020 & 2021 & 2022 Hogan Associates received Newport Life Magazine's Best of Newport County award. For more information, visit HoganRI.com.
About Christie's International Real Estate
Christie's International Real Estate has successfully marketed high-value real estate around the world for more than 30 years. Through its invitation-only Affiliate network spanning 48 countries and territories, Christie's International Real Estate offers incomparable services to a global clientele at the luxury end of the residential property market. The company and its affiliated brokerages have recorded approximately US$500 billion of real estate transactions over the last five years. For additional information, please visit christiesrealestate.com.