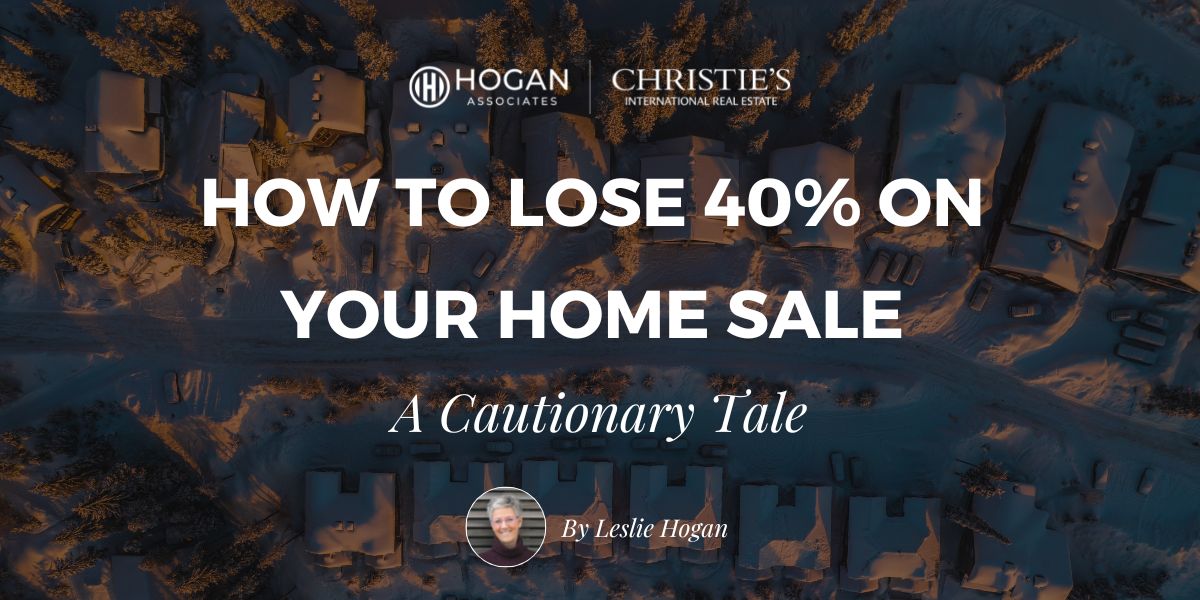 With the internet at our fingertips and a camera integrated with every smartphone, it may feel like homeowners have all the tools they need to put their homes on the market these days. While that approach may sometimes work, it doesn't guarantee the best possible outcome. 
A For-Sale-By-Owner Cautionary Tale
It seems every Realtor has a story about a for-sale-by-owner home sale that went awry, myself included. Years ago I sold some property for a Portsmouth family. In the process, one sibling inherited a single family in an up-and-coming neighborhood. Unfortunately, he lacked the means to maintain it, and, over the years, the property deteriorated significantly. Sensing an opportunity, a real estate investor knocked on his door and asked how much he wanted for his home. Without consulting anyone, the owner signed a purchase and sales agreement for $150,000. He didn't know his land alone was worth $350,000 – $375,000.
Facing homelessness and realizing he had undersold his property, he told a neighbor who reached out to me. With the help of a local attorney who contacted the buyer suggesting the matter go before Rhode Island's Department of Elder Abuse, the buyer agreed to pay an additional $50,000. With the closing date looming, Realtor colleagues, neighbors, and I helped the seller enroll in Social Security and find subsidized housing, but we couldn't recover the $150,000 (43%) he left on the table.
Need more reasons to list with a Realtor? Read on.
Brokers get 47% more
The National Association of Realtors reports that 10% of home sales in 2021 were sold directly by the homeowner (known as FSBO – For Sale by Owner). On average, FSBO homes sold for $225,000 compared to $330,000 for agent-assisted home sales. Still not convinced? Read on to find out our top six reasons to work with a real estate agent to sell your home.
1. Preparation makes all the difference
Preparing your home for showings includes identifying necessary repairs, cleaning, decluttering, depersonalizing, and staging. A Realtor goes through the house room by room and prepares a recommended to-do list for the home seller. They can recommend service providers such as home cleaners, photographers, stagers, or others who can help you present your property in the best possible light. Your Realtor can also advise you on the best time to put your home on the market for the best results. 
2.Right price
Getting the best possible outcome for your home sale depends heavily on listing it for the correct asking price. Overpricing a home can be the biggest mistake of all since it will result in the home remaining on the market for a long time as you keep dropping the price to try and attract more buyers. To price a home correctly, it's essential to have an understanding of comparable properties. Realtors have tools and resources that enable them to gather up-to-date reports on recent home sales within a certain radius of your address. By comparing your home to others on the market, they'll come up with a fair and reasonable asking price that's likely to draw qualified buyers. Real estate agents will price your home to sell. 
3. Paperwork matters
In addition to preparing the physical property for sale, sellers must adhere to housing regulations and complete legal and financial documents during a home sale. Although it's possible to handle this task on your own, a broker who is familiar with your market can help avoid delays and costly mistakes in the process. 
4. Hang time
Generally speaking, the fewer days a home is listed, the greater the profit is for the homeowner. Quickly selling a home requires proper preparation before the property is even listed. Realtors are part of a network of professionals in a variety of areas related to housing. Your Realtor can refer buyers to a good banker for a mortgage or a reputable contractor for renovations. Access to trusted service providers can save money and time.
5. YOUR time
While most FSBO home sellers are motivated by the perceived money savings, they may discover that the time they spent on the selling process doesn't justify the savings. From preparing the home for sale to closing the deal, the whole process will take one to three months and more if significant repairs are needed or if the property is not priced correctly. Juggling a job, family, personal life, and a home sale proves too much for most home sellers. Working with a realtor to sell your home is a significant time saving, not to mention peace of mind that no step in the process is being overlooked. 
5. Attracting buyers
Perhaps the most significant benefit of working with a broker is the marketing opportunities. When buyers are searching for a home, their first stop is usually the Multiple Listing Service – also known as the "MLS." This is the same system that real estate agents use when they're researching comps. However, home sellers cannot list their properties on the MLS platform. This means that autonomous sellers must spend additional time, money, and effort on advertising. Along with listing your home on MLS, Realtors use specialized marketing tools to promote your property across social platforms, print marketing collateral, and targeted ads. Realtors are savvy online marketers who leverage their company website, email lists, and other resources to connect with qualified buyers. They'll share open listings with past and present clients, industry professionals, and fellow brokers. By partnering with a Realtor, you'll expand the visibility of your property beyond your limited marketing channels.
If you're thinking about selling your home, you may be tempted to do it on your own. But before you post a "For Sale by Owner" sign on your lawn, make sure you've evaluated all the benefits you'd get by working with a real estate agent. 
Our agents have the knowledge and experience to produce the best possible outcome for your home sale. Need to speak to an agent? Give us a call at (401) 845-9500 or send a message to info@hoganri.com.